The number of positive Coronavirus cases in South Africa has risen to 927, up 218 from a day earlier, according to the NICD. The increase yesterday was 155.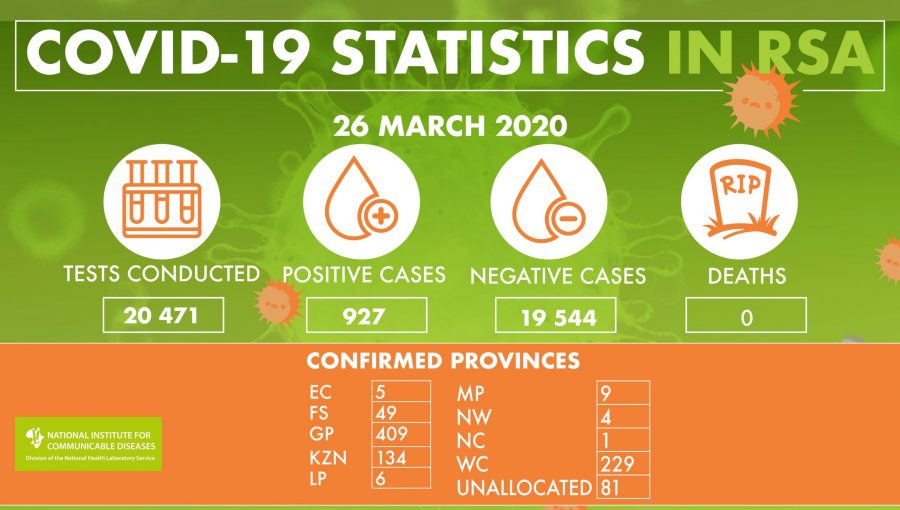 The upward trend in new infections is continuing, according to the figures released by the National Institute for Communicable Diseases, which said in a statement late today that "cases of COVID-19 are increasing and transmission is on-going in South Africa."
Including the 218 new cases, most of the positive tests are in Gauteng (409), Western Cape (229) and KwaZulu-Natal (134). The NICD said that 20,471 tests had been carried out so far, with 19,544 coming back negative.
"As we approach the national lockdown period of 21 days, we remind everyone that human behavior is key to preventing the spread of the virus," the NICD said.
Since March 13, the daily totals of positive tests for the Coronavirus have risen as follows.
March 13 – 24
March 14 –38
March 15 – 51
March 16 –62
March 17 –85
March 18 –116
March 19 –150
March 20 –202
March 21 –240
March 22 –274
March 23 – 402
March 24 –554
March 25 –709
The NICD regularly exhorts the population to be careful and safe.
"Individual behavior is key to containing the spread of the virus, and involves taking personal responsibility for measures, such as regular hygiene practices, early self-isolation and personal social distancing."