South African Defence Minister Nosiviwe Mapisa-Nqakula has appealed to members of the SA National Defence Force (SANDF) to protect and educate South African citizens about staying safe from Coronavirus, and not to abuse them.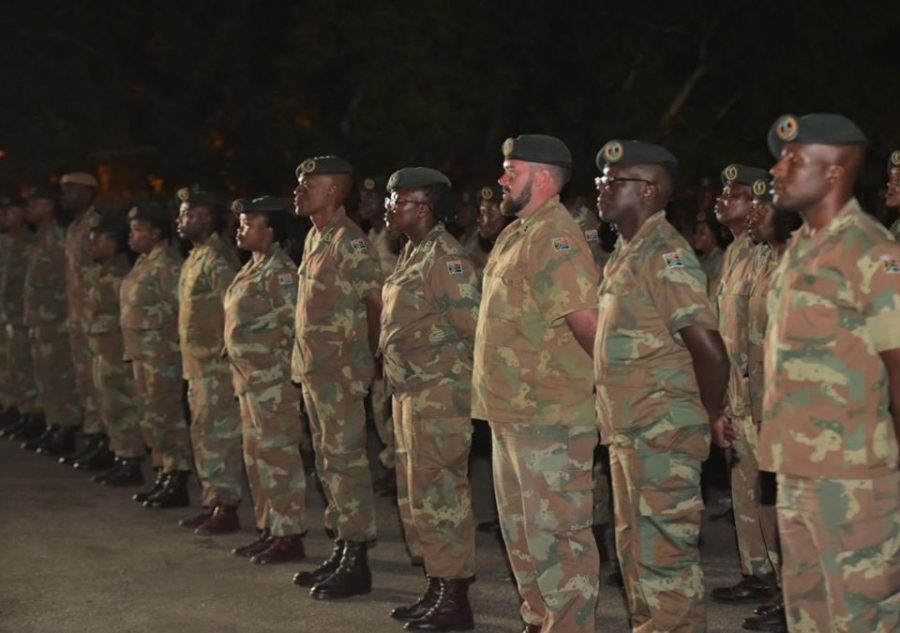 The Minister has been fielding questions on radio and TV this morning about filmed footage showing army soldiers appearing to humiliate and abuse South African citizens. In one video on social media, SANDF personnel are seen forcing those who did not abide by the lockdown regulations to do squats and push-ups. In another, citizens are seen being physically assaulted.
The Minister said "we do not condone it" and that she "makes a plea to our security services to refrain from using force". She said they are deployed in the streets to protect, not abuse South Africans. And that they should be educating people about how to stay safe.
She also appealed to South Africans – "brothers, sisters, mothers children" – that they should not try to provoke the army personnel. She said there are instances where people can be seen trying to get a reaction, "but in the end the only person who will suffer is you".
Although the videos have not been verified, and a couple were filmed before the deployment, plus one features a boy who is wearing a uniform but is not part of the SANDF ("I don't know where he got that uniform from") – the Minister said she can see, particularly in one video where a soldier is seen wearing a mask, that some of these videos are since the Lockdown, and that they are a violation of human rights.
She has called for those caught violating South Africans to be withdrawn from the Force.
Kobus Marais, DA Shadow Minister of Defence and Military Veterans, said: "This behaviour is disgusting and the DA condemns it in the strongest terms."
He said the DA has written to the Military Ombudsman, General (Ret) Vusi Masondo, to request an independent investigation "as the SANDF's actions are a gross violation of the military's mandate and of the Bill of Rights".
Acting Chief of the Army, Major General M.J. De Goede has confirmed that the matter has been registered for investigation.
SANDF calls on Reserve Force Members
The SANDF is calling on members of the Reserve Force to complement the already deployed SANDF in the fight against the COVID-19 virus.
The call is in line with the National Disaster Management Act, which provides that the SANDF must release its personnel to a national Organ of State for rendering of emergency services.
The SANDF will be able to assist with the movement of people and goods to and from, or within, disaster stricken or threatened area(s).
The SANDF has appealed to civilian employers to release staff members called up for the Reserve Force Service.
"Similarly, the SA Military Health Service has called up Reserve Force doctors, nurses, and operational emergency care practitioners together with teams to work with other health practitioners in various fields," said the Department of Defence and Military Veterans.
In response to the ongoing COVID-19 global pandemic, President Cyril Ramaphosa announced a 21-day nationwide lockdown. South Africa went into lockdown last Friday.
Globally, there are 734 998 confirmed cases of COVID-19, 34 781 confirmed deaths and 203 countries are affected by the pandemic, according to Worldometer.
Sources: SAnews.gov.za, DA and SABC