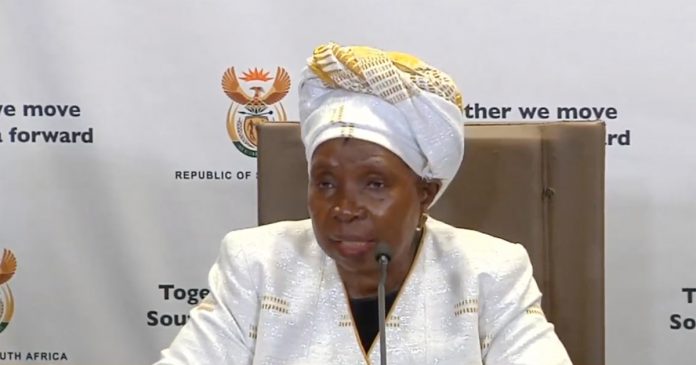 Ministers representing the Coronavirus National Command Council updated the nation on revisions to some of the Lockdown regulations on Thursday evening. (It's still ongoing – watch below.) Minister of Cooperative Governance and Traditional Affairs Minister Nkosazana Dlamini-Zuma said clarifications and the strengthening and relaxing of some regulations would be ongoing as the government learnt from the situation.
Spaza Shops
Dlamini-Zuma said all spaza shops are allowed to be opened, and announced that now informal food traders may also be open, as long as they get a permit from their local counsellor or municipality.
Funerals
She apologised to South Africans who have been affected by the regulation prohibiting the travel between provinces. It has meant that some people were unable to attend the funerals of relatives.
Going forwards she said close relatives and very close affiliates ("sometimes closer than biological relatives") may cross borders to attend funerals as long as they seek permission from the magistrate or station commander, or most senior person at a station, before embarking on the trip so that they have a permit to show police at the various road blocks along the way.
Those going to funerals may stay at relatives homes, or rented accommodation (hotels, guest houses etc.) nearby.
The limit on the number of people allowed at a funeral remains at 50 (excluding undertakers and grave diggers). The Minister of Police stressed that people should check before travelling that there aren't already over 50 people going or they may travel across the country and not be able to attend the funeral.
Night vigils are still prohibited "not to punish, but because of the nature of COVID-19" where it has been spread particularly in churches, and "night vigils are worse as people get very close in a small area", said Dlamini-Zuma.
Exercise
Please continue to exercise at home.
Border amendments
Home Affairs reported amendments since the initial shutdown closed all of the Republic's borders (except for essential goods), and said that now those South Africans who found themselves outside SA's borders when shutdown occurred can return if they need to be repatriated, but will need permission and will be subjected to be quarantined when they arrive in SA for 14 days.
Likewise foreign nationals may return to their own homes and countries.
According to a border amendment announced today, the Minister of Home Affairs, or a person designated by the Minister, can give permission for a person to enter South Africa for a medical emergency or life-threatening reason; or for a foreigner to leave, provided they get permission first.
Borders remain closed for "normal human movement" but "constitutionally it is difficult to stop someone coming back to their home", therefore regulations are being made to control the conditions under which they come home. A person may enter or exit SA if they have the cabinet member's permission and each case will be according to its own merit. The borders are not just being "opened".
Anybody who comes in must have permission, and such a person will be subjected to the quarantine laws.
Taxi travelling
The Ministers said that when catching taxis (70% capacity full allowed, and drivers will hand out masks) people will need to submit their cellphone and a photo of their ID numbers for contact tracing. They stressed this is not to spy on South Africans, but to ensure that people can be contacted if someone is tested positive for COVID-19.
The aim is to minimise the spread of the deadly coronavirus and not to intercept calls or spy. South Africans were reminded that while their right to privacy is respected, at this time individual rights do not supersede the country's rights.
Command Centre for Water
Minister Lindiwe Sisulu announced a Command Centre in Johannesburg for the centralised control of water. Water tanks have been procured and when places are identified that are in need of water, tanks will be sent. The municipalities will be responsible for where they are placed. She said there will be a number for people to call to report if they need water in their area.
Cargo
All cargo can now be delivered to SA (before it was only essential goods), subject to sanising.
Air cargo can land, crew can disembark and remain in lockdown at dedicated hotels near the airport until their flight returns.
Supermarket hours and prices
Supermarkets have adjusted their hours, with many now opening at 7am.
Hundreds of complaints have been lodged by the public over hiked prices – and these cases will soon be heard at tribunals.
Any shop selling hand sanitisers as a Covid-19 campaign, that don't meet the minimum alcohol content required, will be prosecuted for misrepresentation. The public is reminded that washing your hands with water and soap for at least 20 seconds should be your first choice.
Crime and Cigarettes
The Police Minister said between 27th and 30th March 2,289 people have been arrested for breaking regulations in SA. He also asked that separate provinces refrain from altering the regulations in their state. If something is not in the original National Regulations then it is not allowed. The Police Minister said as it stands now: "Cigarettes (the sale thereof) are NOT allowed. That includes in the Western Cape." Several people have been arrested in Durban, Westville, Khayelitsha, Alexandra, said the Minister. He said there are patrols in mainly white suburbs too.
On the first day there were six complaints about the police, but since then there have been 12. He also pointed out that press reports about a policeman raping a woman did not mention the woman was the rapist's wife.
For Queries, Call this Tollfree Number:  0800 200 200
WATCH Ministers represening the Coronavirus National Command Council update the nation on the revised #LockdownSA regulations #Day7 #CoronaVirusSA