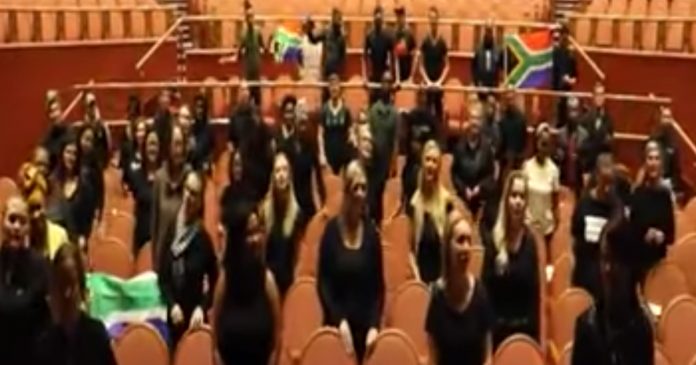 South African seafarers on board a cruise ship that was off the coast of the USA and is now on the North Atlantic, have sung – loudly and proudly – at news that they are finally heading home to SA.
Watch below (and try not to cry!) as they sing In The Jungle… but with their own On the Ocean words that'll give you chills – ("we're coming home, we're coming home, we're coming home… we're coming to South Africa"), the SA National Anthem (with a HUGE loud emphasis on "freedom – in SA, our land"), and then a brilliantly celebratory Shosholoza.
One of the seafarers, who calls himself Craig Africa on social media, said: "We put our hearts into song… The Rainbow nation all together on board the Emerald Princess… South Africa soon to be reunited with our loved ones, it has been many months at sea but now the end is near.. We coming home!!"
He said: "Looking forward to see everyone back home soon soon soon! Covid19 you can take away many things but you cannot take our resilience❤️???"
It's been a long hard struggle and one of those who has been trying to help them, South African expat Rayray Bads, was in tears of joy. Rayray, who's based in Florida, has – together with friends and contacts – helped countless South Africans in the US – from helping them book tickets to being a shoulder to cry on; and liaising with Consul General of South Africa in New York, Motumisi Tawana.
She said today: "I have tried to be so so very strong these past months, the countless tears of helpless, scared, lost people, who – when they are typing messages to me – I have somehow managed to read between the lines and just KNOW… who I need to call immediately and not even respond to the message to calm them down – most cannot even get words out when they answer – just tears…
"Almost every phone call I make to people starts with the tears and I tell them BREATHE I will help you… I have held back my tears to be strong for them…
"But this… oh man… this video… reduced me to a snotty, blubbering, sobbing tear-streaked mess of note…
"I have had these peeps on my radar for months – and have been absolutely helpless in my ability to use my contacts to help them get home… FINALLY… FINALLY I woke up to see this video… and I just sommer lost the plot man… I need more tissues…"
Craig Africa said the Emerald Princess should be docking at Rotterdam on Tuesday 2 June, and a couple of days after that they are due to fly home!
WATCH VIDEO: South African Seafarers Proudly Sing After Hearing They're Finally Heading Home
So today we put our hearts into song… The Rainbow nation all together on board the Emerald Princess… South Africa soon to be reunited with our loved ones, it has been many months at sea but now the end is near.. We coming home!! Looking forward to see everyone back home soon soon soon! Covid19 you can take away many things but you cannot take our resilience❤️???

Posted by Craig Africa on Saturday, May 30, 2020