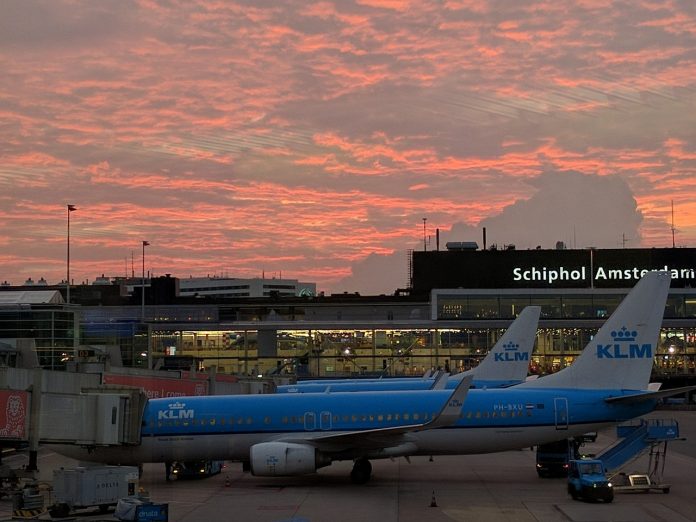 Forty-four South Africans who are in transit at Schiphol Airport in Amsterdam, have been left stranded after the flight they had booked was incredulously not given permission to carry passengers.
SAPeople has received so many desperate messages for help in the past week. A similar incident occurred last weekend at Frankfurt Airport in Germany when about 43 South Africans were left abandoned at the terminal, including elderly people and a pregnant woman.
Today the wife of one of the Amsterdam passengers told SAPeople: "My husband works for an international company and has been trying for over five weeks to get home from the U.K.  Each time, at the last minute, the SA government decides to put a spoke in the wheel and everything is cancelled.
"Today, is the last straw. They flew from London yesterday to get the flight out of Amsterdam today at 11.55am with KLM… only to be told again that the flight is cancelled.
No explanation given.
"What is going on with our government?  Is there anyway you could assist?"
Beverley Schäfer, HAFH (Home Away from Home) and LISA Volunteer, confirmed in a press statement today that a KLM (KL 597) repatriation flight, which was scheduled to take off from Amsterdam en route to Cape Town today at 12h30, has had to fly without passengers.
"Departure was delayed by an hour as the plane did not receive its necessary clearances to be able to fly with passengers on board," says Beverley, adding the almost unbelievable news that "the flight has just taken off with only cargo on board, and 44 passengers have been left stranded in transit at Schiphol Airport as a result."
Apparently some passengers were told there were not enough quarantine beds available for returning South Africans in Cape Town.
However Beverley has checked this allegation and says: "I can confirm that the hotels allocated for returning South Africans in Cape Town, are mostly empty and that quarantine is therefore not the issue. Is politics at play here?
Is politics at play in repatriation?
"The question we must ask is: why are passengers who are scheduled to fly today, having paid their tickets and told the flight is scheduled to take off, being prevented from boarding?
"Why have there been so few repatriation flights able to land in Cape Town when all resources to be able to cater for incoming South Africans, are available.
"KLM plays a vital role in the repatriation of South Africans stranded abroad. This airline, together with airlines such as Qatar, Airways, Lufthansa, Turkish Airlines, BA, Cem Air and Maple to name a few, have been willing to assist South Africans and, if it wasn't for them, our current numbers of just over 12 000 returning South Africans would not have been possible."
Beverley – who is also the DA Deputy Speaker – International Relations, Western Cape Provincial Parliamanet – asks whether Nat Joints (National Joint Operational and Intelligence Structure) are playing politics?
"Why are they even interfering with returning South Africans' rights here, even though it is the Department of Transport responsibility to approve flights?"
Beverley says these 44 South Africans will now have to wait in transit at the airport for a flight tomorrow to be able to return home.
"This is a humanitarian crisis and compassion is the only thing that will get us through this. Allow our South Africans to be able to return, and give all South Africans their rights to leave to other countries of residence and work, as this remains enshrined in Section 20 of SA's Constitution," says Beverley who is also helping those Locked in SA (LISA).
Last weekend Louise Esterhuizen, a mother of three children who lives in SA while her husband has been working abroad, was distraught when he was one of the South Africans left abandoned in Germany.
She told SAPeople her husband had sought work abroad after being unemployed in SA for 18 months. He has been working in Saudi Arabia, and most recently in Oman. The family last saw their father and husband on 14 December when he left for Oman.
He has been trying to come home for weeks, but the flights keep getting cancelled. Last weekend there was finally hope.
Louise said: "After lots of chaos (SAA does not answer calls or emails; neither does DIRCO) we got in contact with the SA Embassy in Germany via email. Their advice was the repatriation flight of the 12th of June. No way to get into contact with SAA, we blindly paid for the ticket and sent proof of payment. We received the ticket on the 10th of June around 18h00." Her husband made it as far as Frankfurt… but sadly, not home to SA.
"It's been an emotionally draining experience and there is no end in sight," Louise said last Sunday.  "Days, hours spent phoning and emailing  One is completely helpless."
Today Louise gave SAPeople an update: "I think those poor people are living in an endless nightmare. A representative of the group gathered everyone's info. She took this upon herself and spent all day Sunday 14th almost till midnight with SAA and KLM trying to negotiate their way out. Planes, accommodation, food, visas etc. The group left Monday 15th for Amsterdam. Tuesday 16th to Cape Town. They are now booked into 3 different hotels.
"To date there was no communication with them regarding the quarantine. No monitoring. They tried to organise private testing but were told there is a test shortage in the WC.
"Everyone started reaching out for help. Today their temperatures were taken but seems even if they get the tests done they will keep them there for the full 14 days. In Joburg you are released after a negative test to self-quarantine at home. That is what everyone hoped for of course.
"A group of 20 are also trying to make arrangements to get back to Gauteng. Negotiating with SAA for tickets and international baggage allowance…"
Meanwhile Dave Evans, one of the passengers who is currently stuck in transit in Amsterday today told SAPeople: "KLM staff were very apologetic, but it's out of their hands. The flight was allowed to proceed to Cape Town without the 44 pax that were scheduled to fly. No explanation from the SA officials, nor did any Embassy staff arrive to see us onboard.
"We have since been booked on tomorrow's JHB flight, but seeing is believing."
Some of the South Africans will have to sleep overnight at the terminal. Those with dual EU/SA citizenship are allowed to leave. The rest are joined by passengers originally booked on tomorrow's Joburg flight who are also staying at the terminal.
Dave says: "We are all hopeful that tomorrow's flight will go ahead on schedule but are not holding our breath…"