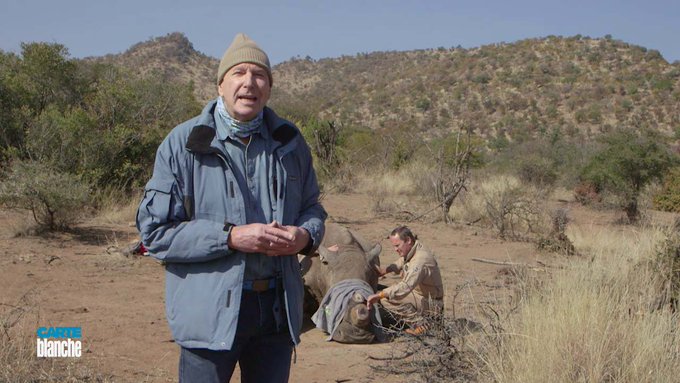 It's one of the most controversial poaching prevention measures, but dehorning rhinos to reduce their value for poachers, is a method that some conservationists believe simply must be employed. So when South Africa went into lockdown, two small expert teams in the Pilanesberg National Park in the North West, which has suffered several rhino poaching tragedies, flew into action…
The teams in the Pilanesberg took on the mammoth task of dehorning hundreds of rhinos in just nine days.
It was an expensive and time-consuming undertaking, orchestrated by local NPO Rhino 911 – but one that could well save one of the most important remaining rhino populations in the SADC region. It's heartbreaking that it's come to this and that poachers pose such a threat to the species… but this option can at least save our precious rhino.
Carte Blanche joined the teams in their race against time, working 12 hour days, with presenter Derek Watts on the scene to experience the 'Rhino 911′ action up close.
In those nine days – there were two helicopters and over 30 support staff per team. It was the biggest rhino dehorning operation in the world and through Carte Blanche was able to witness these amazing teams' work for a day.
You can watch the show on Sunday 28 June in South Africa on DStv Now or stream it overseas in most countries on Showmax International from Tues 30  June if you're abroad.
In a last attempt to keep the #rhino population of the #Pilanesberg National Park alive, local group @Rhino911NPO orchestrated the biggest rhino dehorning operation in the world. @DerekWatts joins them this Sunday at 7pm on #CarteBlanche @MNet channel 101. #RhinoPoaching pic.twitter.com/pBMdrUTCrT

— Carte Blanche (@carteblanchetv) June 24, 2020
Watch the show overseas | Watch in SA on DStv Now
This Sunday June 28, Carte Blanche also investigates why a Private Education Group's prospects have tanked, the impact of Covid-19 and more.
I N V E S T I G A T I O N S
It's one of only a handful of private school providers that have listed on the JSE's Alternative Exchange – but one that managed to attract millions in investments with promises of quality, affordable education at a time when the private school industry has been booming. Now Carte Blanche uncovers allegations of corporate governance breaches, boardroom infighting and asks why, only three years after listing, the share price and the company's prospects have tanked. (Producer: Joy Summers | Presenter: Derek Watts)
Watch the show overseas | Watch in SA on DStv Now
It's a #JSE-listed group that undertook to give affordable, quality private school #education. But three years after listing, the share price and the company's prospects have tanked. @DerekWatts finds out more Sunday 7pm on #CarteBlanche channel 101. pic.twitter.com/Tgdh4ofU0W

— Carte Blanche (@carteblanchetv) June 25, 2020
C O V I D  –  1 9   I M P A C T S
As doctors, nurses and health administrators strain to meet the still-rising tide of COVID-19 infections countrywide, Carte Blanche investigates the consequences of routine medical services disruption. Patients on chronic medication for conditions ranging from TB to HIV, and diabetes to hypertension – underlying conditions that might elevate their risk of infection – steer clear of crowded hospital and clinic queues. Are hard-won healthcare advances including childhood immunisation, family planning, cancer screening and malaria prevention, being undermined?
Presenter CLAIRE MAWISA says: "As our healthcare industry braces itself for the impending COVID-19 peak, we must not lose all the gains we've made over the last few years with the testing & treating of chronic diseases like TB, diabetes, hypertension and HIV.
Anecdotal evidence shows some of these chronic patients have defaulted on their regimens, too afraid to potentially expose themselves to the coronavirus when collecting their medications at hospitals or clinics. The dire indirect repercussions of the lockdown are immeasurable."
(Producer: Stenette Grosskopf | Researcher: Laura Byrne | Presenter: Claire Mawisa)
Watch the show overseas | Watch in SA on DStv Now
Facing the risk of #COVID19 at hospitals and clinics, @clairemawisa asks: how are the millions of South Africans living with TB, #HIV, #diabetes and heart disease accessing chronic care during the pandemic? That's #CarteBlanche Sunday 7pm on @MNet. #Day91ofLockdown pic.twitter.com/y2JOU5PIjT

— Carte Blanche (@carteblanchetv) June 25, 2020
When COVID-19 forced countries into lockdown, sporting events were cancelled and spectators were banned from the world's great stadia. But it wasn't long before die-hard sport-fans, missing the thrill of seeing their football teams, cycling or Formula 1 heroes in action, turned to their consoles and PCs to fill the gap. From first-person shooter games to racing and fighting, Carte Blanche examines the rise of eSports that has thrust new heroes into the limelight. Will the temporary stopgap change the way we view sports, forever?(Producer: Sinethemba Nogude | Presenter: Macfarlane Moleli)
Watch the show overseas | Watch in SA on DStv Now
With spectators banned from stadiums and most sporting codes prohibited worldwide, #eSports is taking centre stage…and the athletes never have to leave home. @macmoleli finds out more this Sunday at 7pm on #CarteBlanche. @MNet #OnlineGaming pic.twitter.com/U9gPUY3qId

— Carte Blanche (@carteblanchetv) June 24, 2020
If you're in SA – you can watch Carte Blanche on Sunday on DStv Now.
If you're overseas – you can watch #CarteBlanche from Tuesdays, and thousands of other popular local South African shows & movies by subscribing to Showmax International now. You can try it FREE for 14 days. 
Carte Blanche is on M-Net & M-Net HD [101], June 28 2020 at 19:00 & again on M-Net Plus 1 [901] at 20:00
***
Please note: Carte Blanche is only available to international Showmax subscribers in Andorra, Australia, Austria, Belgium, Denmark, Finland, France, Germany, Greece, Iceland, Indonesia, Ireland, Italy, Liechtenstein, Luxembourg, Malta, Monaco, Netherlands, New Zealand, Norway, Portugal, San Marino, Spain, Sweden, Switzerland, United Kingdom. Not all titles are available in all territories. Showmax brings you the best South African series and movies, from the classics to the latest releases, from complete box sets to kids' favourites.