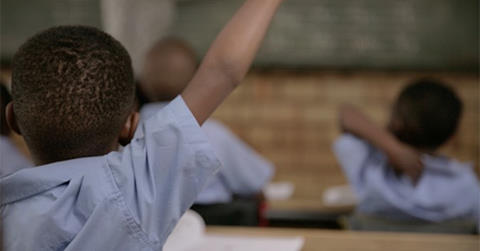 After voicing his strong opposition last night to the South African government's decision to close schools for a month, DA Leader John Steenhuisen has taken the next step and says the Democratic Alliance will be approaching the courts "on the basis that this decision is politically rather than scientifically motivated & not in the best interests of SA's 14 million school children".
President Cyril Ramaphosa announced the school closure last night, a decision that comes as South Africa recorded 408 052 confirmed COVID-19 cases, placing the country among the top five worst-affected nations in the world.
Steenhuisen said in a Zoom press briefing on Friday morning that all the available evidence indicates that schools do not expose learners and staff to higher levels of risk than other places. He pointed out that even the Basic Education Minister herself says: "It is important to bear in mind that the latest opinions of the Ministerial Advisory Committee (MAC), medical and science experts, is that learners are better at school than in communities and homes where the infections are actually taking place."
The DA believes the decision to close schools is a result of the ANC "capitulating to all-powerful teachers' unions, in particular SADTU, who do not have the best interests of learners at heart".
The DA leader said that in the Western Cape (which is led by the DA) there is no evidence of mass virus spreading at schools.
"Not a single learner death has been reported to the Western Cape Education Department & covid mortality among the province's teachers, at 0.07%, is not higher than for other essential workers," Steenhuisen said.
However, whilst schoolchildren may not be at risk of fatalities, a new study of nearly 60,000 people in South Korea shows that children and teenagers between the ages of 10 to 19 carry the highest rate of transmission. (Children under 10 had the lowest rate.)
A parent of two school learners, Marie Stander, told SAPeople she is divided, like many SA parents – "on one hand it feels safer keeping the kids home so they don't run the risk of bringing the virus home; whilst on the other hand kids need socialisation and teaching in person where teachers can see what they are actually doing."
Another parent said simply: "Government have f**ked up so badly. People are so fed up."
Marie decided to err on the side of caution, and has voluntarily kept her children home the last couple of weeks, where they've been studying online. "Fortunately they're at a government school with a strong parent base that helped ensure that every girl in the school had at least a smartphone and had data to get online to do lessons. So there were no excuses!" says Marie.
"However, most government schools in this country don't have the ability or facilities to keep teaching their kids if they're not at school. And government has been woefully pathetic at ensuring schools would be ready for kids to come back. So many kids at these schools get their one main meal a day through feeding schemes, and while Government has said that while they're closing the schools, they will ensure that the feeding schemes keep running… that's a laugh! In the first month of lockdown they did nothing, and then tried to shut down all the NGOs and people trying to feed others."
She says she also worries about all those parents who have returned to work. "Who's there to look after their kids?"
Steenhuisen warns that this kind of situation, especially with poorer families will lead to more poverty "and let us be under no illusion: poverty kills".
He adds: "Our position remains that those parents who choose to keep their children out of school should be allowed to do so. Staff members who choose to stay home must accept a salary cut."
President Ramaphosa said schools will close on Monday 27 July and reopen on 24 August 2020. However, Grade 12 learners and educators will only take a one-week break and reopen on 3 August, while Grade 7s will return to class on 10 August.
Steenhuisen says: "The ANC has targeted the nation's schools for closure even as taxis are allowed to operate at full capacity and gatherings of up to 50 adults are allowed for funerals and religious services. This is not science, it's politics."
Meanwhile Basic Education Minister Angie Motshekga says she welcomes Cabinet's decision, which was made following advice from the National Coronavirus Command Council which engaged in consultation with various stakeholders in the education sector.
Motshekga says the break will allow schools to prepare for the return of more grades to school later in August.
During the break, teachers and non-teaching staff remain on duty from home.
Motshekga said while the schools are closed, the biggest concern is "the burglaries and theft of food supplies and other expensive items defeats our efforts to provide mainly for the poor and vulnerable learners, who are always the hardest hit."