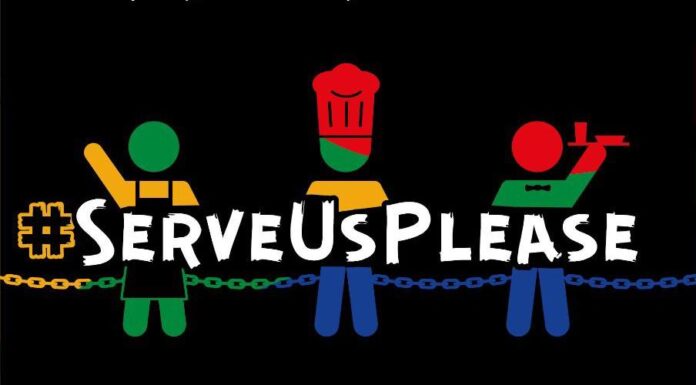 The #ServeUsPlease peaceful protest announced for Cape Town will now have national movements in several cities across the country today. The protests will be held simultaneously, from 10am to 12pm on Friday 24 July.
In response to the South African government's Covid-19 restrictions on the hospitality, tourism, food and alcohol, entertainment, media and affiliated industries, the #ServeUsPlease movement announced last week that it would hold a peaceful protest near Parliament.
The declaration was enthusiastically received by industry members around the country, with requests to hold regional events.
To highlight the chain reaction the Covid-19 restrictions has on individual livelihoods, the protests will take the form of human chains, starting at the following points:
Cape Town:
Corner of Roeland and Buitenkant streets in Cape Town's CBD
Johannesburg:
Corner of Rivonia Road and Maude Street in Sandton
Durban:
Corner of Dr Pixley Kaseme and Church streets in central Durban
Port Elizabeth:
Kings Beach parking lot on Kings Road in Humewood
Pretoria:
Corner of Stanza Bopape and Wessels streets in Hatfield
Brent Perremore, #ServeUsPlease spokesperson, says: "The protest aims to highlight the entire chain of people affected by the current legislation, from the hand that picks the grape to the hand that pours the wine… as well as the guest who enjoys the glass. If this speaks to you, please join us on Friday."
Perremore further reiterated that the movement supports the fight against the Covid-19 pandemic, however, urges Government to consider the significant impact this has had on the hospitality and extended industries. The movement requests that businesses be allowed to operate while adhering to the strict yet manageable controls that other countries have adopted.
The #ServeUsPlease peaceful protest (a pun on 'service please', calling on Government to serve the citizens in the service industry) will adhere to strict safety measures. Participants will maintain a 1,5-metre distance from one another – measured by a 1,5-metre ribbon that will link each protestor with another – and will wear face masks and carry hand sanitiser. The individual chains will link a maximum of 15 protesters, before breaking and starting anew a short distance away.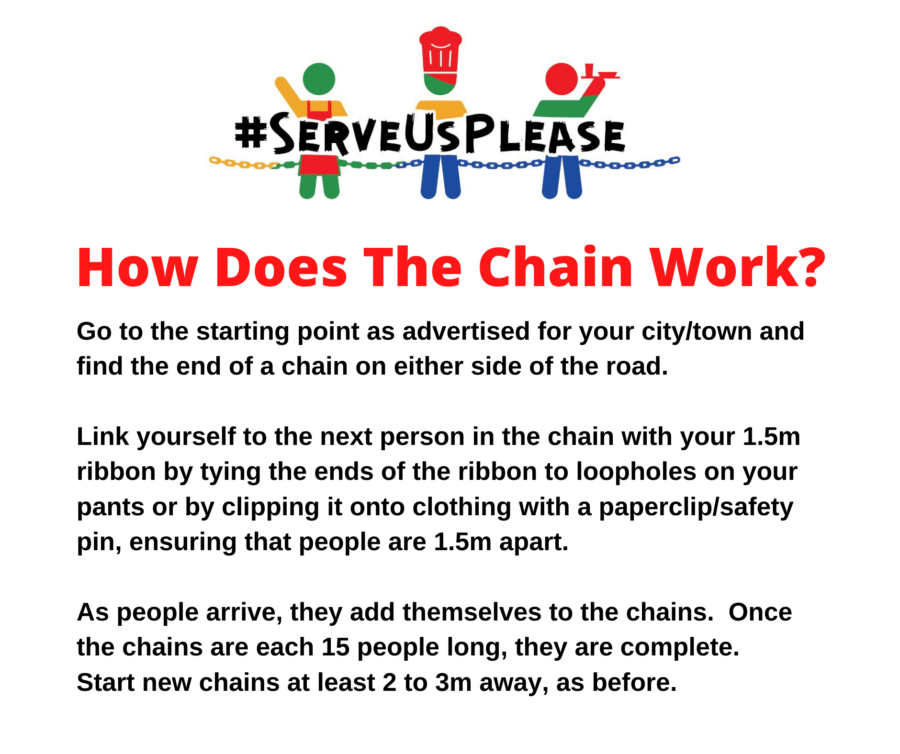 For further info and to sign up to protest, visit the #ServeUsPlease website and Facebook page: http://www.serveusplease.co.za/ and https://www.facebook.com/ServeUsPlease-117995923321083/.