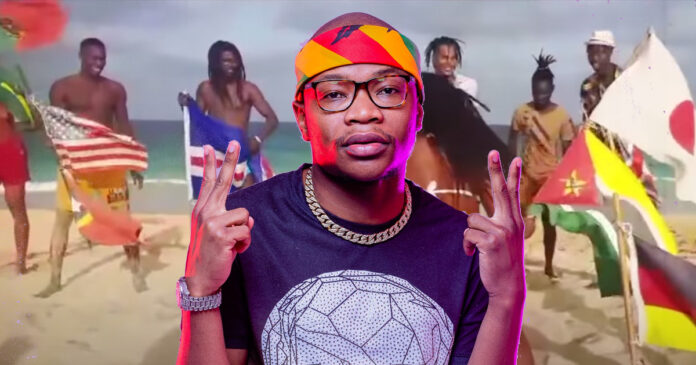 A South African gospel song has the world singing and dancing through a pandemic! 'Jerusalema' – by South African-born international star Master KG, and featuring multi-talented vocalist and Nomcebo Zikode – has been viewed over 48 million times on YouTube. The song was uploaded eight months ago and has been going viral ever since across Africa, but in recent weeks has gained even more traction worldwide from Australia to Europe and the US, growing into a disco phenomenon played in clubs, gyms and on the radio… as well a dance challenge with people of all nationalities uploading their videos, dancing to the South African hit. (Watch below.)
The song has struck a universal chord, sweeping people everywhere onto their feet and out of Lockdown inertia. One fan – Milos in Serbia – sums up what makes this song so special: "Music like this connects all of us from all over the world???."  The song has also been a wonderful link to SA for expats, with Ann in Australia saying: "I live in Sydney and absolutely love the African beat!". (Nomcebo told 702 recently that her aim was to do justice to the "amazing beat".)
Meanwhile, back home, the smash hit is providing South Africans with some much-needed joy and pride right now. Gauteng PR Georg Knoke says: "Bravo South Africa ??! An amazing story of how this happened! Wow! This should be the anti Covid-19 song!"
Master KG (whose real name is Khaogelo Moagi) told 702: "It is so wonderful to see the love from all over the world. I used to dream of such moments when I was still underground and starting to make music."
The 24-year-old DJ composer says he visualised this success – he used to picture himself "out there" and everyone appreciating his music… so it's literally a "dream come true".
The song was actually recorded on 11 August 2019, and posted on social media. Thanks to the enthusiastic response,  he "called my sister Nomcebo to come so we can we finish the song." It was uploaded to YouTube in October and officially released on 29 November.
Within a week it gained 1 million views!
The song truly took off around the world after 19 June when Master KG and Nigerian star Burna Boy collaborated "in virtual space" to release a Jerusalema remix, with lyrics by Nomcebo and Burna Boy. It already has over 2.2 million views on YouTube and countless plays in bars and on radios across the planet.
Master KG says: "Most of the time remixes will kill a song but with this one with Burna Boy I think God was on my side because the remix took the song to another level."
WATCH Master KG Jerusalema Remix (Feat. Burna Boy and Nomcebo Zikode)
Several dance challenges have also been uploaded, including one from the African Kids in Tanzania who've clocked up over 7 millions views. (Watch it below.)
The global dance craze began in Angola, Master KG told The Sowetan.
"I'd say the first one that was done in Angola remains my favourite because it gave birth to all the dance challenges all over the world. It is a dance that was done by people from Angola then Portugal followed and it just went viral from that point," he told the paper. "Just before the lockdown, I went to Portugal to promote my album and I also put more emphasis on the dance during my shows."
Nomcebo told 702: "Everybody around the world is hearing my voice singing Jerusalema. Master KG is amazing in studio. And as a person, he is so kind and that makes it very easy for me to work with him."
South Africans, who have been passionate about the song for a long time, were upset when it wasn't included in the South African Music Awards – Master KG comments on the SAMA criteria in his interview – listen to it here on 702.
Master KG's many accolades include the coveted African diaspora Afrima 2018 Award for Best Electro and Dance; Afrimma 2019 Award for Best Male Southern Africa; SABC Summer Song 2018 for Skeleton Move; and the Limpopo Music Award for Best House Single for Skeleton Move. Nomcebo Zikode is better known for her beautiful vocals on Emazulwini and Imizamo Yami.
Master KG has a new album coming soon.
WATCH Master KG – Jerusalema Original
WATCH African Kids (Tanzania) – Jerusalema
And here's an Italian version of Jerusalem:
When it's your time, there's no stopping!

Onwards @MasterKGsa ?????? https://t.co/ELJ2v049Aq

— Tumi Sole (@tumisole) July 24, 2020
The city of Segura in Brazil:
South African health care workers:
#HealhcareHeroesNursing staff at Karl Bremer Hospital in Belville, Cape Town, celebrate themselves and their hard work in fighting COVID-19.We salute you.

Posted by National Health Insurance -NHI on Saturday, May 16, 2020
English Translation of Jerusalema, posted on YouTube:
– Jerusalema ikhaya lami (Jerusalema is my home)
– Ngilondoloze (Guide me/Keep me safe)
– Uhambe nami (Walk with me)
– Zungangishiyi lana (Don't leave me here)
– Jerusalema ikhaya lami (Jerusalema is my home)
– Ngilondoloze (Guide me/Keep me safe)
– Uhambe nami (Walk with me)
– Zungangishiyi lana (Don't leave me here)
– Ndawo yami ayikho lana (My place is not here)
– Mbuso wami awukho lana (My kingdom is not here)
– Ngilondoloze (Guide me/Keep me safe) – Ngilondoloze (Guide me/Keep me safe)