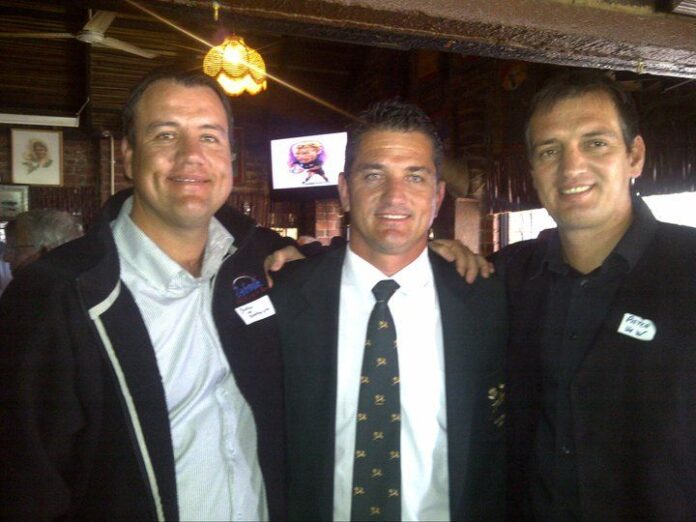 The brother of the late legendary South African scrum half Joost van der Westhuizen is making headlines himself, after shooting dead two armed robbers who had stormed a church in Centurion and held up the terrified congregation.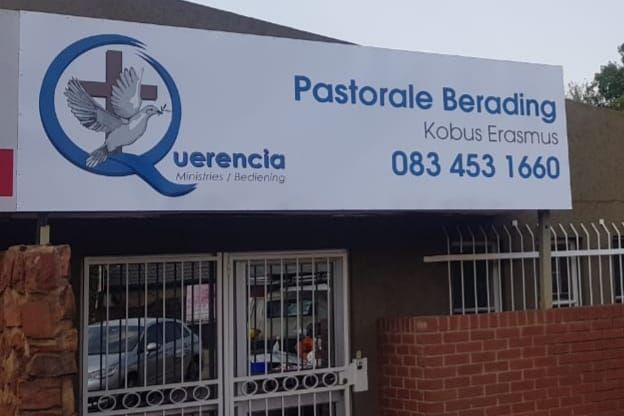 Former police officer Pieter van der Westhuizen, 51, who was amongst the church goers pulled out his own firearm and opened fire on the three heavily armed men.
He reacted when Pastor Kobus Erasmus was pistol whipped and had a gun put to his head and the congregation was told to hand over all their jewellery, phones and money.
Pieter, whose younger brother Joost is remembered as one of the Springbok legends who lifted the Rugby World Cup in 1995 in front of Nelson Mandela, did not hesitate and drew his firearm.
Two shots killed two of the armed robbers and the third escaped out the front door of the Querencia Ministries Church, into a waiting getaway car.
It is thought the third man may have been injured by a gunshot and hospitals are being checked in the region for reports of anyone seeking treatment for a bullet wound.
Photographs of Pieter have emerged on social media showing him standing on the wrist of a dead gunman whose shirt is heavily soaked with blood from a stomach wound. (You may view the photos here, but please be warned: they are graphic.)
A second gunman is seen slumped in the church with a fatal bullet wound high in his back, which knocked him off the altar where he was holding Pastor Erasmus hostage.
Members of the congregation screamed and ducked for cover as gunfire broke out when the gang entered the church, and one 15-year-old churchgoer suffered a head wound after a bullet grazed his skull.
Pastor Kobus Erasmus said that at least 19 shots had been fired inside his church.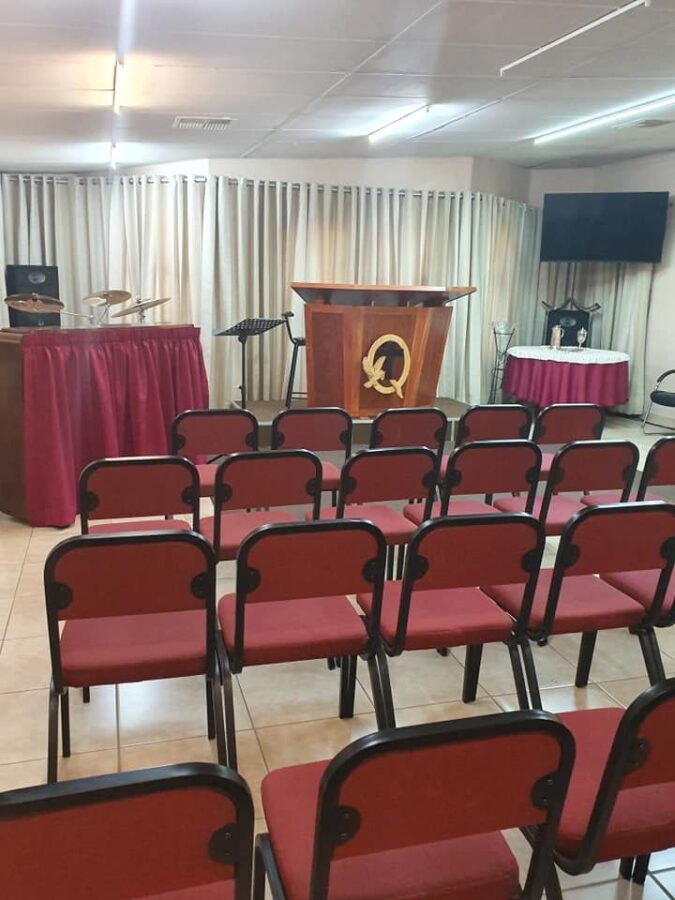 He said: "We were singing the last hymn, just before I was about to say the last prayer, and I am now shocked beyond words because we were in a church and they came in.
"They came with loaded firearms and one of the gunmen hit me with the front of the gun on the head gangster style and told me to lie down… but I can't – I have a broken hip.
"He took my cell phone and jewellery, and cell phones from the congregation and then there were shots and Pieter retaliated and the two guys with the guns fell down.
"I would say about 19 shots were fired," he said.

A member of the congregation told a relative: "Suddenly there were three men inside and one hit the Pastor with a gun and they told everyone to hand over valuables.
"Then there was just like 'bang, bang, bang' and two of them went down and the last one, who was guarding the front door, ran for it and there was so much screaming.
"The man who did the shooting checked them both and said we were safe but he kept his eyes on the front door and the gun in his hand in case anyone came back again.
"A security response team turned up and took over and the police arrived, and the Pastor took us all outside and told us not to look at the bodies of the two dead men," she said.
Social media users compared the real life heroics of Pieter van der Westhuizen to those of his younger brother Joost who won 89 caps and scored 38 tries for South Africa.
Jan Schoemann said on Facebook: "They went into the Lord's home on the Sabbath and they found that he had ensured a guardian angel was in place to keep his flock safe.
"God bless that man for keeping everyone safe inside that place of worship. Joost made South Africa proud and now his brother has done the same thing and made us proud".
Pieter van der Westhuizen's attorney Ulrich Roux said that his client acted in self defence when he shot the two armed robbers and was carrying a licensed firearm.
Roux said:"My client was absolutely acting in self-defence not only for himself but also for the other congregants in the church and the pastor who was under threat.
"Of course a very traumatic thing happened and fortunately no innocent people were harmed but there is a police investigation so I cannot say too much about it.
"Shots were fired first by the robbers and he did what was very necessary to ensure everyone's safety. One had put a loaded gun to the church Pastor's head," he said.
Springbok legend Joost van der Westhuizen died from motor neurone disease in February, 2017, aged just 45. He was supported to the end by his brothers Pieter and Gustav, and two children Jordan and Kylie and his estranged wife Amor Vittone, 48, despite their public break up.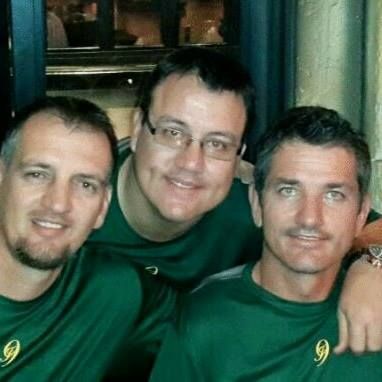 It is understood Joost's brother Pieter, when serving in the South African Police for 13 years, was awarded the Silver Cross for bravery whilst in great danger saving other lives.
Police spokesman Brigadier Mathapelo Peters said: "Two of the three robbers who entered the church were killed and the third fled with the fourth in a getaway car. We have an active investigation into tracing the two who escaped."
Police confirmed that Pieter van de Westhuizen had not been charged with any offences but was helping them with their investigation into the deaths of the two robbers.
Anniversary of the Saint James Church Massacre
The Centurion church attack took place over the same weekend that South Africa marked the 27 year anniversary since the tragic Saint James Church of England massacre in Kenilworth, Cape Town. In that incident, 11 members of the congregation lost their lives, and 58 were injured. A member of the congregation back then also returned fire, when four members of the Azanian People's Liberation Army (the PAC's armed unit) stormed the Western Cape church on 25 July 1993. Four men were arrested, of which three were later granted amnesty by the Truth and Reconciliation Commission. (The fourth died in a car accident.) The TRC stated at the time that targeting civilians was "a gross violation of human rights… and humanitarian law". "Several of the church members who were injured or who lost family members in the attacks, including one congregant who returned fire on the attackers, later met and publicly reconciled with the APLA attackers," according to SA History.
To use any of the photos or text, please contact Jamie Pyatt News Ltd.