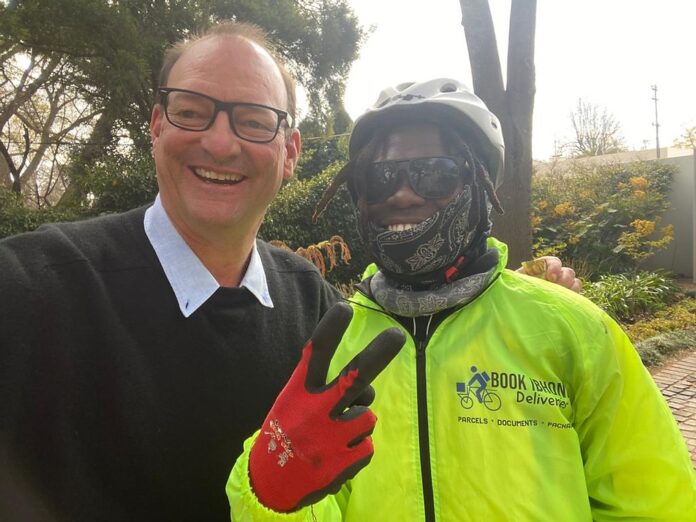 Perhaps it has taken a small cruel virus to open my eyes… writes Steve Hall. This invisible thing has brought a new clarity to the vision I once had but maybe didn't notice enough. Covid-19 arrived unwanted and indiscriminate, and no amount of border protection or customs officials could stem the tragedy of its travels. Through no fault of their own, some businesses have been wiped out. Through no brilliance of their own, others have flourished. And somewhere in between, an army of resilient people have continued to save young children from the streets or tilled the soils of their inner-city farms. Somewhere between the heads and tails of the coin toss of Covid's fate, artists continue to conjure up a culinary magic from the kitchens of this city's streets, and brave people take one vulnerable step after the next as they find a precarious balance on the tightrope of their own lives.
They savour each sip of the air above the abyss, not daring to look down and they pray for the rope to hold each day.
We met all these people in an emotional day. And we met them all on line.
My work before Covid offered me the extraordinary privilege of spending live time with many of these Leaders, and since then I have found it challenging to really enjoy what I do. I have missed the connections, the stories and the warm heart of Africa and its hugs. I have longed for the looks on our delegates faces as they too get wrapped up in the lives of these everyday heroes and heroines. My salary was supplemented by huge job satisfaction when the embracing of emotions resulted in empathy, and when people looked through fresh eyes – primarily at themselves, there was a dividend of understanding and a thirteenth cheque of a new possibility.
All that went away with this miserable global invader. Including the salary, and any hope of a dividend. There never has been the luxury of a thirteenth cheque in my own business. I felt like I was one of those souls shuffling along the shaky string of survival.
Until I connected with these extraordinary ordinary people again. On line.
In a pioneering collaboration with a leading Business school and an International Bank, our team at Lead with Humanity put together a virtual immersion. That sounds like a fun run, a silent scream or controlled chaos. An oxymoron. Seriously funny.
And yet it worked. Perfectly imperfect, as any immersion should be.
We met Mam' Khanyi at the Home of Hope who is still saving street children through this pandemic. We went farming with Ma Refiloe in her inner-city farm as she feeds her community not only with health, but also with hope. We visited Sanza in his Yeoville kitchen who not only cooked for us, but kept us enthralled with his Energy and spellbound by his storytelling. And as we met all these people, I could feel my old life returning, my heart full of purpose and my lungs full of the air above the abyss. I felt more surefooted in the unsteady uncertainty of the wobbly wire of wifi. I was walking the tightrope and for the first time in months I felt the "fun" in being a funambulist. A tightrope walker. Each of these spectacular superheroes who have no need for capes, should be the subject of books on Leadership, not just off the cuff mentions in an on-line immersion.
We would meet someone else today who was riding this cycle. Mpumelelo (Mpumi) Mtinsto is the entrepreneur behind Book Ibhoni, a bicycle tour operator in Soweto. He proudly tells as that "Ibhoni" is township slang for a bicycle, and like so many in the tourism industry he was on the wrong side of this global coin toss. Facing a booking sheet which was being erased before his very eyes, he found the one green chamber in a roulette wheel of Black and Red. He would pivot his tour company into a last mile delivery service. And he would use his bicycles to do this. He and his peleton of peddlers would go where the courier companies couldn't or wouldn't. His success lies in knowing his terrain. He knows every unnumbered house, every back road through the roadworks, and every possible gangster.
He is completely connected. And he and his team delivered eighteen lunches across the city of Johannesburg from the mercurial and magical Sanza, all on beautiful ceramic platters with an array of homemade drinks as well as a generous helping of herbs from the garden of Ma Refiloe picked with passion.
He is riding the cycle. And seemingly, he is loving the ride.
We signed off knowing that we had taken a step into our own future, and that emotions are still real even on a virtual platform. But overwhelmingly, the group still longed to physically hug Mam' Khanyi, kick the soil and get good earth under the finger nails with Ma Refiloe and sit with Sanza and share from the abundance of his platter and his person.
And of course, to be led through the streets of Soweto by Mpumi, when we conquer this coward called Covid.
Drained, but with a feeling of being alive I hadn't experienced for months, I walked into my daughter's room, and typically it was full of music. A song was playing which only served to confirm that sometimes there is a perfect order to the synchronicity of things. It was from the soundtrack to The Greatest Showman, originally written I think by Michelle Williams.
Tightrope.
"Some people long for a life which is simple and planned.
Tied with a Ribbon.
Some people won't sail the sea 'cos they're safer on land.
To follow what's written.
But I'd follow you to the great unknown
Off to a world we could call our own.
…. We're walking a tightrope."
So, if you feel that you're walking a tightrope, keep walking.
And Mpumi, as you ride this cycle, keep pedaling.
Steve Hall
P.S. According to Wikipedia, the "fun" in Funambulist is not the kind of fun associated with enjoyment, but rather from Latin origin 'funis' which means rope. Ambulare is to walk. A rope walker.
If we are to walk these ropes though, I guess it wouldn't harm to have fun in the process?
This story first appeared here.