Social media users were shocked this week by the emergence of videos on Twitter that show Standerton in a state of chaos, with rubbish strewn across streets.
The garbage has apparently been piling up for approximately three months in the Lekwa Municipality, reportedly as a result of a garbage collectors strike. Several local residents said on Twitter that there has been a general service delivery failure in Standerton (as well as other towns in the municipality) since Lockdown began in South Africa in March.
In an image that appears to be from the Lekwa Ratepayers Association, it says they are ready to take action against the Lekwa Municipality, but need financial support from the community.
SABC broadcaster Sakina Kamwendo posted a video on Tuesday, saying: "Standerton…my hometown. Words fail me…"
Standerton…my hometown. Words fail me 💔💔💔😭😭😭 pic.twitter.com/Y9MhQp3zmp

— Sakina Kamwendo (@SakinaKamwendo) August 25, 2020
3 months long garbage collectors strike in Standerton @LekwaLocal people are now living in filth. Why? @MYANC @PresidencyZA please intervene here… pic.twitter.com/E7raTMFKhY

— Sbudah Ngomz (@sbuddha777) August 24, 2020
Standerton, on the banks of the Vaal River in Mpumalanga, is the seat of the Lekwa municipality.
Residents said on Twitter that aside from the lack of trash collection, their electricity has been intermittent on top of loadshedding. They claim the Municipality owes Eskom millions.
The Southern African Clothing and Textile Workers' Union (SACTWU), an affiliate of COSATU, also revealed that: "Lekwa Municipality hasn't paid its electricity bill & so Eskom is rationing electricity incl to large textile, poultry & feed factories. They can't operate like this, meaning #SACTWU members' & other workers' jobs are in jeopardy."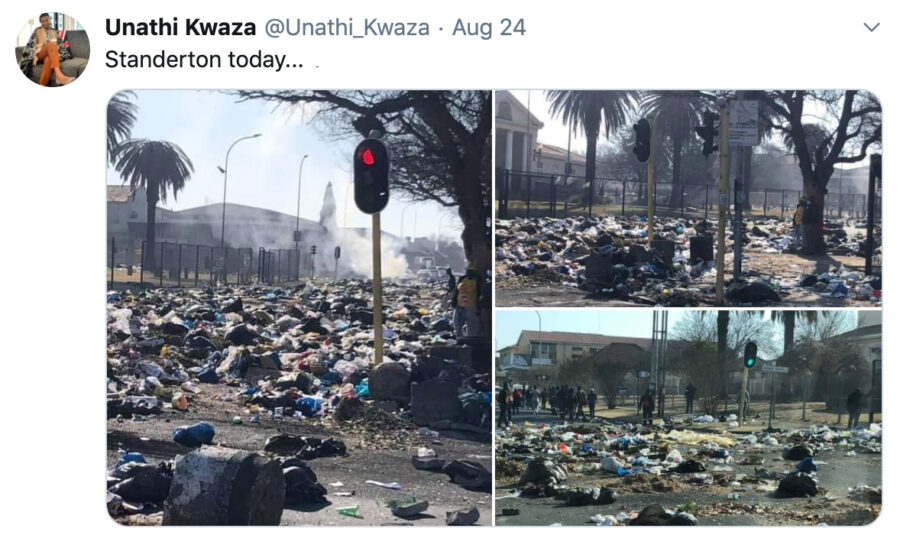 Ratepayers in several areas in South Africa have been up in arms over Eskom cutting off electricity because of municipalities failing to pay the power utility, despite the ratepayers having paid their bills.
Service delivery has also been an issue in other parts of South Africa. Recently though residents of KTC in Cape Town inspired the nation by clearing up their own rubbish, after concerns about their health and the bad smell.
Members of the South African Municipal Workers Union (Samwu) told the Standerton Advertiser on Friday that: "We are not only protesting because we need the increment, we are fighting for the community as well." They described conditions that allegedly include unsafe conditions and corruption and said they have been "silenced too long". They did tell the paper: "We are deeply sorry for interrupting services" but said they will not return to work until their demands are met.
DON'T MISS CARTE BLANCHE THIS SUNDAY – 30 AUGUST 2020: The current affairs show investigates the shocking situation in Standerton.  You can watch on DStv Now on 30 Aug, or stream it overseas on Showmax International in most countries from Tues 1 September.
See more photos of Standerton in the local Ridge Times.