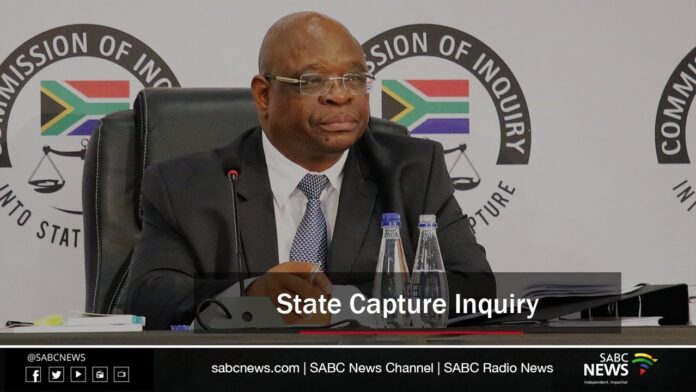 There have been some classic moments during the two years of the Zondo Commission of Enquiry into State Capture. And even though many think the commission is a waste of time and money, information coming out of the witnesses has clearly helped crime-busting agencies. One only has to consider the arrest this week of seven of the people allegedly involved in a R255 million asbestos deal in the Free State, only days after some of them appeared at the Zondo commission.
Here are a number of classics from the witness stand:
1. Speechless. Nontsasa Memela, the former head of procurement at SAA Technical, on where R800,000 went.
Bank Statements will sink you at the Zondo Commission.
Memela went pale when Hofmeyer said she will bring out the bank statements. pic.twitter.com/72U7bXIzjD

— Lukhanyo Vangqa (@LukhanyoV) October 1, 2020
2. Tenderpreneur Edwin Sodi, who allegedly scored billion-rand contracts off the ANC, struggling to answer questions about all the payments he made to ANC politicians. A day later he was arrested as part of the Asbestos 7.
3. Bosasa whistleblower Angelo Agrizzi on the groceries Bosasa gave Nomvula Mokonyane and the events of tens of thousands of ANC supporters it catered for free. From second 30, listen to the list of items sent to the ANC by Bosasa. From minute 3 he talks about deliveries to former minister Nomvula Mokonyane's house.
4. Jacob Zuma: "I don't remember."
5. "There was a culture of fear at Prasa under Lucky Montana." Prasa former legal head Martha Ngoye.
6. Eskom whistleblower and former legal head Suzanne Daniels gets reprimanded by Zondo when she says she was "morbidly curious" about an offer to see the Guptas even after she had been shocked by their previous offers.
Suzanne Daniels morbid curiosity #Eskom #StateCaptureInquiry pic.twitter.com/7ngwBjAAkF

— ♐️ (@Thisisvax) September 15, 2020
7. Nomvula Mokonyane (a former Gauteng premier and cabinet minister, it's hard to believe) flip-flopping on her Bosasa-sponsored birthday bash, grocery hampers and a R3 million Aston Martin.
8. Watching Sandy Thomas, Mokonyane's assistant for the past 20 years, is fascinating and excruciating. Ducking and diving, can't remember things, it's addictive watching. But the best is her searching for page 85 on a document. (Starts at 53.55.)
9. Duduzane Zuma. "Tony Gupta is a very dear friend of mine. He's my guy."
10. Former president Jacob Zuma appoints the Zondo Commission of Enquiry before …
WATCH: Jacob Zuma himself announced the appointment of the state capture inquiry. #Zondo pic.twitter.com/5iYvANsgL4

— Goolam (@goolammv) September 29, 2020
… he refuses to take part in the commission anymore because he believes Zondo is biased.
President Jacob Zuma and his Lawyer Advocate Advocate Sikhakhane's last day at Raymond Zondo's circus.

They stated explicitly that they will never come back to Raymond Zondo's circus.#ZondoCommission pic.twitter.com/F7cP4O5RS2

— The_Commentor01 (@The_commentor1) September 29, 2020