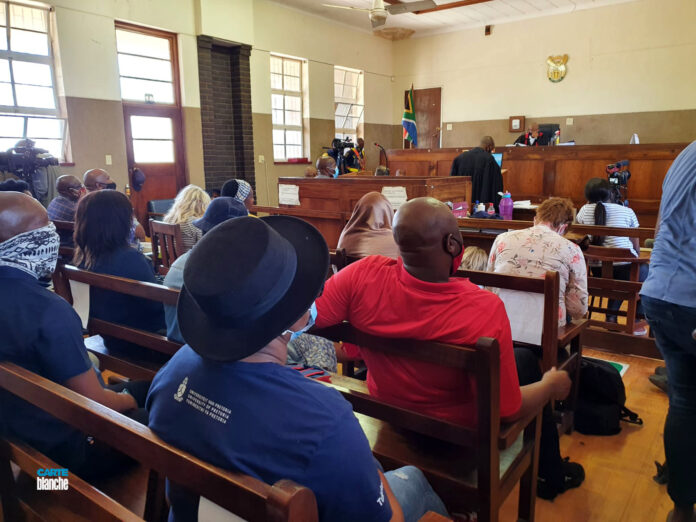 Two suspects appeared in the Senekal Magistrate's Court in the Free State Friday, charged with the murder of 21-year-old farm manager Brendin Horner. The suspects have been named as Sekwetje Isaiah Mahlamba, 32 and Sekola Piet Matlaletsa, 44.
Mahlamba was the first to take to the stand, where he said he would be applying for bail. He said he has no previous criminal convictions other than one stock theft case, for which he was out on bail when he was arrested for Horner's murder. He claims he was not involved in the murder, and that police did not read him his rights when he was arrested. Mahlama says he was with his girlfriend (Maleqhoa Sithole) and that the blood on his trousers was from a sheep he had slaughtered the previous week. He also denied that police found his bloody trousers in a freezer.
According to State prosecutors, Sithole stated under oath that she did not spend the entire evening with Mahlamba.
She told TimesLive in an article today that she was supporting him, and that she was with him that night, however she admitted he did leave for a while. Sithole told the paper: "He was at the tavern that night and then he came home where we were together. He left briefly to go and get some 'take-away' booze and came back with it. We drank it at home and I slept with him there."
It was at the tavern on the afternoon of 2 October that one of the accused allegedly bragged about "assaulting a white man on a farm". A witness statement, including enough detail, led police to the two suspects, reported News24's Alex Mitchley on Twitter.
Mahlama claimed that he doesn't know his co-accused, Matlaletsa, apart from knowing where he lives.
According to journalists in the court house, South Africa's Minister of Police, Bheki Cele, and Minister of State and Security, Ayanda Dlodlo, were sitting beside Economic Freedom Fighter leader Julius Malema.
Rapport editor Waldimar Pelser tweeted: "Bheki Cele sitting next to the rabble-rousing hate-spewing Julius Malema in court in Senekal is bad optics which the minister should have made an effort to avoid, especially after Cele made what looked like a bona fide effort this week to reach out to affected communities."
UPDATE: The second suspect, Matlaletsa – who says he is unemployed and living on a disability grant – told the court he would plead not guilty. He said he has two prior stock theft convictions, and one conviction for illegally purchasing a pig.
A member of the investigative team, Captain Gerhardus Myburgh, testified for the state, revealing that Horner had been strangled to death, and had suffered knife wounds on his arm, shoulder and hands.
Mahlamba's bloodstained clothing has been sent for forensic testing and analysis, he said. However blood samples taken from Brandin Horner's vehicle, which have already been sent for private testing, have revealed it was the blood of three different males, said Myburgh.
According to Myburgh, the suspects stole the farm manager's wallet and nothing else. (This is one of the details a witness who overheard the accused, had also informed police they said.)
The case has been postponed to Tuesday 20 October when the Defence Attorney will cross-examine Myburgh.
At the end of the day's proceedings, Policy Ministry Spokesperson, Lirandzu Themba, said: "Following the adjournment of the bail application in #BrandinHorner murder case, Police Minister Gen Bheki Cele is pleased about how police have handled events in #Senekal saying: 'No one came here to fight or incite violence and all leaders tried their best to call for calm.'"
Watch protesters in red and khaki descend on Senekal.
Malema sent his supporters into town, and a group has now marched om a protest by a group of farmers' supporters, many clad in khaki and with Boer Republic flags. Its tense. (@PieterDuToit) pic.twitter.com/uhdxtvrefP

— Team News24 (@TeamNews24) October 16, 2020
See all the Senekal footage on Carte Blanche on Sunday 18 October in South Africa on DStv Now or stream it overseas in most countries from Tues 20 October.