I am sick and tired of social media and irresponsible, inaccurate journalism so it was to this end that I decided that we would go to Senekal 16 October 2020 to see with our own eyes, and hear with our own ears… says Brad Nathanson Investigations.
Amid all of the propaganda on social media spewed from the mouth of… Julius Malema and his threats of what he and his party were going to do in Senekal, I must tell you that not once did I feel that our lives were in any way threatened or in danger.
16 October 2020 was for me much like Christmas Day. Lots of red, just like Santa Claus, much hype as the day got closer and everything over by lunchtime.
Looking at the amount of red shirts on the ground one may have been fooled by the EFF representation until you took a closer look. The EFF contingency comprised 80% women, 90% desperate for a tee shirt and a meal voucher and 10% drunken thugs without conviction, unable and unwilling to even engage any of us in eye contact. The majority of the EFF turnout had no idea what they were asked to be in Senekal for and even those who Julius Malema may have deemed to be his actual "foot soldiers", seemed embarrassed and unwilling to support this EFF initiative, the purpose of which remains a mystery to me; if not just spoiling for a fight.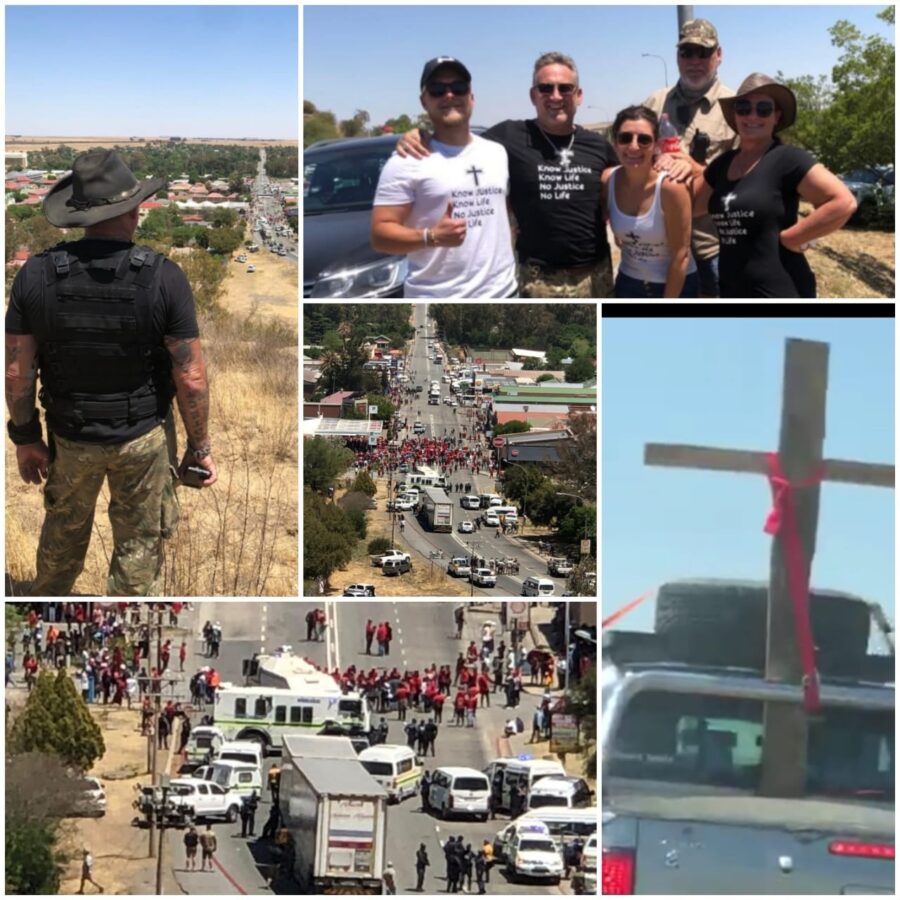 Had a real fight broken out, I dare say that the odds were heavily stacked against the EFF in a fight that would have been one way traffic in favour of the farmers who comprised mostly men who were legally armed in one or another way. Long before this morning's proceedings the town of Senekal was already under the protection of the farmer and other patriots who had already set up Observation Posts and the like in the days preceding. We were not going to be taken by surprise, this I can assure you.
My biggest disappointment was the defragment of the Boer. There were too many men wanting to have their own voice heard and too few men in actual authority. The thing that worried me the most was the fact that the Boer allowed himself to be divided up into groups from those who wanted to solve the proposed violence with prayer versus those who wanted to go to war. There was no one agenda and this is a dangerous status quo to "go to war" in.
Brendin Horner was not simply murdered. He was murdered and put up on display for us to see but what is the message?
May his death not have been in vain. May justice prevail and may the good people of this country come together in a formalised way to stand up against crime and especially the murder of farmers.
This is not a Black versus White thing people. This is lawful versus unlawful. There are many Black, Indian and Coloured people who too are tired of the racism and lawlessness in this Country but we cannot be divided.
United we stand.
Divided we will fall.
#GodBlesstheGodfearing
Murder accused court appearances remanded to 20 and 22 October 2020
This post first appeared on Brad Nathanson Investigations FB page, and is republished with permission.
Nathanson also asks: "Where was our president in all of this? Why did he not bring an immediate end to this potential bloodbath right at the start by going on National television and declaring that NODODY was going to be allowed into Senekal on Friday, not the Boer and not the EFF? Where and on what is our President focused? This was potentially war in the making. One poor decision; one shot fired in anger; another person to die in vain… What was more important than this Mr. President?" (Read the full post here.)
Minister of Police, Bheki Cele, has promised to look into the allegations of stock theft and police complicity, and to return with a plan to reinforce rural safety within three weeks #Senekal #CarteBlanche @DerekWatts pic.twitter.com/9J1OoVDFw0

— Carte Blanche (@carteblanchetv) October 18, 2020
It was all eyes on #Senekal in the Free State this past Friday as two men accused of murdering a young farm manager appeared before court. @DerekWatts was there and unpacks the day's events tonight 7pm on #CarteBlanche. pic.twitter.com/VGNelRtXCr

— Carte Blanche (@carteblanchetv) October 18, 2020
South African current affairs show Carte Blanche was in Senekal for the court appearance on Friday. If you live abroad, you can stream the show from Tuesday in most countries, on Showmax International. 
VLOG 54: #Senekal- Are we losing the aim of justice for #BrendinHorner due to the EFF shenanigans?

Watch this live-stream, as I show you what happened in #Senekal, and REMIND YOU that despite the #EFF attempts to dribble and distract us, today was meant to be for the rural citizens of that area to demand justice for Brendin Horner.Join me LIVE on the streets of Senekal, as I talk to farmers, local residents and the EFF contingent who had descended on that town.I make the case for moderate voices to come to the fore and dominate the issue of farm and rural safety, and I show you activists from the Institute of Race Relations who were on the ground to share their ideas on efforts to improve rural safety….#SaveRuralSA!Support my work by donating $1 or R20 per month via Patreon (https://www.patreon.com/join/BigDaddyLiberty), or via PayPal using bigdaddylibertyza@gmail.com

Posted by Big Daddy Liberty on Friday, October 16, 2020