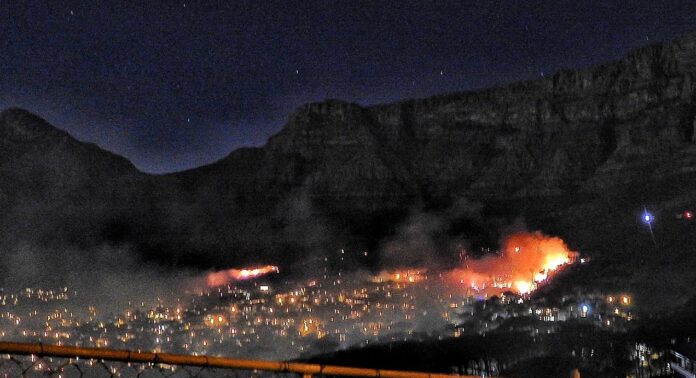 In response to questions from SAPeople, Philip Prins, the park's fire manager, said that because most of the park that was burnt last weekend was fynbos, fortunately not much lasting damage was caused. He said the blaze started from a vagrant fire that had been abandoned or left unattended and was then fanned by strong winds. Here's the Q&A in full:
1. How much damage was caused by the Deer Park fire?
Philip Prins, TMNP Fire Manager: An area of approximately 50 ha was burned. Fynbos is both fire-prone and fire-adapted and fire forms an integral part of the ecological management of the Park. Therefore, in terms of vegetation no damage was done as such. According to the City Fire and Rescue Services minimal damage was done to properties on the urban edge.
2. Do you know how the #DeerPark fire started?
The fire was started as a result of a vagrant fire that had been abandoned or left unattended. The strong SE wind (gusting up to 65km/h) then caused the fire to spread.
During the 2019-20 wildfire season vagrant fires was responsible for 58% of the fires that occurred within the Park.
3. Will there be any action taken?
The vagrants who made the fire have not been identified and it is unlikely that they will be. SANParks Visitor Safety Rangers have been requested to patrol this area more frequently.
4. What other steps are being taken to avoid these types of fires, caused by humans, in future?
Significant challenges are being faced regarding vagrant fires within the City Bowl area. Due to the fact that TMNP is an "open access Park," it is difficult to control any people going in and going out of the Park. Vagrants usually enter the Park from the urban areas late in the afternoon or evening and depart again early the following morning. During the night they usually make fires to keep warm and possibly cook/heat food.
The only way forward is for the TMNP to increase the number of patrols to the known well-frequented sites and to extinguish such fires. This is an ongoing problem as any removed vagrants simply return and start another fire. This is a complex socio-economic problem that requires specialised attention, not only from the Park but also from the City.
Fire situation in Cape Town.#CapeTown #DeerParkFire #TableMountain pic.twitter.com/2jIKbmDCoO

— SLOW (@GoSomewhereSlow) October 31, 2020