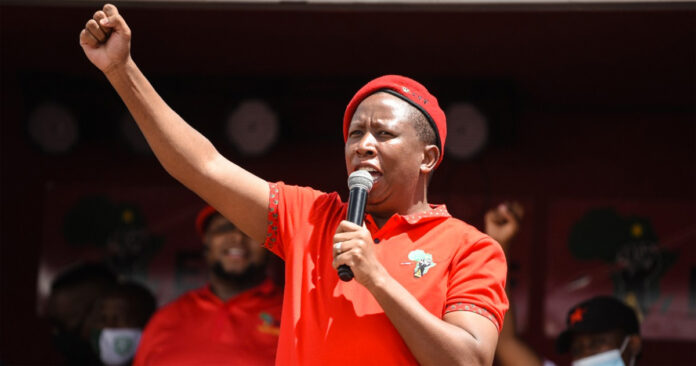 Civil rights organisation AfriForum and trade union Solidarity have announced they will lay a criminal charge at the Lyttelton police station in Centurion, Gauteng, against Julius Malema, leader of the Economic Freedom Fighters (EFF), tomorrow morning (Wed 25 November 2020).
The charge follows after Malema's recent remarks and threats against the South African Police Service (SAPS), AfriForum said in a statment. The threats included that the EFF would fight the police and their families in their own homes.
Malema said: "If South African police want a fight they must declare it, we will treat them the same way we treated them in '80s. We will not only find them at the picket lines, we will go to their homes and fight them in their own houses with their own families."
The EFF said: "No one can defeat the power of the masses."
Well know South African journalist and political analyst Max du Preez said: "The EFF's extreme and violent rhetoric has now escalated to a very dangerous level, as have MKMVA & RET faction's xenophobic threats. People will start acting on this if it's not stopped."
EFF supporters argue that "the real issue here is wanton acts of unchecked racism by certain sections of white establishments; the EFF is trying to address these issues militantly and radically."
South Africa's Police Minister, General Bheki Cele has accused Malema of crossing the line and said he noted "with disgust", the "reckless, irresponsible and dangerous statements" calling for an attack on police officers by the EFF leader.
The South African Police Service (SAPS) said in a statement on Monday that Malema was  "clearly encouraging direct violence against members of the SAPS and their families".
Minister Cele called on police officers to protect themselves, and said he was confident they could defend themselves, should they be under any attack.
"The threat to the lives of police members and their families will not be tolerated, officers of the law should never be used as bait for political mileage." concluded Cele. However he did not appear to take any further action. Instead if is AfriForum and Solidarity that will lay charges against Malema at 09h00 on Wednesday morning.
[In Case You Missed It]: CIC @Julius_S_Malema says if South African Police want a fight with the EFF they must declare it and we'll treat them the same way we treated them in the 80s.

No one can defeat the power of the masses. #CICinMohokare pic.twitter.com/xD3msnLtqa

— Economic Freedom Fighters (@EFFSouthAfrica) November 23, 2020
It is by the unstoppable commitment and dedication our Leadership and Ground Forces of the EFF keep showing that positive change will come.

Victory is Certain #CICinMohokare pic.twitter.com/L12XDVcy4m

— Economic Freedom Fighters (@EFFSouthAfrica) November 22, 2020
Expropriation of land without compensation shall be achieved by all means necessary.

We are fighting today because we are landless and we will never tire until our land is back. #CICinMohokare pic.twitter.com/c19Bs1evBk

— Economic Freedom Fighters (@EFFSouthAfrica) November 22, 2020