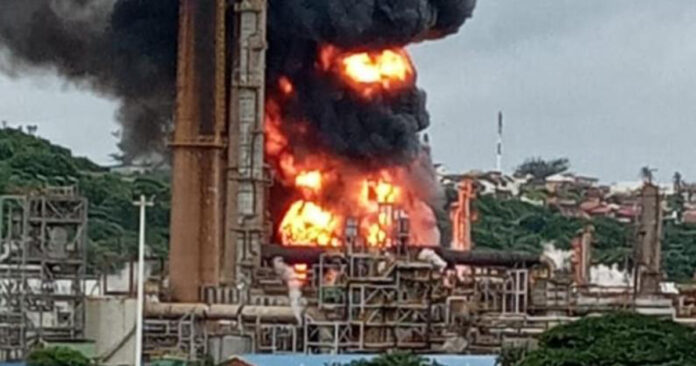 At least six people (some reports say seven) have been injured after a massive explosion on Friday morning at an Engen refinery in Durban, South Africa. Watch below.
According to Rescue Care Paramedics and Engen, the explosion occurred at 07h10 on Tara Road in Wentworth. Engen said in a statement that it was successfully extinguished by 08h45. Engen said its own emergency response team and eThekwini emergency services had been mobilised immediately.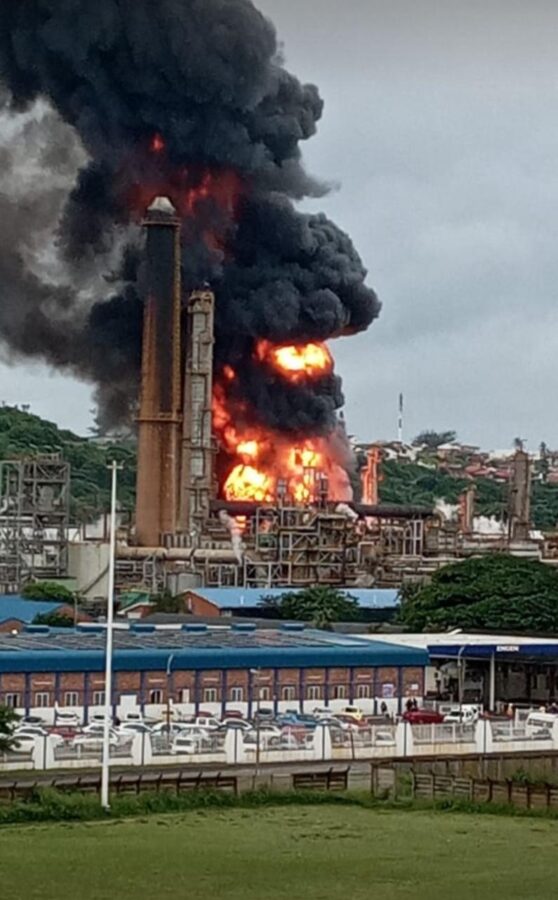 Rescue Care, along with many other Emergency Medical Services and Rescue Units, arrived on the scene to discover a large fire "after some sort of explosion".
"A triage area was set up by EMRS while Fire fighters and Rescue personnel entered the refinery to bring out the injured personnel and to fight the blaze. A total of six people sustained mild to moderate injuries and were stabilized on the scene before being transported to a nearby Durban hospital for the further care that they required," said Rescue Care.
In an update later today, KwaZulu-Natal (KZN) Provincial Spokesperson Lennox Mabaso said: "At this stage seven people have been treated for smoke inhalation. All are reported to be in a stable condition."
The cause of the explosion has not yet been determined. The South African Police Service are on the scene and will be investigating further.
On the video below, a witness can be heard blaming a "lack of maintenance" and describing how the building shook. A woman can be heard saying "I got such a fright".
One witness told SAPeople: "I was in my office this morning when, at 06h45 I heard what sounded like the loudest peal of THUNDER… but it wasn't stopping. And we are about 3 km away from the Oil Refinery! Fortunately we are on the beach so we don't get those foul
smelling gasses. Please join us in prayer."
A nearby building in Beach Road was set alight by the refinery explosion (as can be seen in the video below). Fortunately nobody was injured and that fire has also been extinguished.
"All relevant authorities have been informed and full cooperation has been provided.
Engen will provide an update about the incident as soon as further information is available. Safeguarding the health, safety and well-being of our people, community and environment remains our utmost priority," Engen said in a statement.
WATCH VIDEO: Fire after massive explosion at Engen Refinery in Durban, South Africa
UPDATE on Engen Refinery fire in Durban:
The KwaZulu-Natal Provincial Government has dispatched disaster management and emergency teams to the Engen Refinery in Merebank. KZN Provincial government spokesperson Lennox Mabaso said the teams from both provincial government and the eThekwini Municipality include air quality, environmental management specialists and disaster teams.
"Economic Development, Tourism and Environmental Affairs MEC Ravi Pillay is communicating with the Engen leadership to facilitate the response. The primary focus at this stage is on attending to the fire whose cause has not yet been established and to prevent any threat.
"MEC Pillay, Cooperative Governance and Traditional Affairs MEC Sipho Hlomuka, together with eThekwini Mayor Mxolisi Kaunda, are coordinating the government's response to the fire."