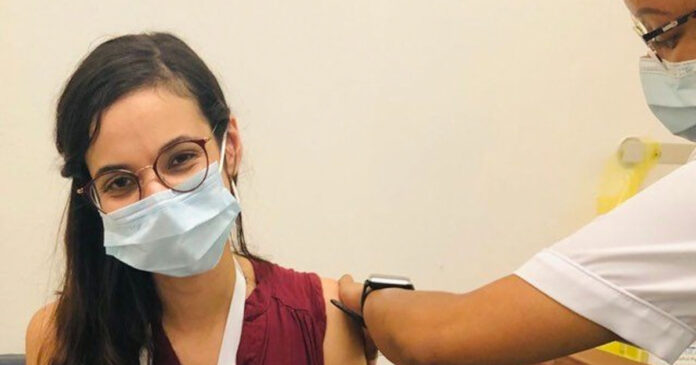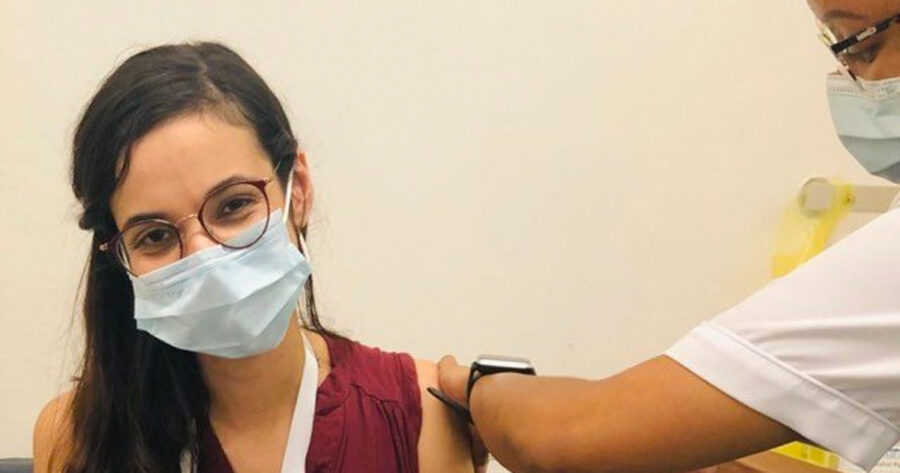 Cape Town doctor Dr Aneeka Domingo, who was one of the 23,059 healthcare workers to be vaccinated by Monday evening, says it was an emotional experience that felt like history in the making. She has also shared the symptoms she felt after the vaccination, and how to best prepare yourself.
Dr Domingo was vaccinated with the Johnson & Johnson vaccine at Tygerberg Hospital on Monday afternoon, along with fellow doctors, nurses, professors, radiography staff and others.
Waiting in the queue, she says the atmosphere felt like a "historic moment, with people from all walks of life feeling united and victorious". Some were taking selfies, many were sharing stories with each other about their COVID-19 experiences.
"I imagine it felt something like how it felt to vote for the first time," says Dr Domingo. After all they've endured – risking their own lives to save those of others – it was a touching moment for the healthcare workers, "remembering those who could not be saved".
"I felt tremendously grateful. I thought back to the months of absolute fear and uncertainty," says Dr Domingo.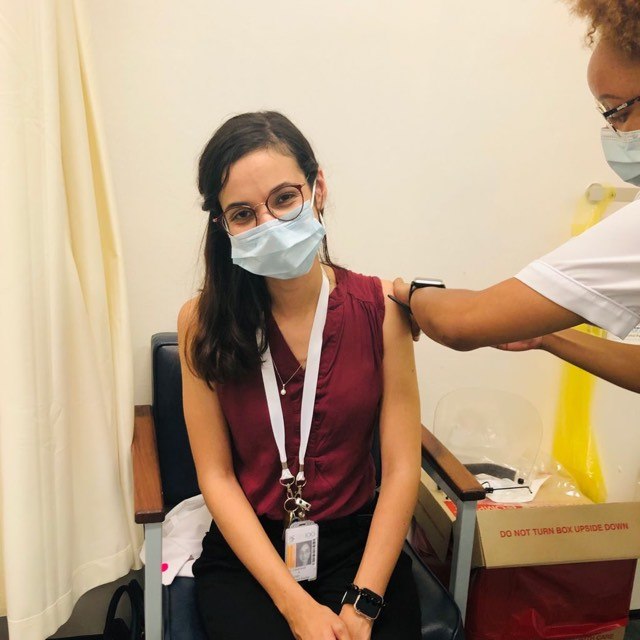 She says the vaccination process itself was very efficient with computer-based capturing of people's details and instant sms verification; as well as subsequent texts regarding what to expect, with a helpline and adverse effects reporting website.
"The vaccine itself was only slightly painful as the cold liquid is injected into your arm," says the doctor. "This lasts for a few seconds only."
Symptoms experienced after J&J Vaccine
Dr Domingo was vaccinated at 14h00 on Monday, and about seven hours later, at 21h00, some symptoms kicked in. She experienced "body aches" in her chest, back and jaw ("my most severe symptom"), as well as skin sensitivity, a headache, dizziness, shivering, thirst and sore throat.
By 02h00 in the morning she had "severe body aches and night sweats".
According to Dr Domingo, her colleagues had similar symptoms within the same time frame, and she advises – since many people will be similarly symptomatic – that it's a good idea to have pain and flu medication at hand.
"Be prepared. Don't be discouraged, it is so so worth it!"
Dr Domingo wrote on her Instagram page at the time of her symptoms: "We were warned beforehand and have been reassured it will pass after 24 hours. Be prepared. Don't be discouraged, it is so so worth it!"
Yesterday evening (just over 24 hours after the vaccination) Dr Domingo told SAPeople she was feeling much better and would be back at work today!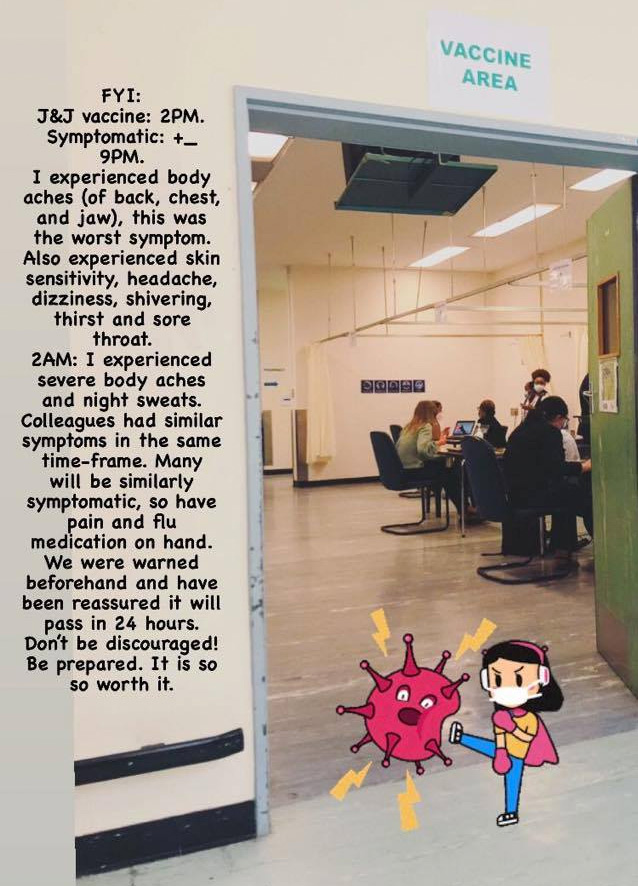 While South Africa's COVID-19 daily infections fortunately continues to drop, there were still 792 new cases logged on Monday. And sadly another 97 people lost their lives to Coronavirus, pushing SA's  Covid-19 death toll to 49,150.
Western Cape Premier Alan Winde said in an update last night, that a total of 3956 vaccines had been administered in the province by 5pm on 22 February.