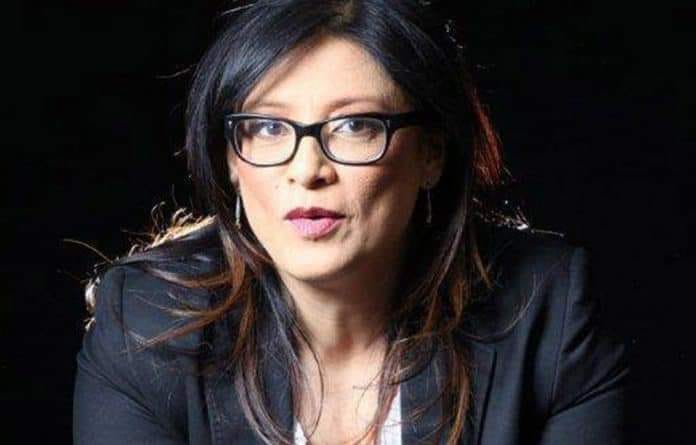 We are devastated to report the passing away of well known South African journalist Karima Brown, who died from Covid-19 related complications in the early hours of this morning. She was 54. Her family said that in accordance with Islamic rites, she will be laid to rest in a private burial in Johannesburg later today (Thursday 4 March). It will be a small gathering with social distancing in line with Level 1 regulations.
Karima's close friend and fellow broadcaster, Eusebius McKaiser, led the tributes posting the family statement today and tweeting: "My dear friend Karima Brown passed away this morning from covid-19. I am devastated. Broken."
Moments ago he tweeted again: "Thank you to everyone who has been so deeply compassionate throughout the day towards Karima Brown's family & to those us of us who were close to her. Thanks for your humanity. Thank you."
Details of a public memorial service will be announced in due course, he said.
Karima's family paid tribute to their beloved mother and sister who enjoy "a life lived fully", saying she was driven by a conviction that "journalism must be in service of justice." The family said they are proud of the fierce determination she had shown since her early years to bring about a more just, inclusive and anti-racist South Africa.
Karima was eNCA's 'The Fix' weekly anchor and a regular political commentator on the channel. Her colleague, and former Cape Times Editor, Ryland Fisher, said:
"She was a formidable journalist, a strong woman and a much needed voice in the journalism community. Karima was driven by a commitment and a passion for the poorest of the poor in our country and she always wanted her journalism to assist with the upliftment of our people and helping to change our society."
eNCA's managing editor, John Bailey also paid an emotional tribute (watch Remembering Karima video below).
Warrior of the Word – a poetic tribute to Karima Brown
Condolences have poured in from the broadcasting and media industry and fans around the country. Writing on Facebook, journalist Sandile Memela shared this poem which will resonate with so many who are mourning the great loss of Karima Brown right now.
WARRIOR OF THE WORD

Karima Brown was a Warrior of the Word. She gave and committed her life to speak and write truth
Of course, there is no objectivity in journalism.
Some accused her of bias and pushing factional interests and agendas.
It was either you loved or hated her perspective and attitude.
She offered no middle road.
The take away lesson, for me, was that we have to defend the right to freedom of expression, especially for people we do not agree with.
We are glad that Karima Brown was here, part of the new struggle to Question Authority to make leaders accountable
She ran on the lane layered with hot coal.
We are poorer without her
May her courageous soul find peace
????
It was only about six weeks ago that Karima Brown shared an emotional and moving tribute to Jackson Mthembu after he died from Covid-19, saying the minister's passing left her "shattered and numbed". Right now the country is feeling the same about Karima's untimely passing. Our deepest condolences to all her knew and loved her.
Eusebius McKaiser and official statement on Karima Brown's passing:
My dear friend Karima Brown passed away this morning from covid-19. I am devastated. Broken.

Below is the official statement on behalf of her family. pic.twitter.com/RPMbPO2UAM

— Eusebius McKaiser (@Eusebius) March 4, 2021
Thank you to everyone who has been so deeply compassionate throughout the day towards Karima Brown's family & to those us of us who were close to her. Thanks for your humanity. Thank you.

In due course we'll announce details of a memorial service. ❤? pic.twitter.com/uIs21is6C7

— Eusebius McKaiser (@Eusebius) March 4, 2021
WATCH eNCA Remembering Karima Brown