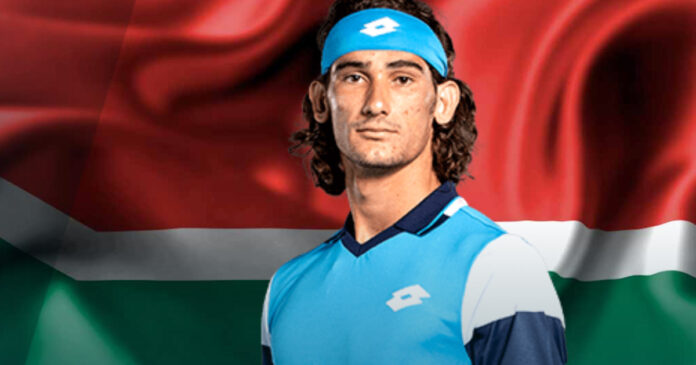 After Lloyd Harris' fantastic performance at the Dubai Championships, the South African tennis player has shot up the ATP Rankings from 81 to 52, and is now firmly SA's top ranked tennis player.
SA expat Kevin Anderson (34) has held that position for years, but has recently been plagued by injuries and forced to pull out of matches, leaving him ranked 90th at the moment.
Both South Africans will be at the 2021 Miami Open which started on Monday, and continues until Sunday 4 April. Anderson is due on court tomorrow, and Harris is playing later today.
Unfortunately 24-year-old Harris wasn't able to secure his first ATP win in Dubai, but he did make it to center court last weekend to play in the finals against Russian Aslan Karatsev (27). Karatsev – ranked 42nd – won the match 6-3, 6-2.
Still, Harris accumulated enough excellent wins during the tournament against top players – including World Number 4 Dominic Thiem, on his way to center court… which has propelled the Capetonian up the ATP Rankings.
In an Instagram message after the match, Harris said: "Reaching my first ATP 500 final was something special! This would not be possible without my entire team, family and friends🙏🏼 There is allot more to come and i cant wait to share my progress with everybody💪🏼 for now im resting and traveling to Miami! See you guys soon🇿🇦"
Some of the highlights of Harris' career to date have been playing against Swiss Roger Federer (whose mother happens to be South African) in 2019 at Wimbledon, a childhood hero he first saw play at the age of 10; and recently beating Stan Wawrinka in Doha at the Qatar Open. Harris said afterwards: "Stan was my idol growing up, so just to play against him was incredible. I was as determined as I could be, really pumped to play."
Harris credits his coach Anthony Harris (no relative) for believing in him when he was just a  teenager who only played tennis twice a week. It was his coach who kept telling him he had the potential to be in the ATP Top 100.
He told the ATP Tour that he picked up his first racquet when he was about three. He used to watch his parents and sister play on the court next to their home. "I picked up the racquet really, really young and all I wanted to do was just play with them as well. My mum asked the coaches, 'Is he not too young? Can he start?' I was not even three years old. There I was hitting balls already. The thing is, I enjoyed every second of it. I never had played too much."
Harris – whose nickname is King – was good at quite a few sports though and only dedicated himself to tennis when he was 15 or 16.
Harris will be playing at 21h00 on Wednesday against 19-year-old Emilio Nava from the US.