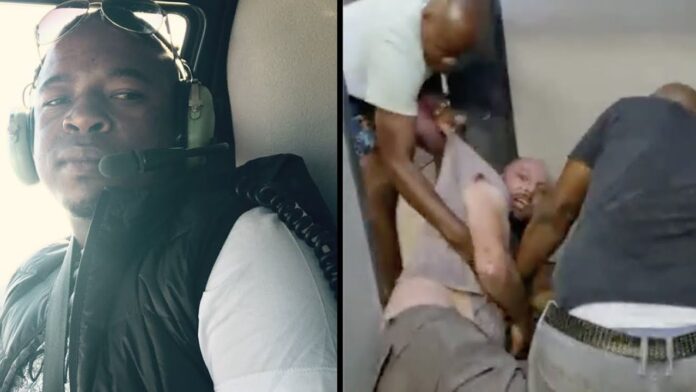 Below is an unedited conversation that Morning Shot's Roman Cabanac recorded with Mahlatse Maroga. Mahlatse is the alleged 'aggressor' in the White River incident, in which a man appears to have been assaulted in front of police officers at White River Police Station, Mpumalanga, in South Africa.  The police seemed to watch without intervening. In Mahlatse's opinion, he is the victim, and the couple – who he says are dividing the country – must apologise.
According to Mahlatse, the man was "the worst racist I've ever seen in the world". He said the man hurled racial slurs (including the K word, baboon and others), damaged two cars and fled the scene going to the police station. Mahlatse said he and his businessmen friends were sober and had just returned from a biker friend's funeral. He believes the man was on drugs because "his behaviour was strange". Mahlatse says he's from Middleburg and not from White River, and that he did not pull out a gun. He says the physical altercation only happened after the man stole his colleague's phone at the police station, and ran outside with it. He claims they were not trying to beat him up, but to pin him down in order to get the phone back from him.
Mahlatse, who has opened a case of crimen injuria, says he was raised by a white man and is not a racist person. "They acted racist. We're the victims here, and now they're blaming the victims. They're dividing the country," he says. He hopes the couple will apologise publicly.
Mahlatse also points out "why would I be driving a R4-million car and try to hijack a R120,000 car?"
The man and his wife (who can be heard screaming for help for her husband in the White River police station, in a video that has gone viral) have laid a criminal charge, with the assistance of AfriForum. AfriForum said in a statement today that it will also help the couple to submit a charge at PSiRA (Private Security Industry Regulatory Authority) against the alleged security officials. AfriForum's Private Prosecution Unit – under the leadership of Adv. Gerrie Nel – says it will institute an investigation into the police's failure to act whilst offences took place in front of them.
WATCH VIDEO Conversation with Mahlatse Maroga