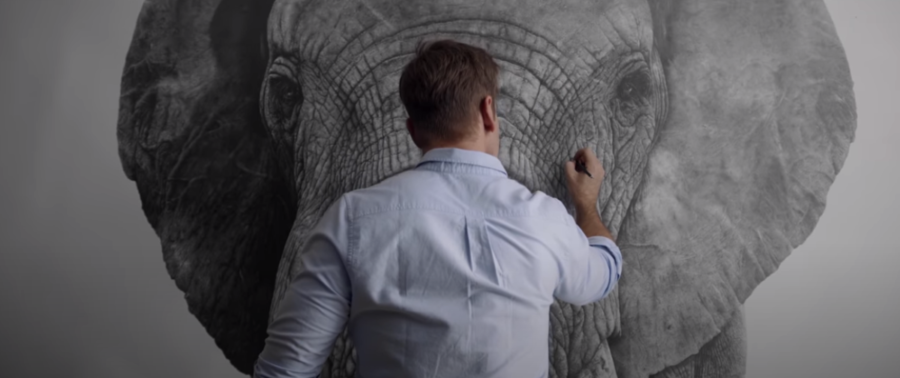 WATCH World's First Life-Sized Elephant Pencil Drawing by Talented David Filer
A life-size pencil drawing of an African elephant is bringing its viewers to tears, so magnificent and realistic is the artwork… an homage in fact to a real-life elephant named Makavuzi, affectionately known as Mak. The stunning picture, which captures Mak's soul, was created by talented Zimbabwean artist David Filer with an all-Zimbabwean team taking […]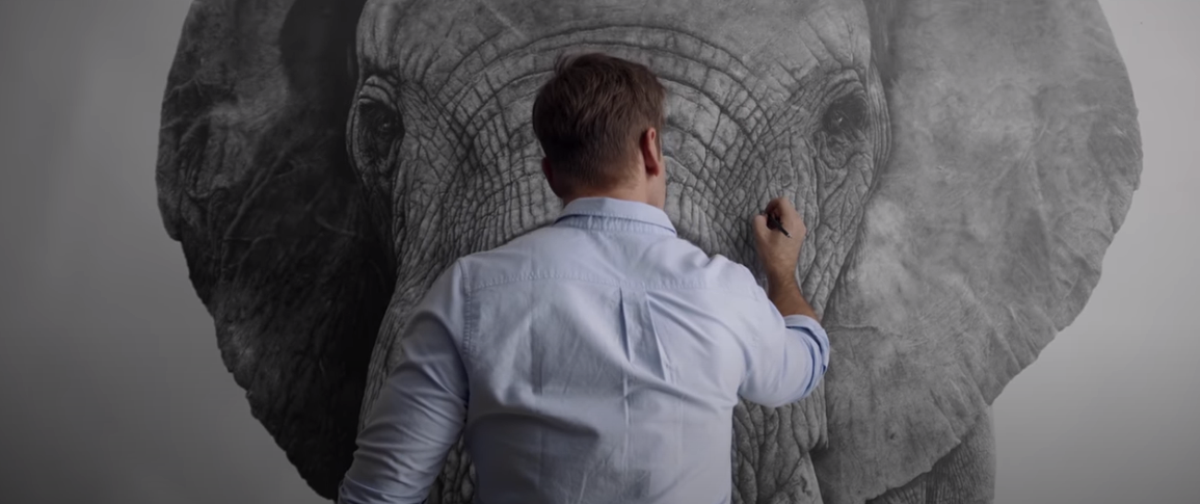 A life-size pencil drawing of an African elephant is bringing its viewers to tears, so magnificent and realistic is the artwork… an homage in fact to a real-life elephant named Makavuzi, affectionately known as Mak. The stunning picture, which captures Mak's soul, was created by talented Zimbabwean artist David Filer with an all-Zimbabwean team taking part in the heartwarming video production.
Mak is a well-known elephant in Zimbabwe, immortalised in Zimbabwean author Cathy Buckle's book Rundi about Mak and another elephant she helped rear. After watching the video, Cathy wrote yesterday on YouTube: "Not ashamed to say I cried watching this clip of this sensational drawing by David Filer of an elephant I hand reared with a team of volunteers in the 1980's. How many thousands of times I stroked this gentle giant, caressed, cajoled, reprimanded and walked with him in the Mukuvisi Woodlands. We called him MUKU then and reared him and a little female elephant named RUNDI when they were waist high until their tusks came and then they went to Imire Game Park in Wedza."
Makavuzi still lives a "happy and free life" in the park, says David.
Sharing his experience with this incredible elephant on YouTube, David said that from day one they began to interact.
"There are no other words for what happened – it was a complete and coherent relationship that formed whereby energy constantly ebbed and flowed between us. There was not one day where I didn't feel his presence in the room with me. If I wasn't working on him, I wanted to be.

"Nothing gets you out of bed at 4 am like a rendezvous with an elephant in your studio. This is more than a moving exhibition. I have never felt more intertwined with a drawing before; when you look at him you see a part of me. I know every groove, every hair, every inflexion on his skin and I can tell you exactly what Mak and I were discussing when I drew each one of them. You can see an elephant in a book, you can watch them on the screen and you can easily understand that they are 'big.' Until you stand in front of one, however, until you actually see with your own eyes just HOW big they are and feel just HOW magnificent their presence is, I do not think you can truly wrap your head around what we as a planet stand to lose."
David's hope is that "Makavuzi and I can try and help change that in our own 'small' way. Makavuzi is a 47-year-old bull elephant with whom this has very much been a 50/50 collaboration. Together, we want to show the world how incredible our elephants really are."
WATCH VIDEO: MAKAVUZI by David Filer, The World's First Life-Sized Pencil Drawing of an African Elephant
View more from David Filer at www.davidfilerart.com