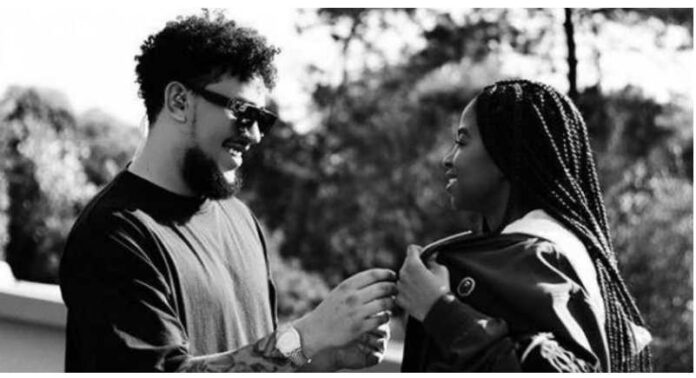 South African rapper AKA's fiancée Anele (Nellie) Tembe tragically passed away in the early hours of Sunday 11 April 2021, following a fatal incident. No details have yet been given about the incident. UPDATE 10 February 2023: AKA has been shot dead outside a nightclub in Durban.
AKA (whose full name is Kiernan Jarryd Forbes) is apparently inconsolable. The couple were engaged on 21 February 2021.
The Forbes and Tembe families released the following statement:
"It is with the deepest regret that we, the Tembe and Forbes families, confirm the untimely passing of our beloved fiancée, daughter, sister and daughter-in-law, Anele Tembe (22). Anele tragically passed on in the early hours of this morning, Sunday 11 April 2021.
"We are still in shock and are dealing with our emotions, as she was an exceptional and gifted young woman, with so much life ahead of her. She had a sweet nature about her and was always nurturing to those around her.
"Her fiancé, Kiernan Forbes, is currently inconsolable and is surrounded by family and closest friends.
"At this hour of our grief, we humbly request that our families be given privacy and time to heal."
Yesterday Nellie Tembe and AKA dancing at Ayepyep Lifestyle in Cape Town #RIPNellie pic.twitter.com/xXfbtbmbAM

— Musa Khawula (@khawula_musa) April 11, 2021
I can confirm that rapper AKA's fiancée Nellie was involved in a fatal incident in Capetown.

The rapper's management is not at liberty to share any further details and have requested that we give the family time to deal with the shock.

I'm told AKA is grief stricken. pic.twitter.com/v9sT2XOGro

— Kgopolo (@PhilMphela) April 11, 2021
BREAKING : Here's Nellie ntembe full video jumping off building it is also reported she was pregnant 💔.
And AKA tried helping her with depression 😔💔.
–
Kiernan , #RIPNellie , #RIPNellieTembe , #Nelli , AKAs ,#AKA ,#forbesfamily pic.twitter.com/MWiy0sueCS

— #AirtimeData (@AirtimeData) April 11, 2021
Kept this video on my phone because it's been my favourite 😭😭😭😭💔💔💔
May her beautiful souls rest in peace #RIPNellie pic.twitter.com/vRKjBnnNpW

— 👸🏽QueenNthesh👸🏽 (@n_phetise) April 11, 2021
AKA and Nellie Tembe playing The Couple's Challenge.#RIPNellie pic.twitter.com/jWSUeSzlcw

— Musa Khawula (@khawula_musa) April 11, 2021
Nellie's death hit hard.. It triggered a lot of emotions. I feel for AKA.. the turmoil and probably the self inflicted guilt of not doing enough to help her in her final moments. Be kind to AKA.. this man will never be the same again.. Lala ngoxolo MaTembe💔 #RIPNellie

— Mrs Majesty (@Averyrichqueen) April 11, 2021
"Any day this life gon flash before your eyes.."
"Tell me are you my ride or die?
My future wife?One day we gon' walk down the aisle Don't be surprised"

And just like that Aka's jike has become a sad song for me to listen to. Rest in peace Nellie#RIPNellie pic.twitter.com/8rm245GAUN

— Synider Matimba (@SyniderMatimba) April 11, 2021
Update 12 April 2021: According to reports, Anele's naked body was found after falling from the 10th floor of the Pepperclub Hotel in Cape Town. Staff at the hotel have been offered counselling.
Cape town police spokesperson, Captain FC van Wyk has said that the SAPS is currently investigating the cause behind the death of rapper AKA's 22 year old fiancee Anele Tembe, who passed away after falling from the 10th floor of a the pepperclub hotel.

#RIPNellie #aneletembe pic.twitter.com/Eeug9cjaAr

— Africa Asia News Network (@AfricaAsiaNews) April 12, 2021
If you are feeling sad or depressed: