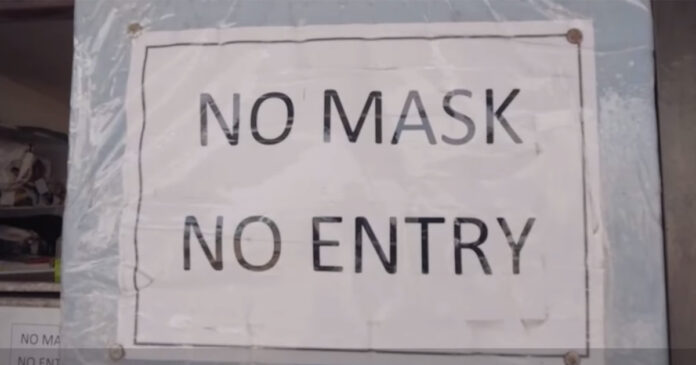 At least 400,000 South Africans have been arrested over the past year for breaking COVID-19 lockdown regulations like not wearing a mask… and many are now left with life-damaging criminal records. Last year, Carte Blanche reported on allegations of unwarranted brutality and violence when police arrested people for breaking these lockdown regulations. This week, the current affairs show revisits the dilemma facing those who were arrested for offences, ranging from not wearing masks to allegedly breaking curfew.
Many spent time behind bars or paid hefty fines of up to R5000, and several, still, were let go with the option of signing an admission of guilt.
At the time, this helped them not spend time in police custody. BUT in the long run, it's saddled them with criminal records that are hampering life as they know it – with no indication from government on whether these might be expunged after the pandemic.
Presenter Bongani Bingwa says: "Violating Lockdown regulations has seen thousands of South Africans arrested. Now saddled with criminal records, we investigate how it's damaging their lives."
Carte Blanche asks: What will it take to expunge their criminal records? (Producer: Busisiwe Gumede-Chizhanje | Presenter: Bongani Bingwa)
You can watch the show on Sunday 23 May in South Africa on DStv Now or stream it overseas in most countries from Tues 25  May if you're abroad.
What will it take to expunge their criminal records? For those people arrested for breaking #LockdownSA rules, paying admission of guilt fines or bail is now ruining their lives. @bonglez finds out more this Sunday at 7pm on #CarteBlanche @MNet channel 101. pic.twitter.com/NsNB0fbq5w

— Carte Blanche (@carteblanchetv) May 20, 2021
Watch the show overseas | Watch in SA on DStv Now
Also on Carte Blanche this Sunday, 23 May 2021
Legislation is pending at the federal level in the United States after a young woman was kidnapped and killed in 2019. The prominent case of Samantha Josephson (21), who had ordered an Uber but then got into a different car where the driver allegedly used childproof locks to prevent her from escaping, led to proposed legislation to improve protection for drivers and passengers. In South Africa, in April, Yolandi Botes (34) took a cab from the airport and was never seen again. Carte Blanche tracks the experiences of unsuspecting young women who mistakenly followed imposters posing as cab drivers but, once in the car, realised the danger. (Producer: Anina Peens | Presenter: Masa Kekana)
Carte Blanche presenter Masa Kekana says: "Being bombarded at the airport by multiple drivers is slightly intimidating, especially as a woman travelling alone. While there's nothing wrong with taxi service drivers trying to get passengers,  beware if they urge you to not use the official app."
Watch the show overseas | Watch in SA on DStv Now
A young woman books a driver to pick her up from a Johannesburg airport using an #ehailing app. But after she gets into the car, she's never seen again. @MasaKeKana investigates this Sunday on #CarteBlanche at 7pm on @MNet channel 101. pic.twitter.com/dL1mUjYPxp

— Carte Blanche (@carteblanchetv) May 20, 2021
While private healthcare costs spiral ever higher, a hospital CEO from Pretoria made a protected disclosure alleging perverse incentives, over-servicing and recycling of single-use surgical items in a hospital-owned by a group of doctors. Carte Blanche investigates what happened when the CEO accused his former employers of violating regulations of the Health Professions Council of South Africa (HPCSA) that prohibits doctors from participating in perverse incentive schemes as he was hauled before a disciplinary hearing. Is it a case of sour grapes from a disgruntled employee dismissed for serious improper conduct, or are the allegations of this former hospital CEO-turned-whistleblower being taken seriously? (Producer: Eugene Botha | Presenter: Claire Mawisa)
Watch the show overseas | Watch in SA on DStv Now
A former #hospital CEO-turned-whistleblower reveals the inner workings of a private hospital where doctors allegedly fleece patients and medical aid schemes through over-servicing and outright fraud. @clairemawisa investigates this Sunday at 7pm on @MNet @DStv. #CarteBlanche pic.twitter.com/m2py5DPCHA

— Carte Blanche (@carteblanchetv) May 19, 2021
MIND OVER ICY MATTER
Depression is a debilitating illness and the therapy that Amber Fillary (49) found in cold water has been a lifesaver. After spending most of her youth in and out of rehabilitation facilities, battling addiction and an eating disorder, Fillary has finally found the one place where she's able to live in healthy harmony with herself and find mental wholeness – under the ice. Freezing waters beneath thick ice have become her place of peace and the source of fulfilment and achievement as she sets out to break one world record after another. Carte Blanche met Fillary in Cape Town after setting the record for the longest horizontal swim under ice on a single breath wearing just her costume and a pair of goggles. Currently waiting out Germany's lockdown, she continues training for an underwater breath-hold Guinness World Record attempt in Egypt this coming November, as well as the men's under-ice record at the end of February next year in Norway. (Producer: Annalise Lubbe | Presenter: Masa Kekana)
Watch the show overseas | Watch in SA on DStv Now
This Sunday on #CarteBlanche, @MasaKekana meets an ice #freediver from #CapeTown who has overcome her battle with depression and alcohol dependency to break world records in the freezing waters of #Norway. Join us Sunday 7pm on @MNet channel 101. @DStv #Freediving pic.twitter.com/sYlVDewjas

— Carte Blanche (@carteblanchetv) May 19, 2021
If you're in SA – you can watch Carte Blanche on DStv Now.
If you're overseas – you can watch #CarteBlanche from Tuesdays, and thousands of other popular local South African shows & movies by subscribing to Showmax International now. You can try it FREE for 14 days. 
Carte Blanche is on M-Net & M-Net HD [101], May 23  2021 at 19:00 & again on M-Net Plus 1 [901] at 20:00
***
Please note: Carte Blanche is only available to international Showmax subscribers in Andorra, Australia, Austria, Belgium, Denmark, Finland, France, Germany, Greece, Iceland, Indonesia, Ireland, Italy, Liechtenstein, Luxembourg, Malta, Monaco, Netherlands, New Zealand, Norway, Portugal, San Marino, Spain, Sweden, Switzerland, United Kingdom. Not all titles are available in all territories. Showmax brings you the best South African series and movies, from the classics to the latest releases, from complete box sets to kids' favourites.