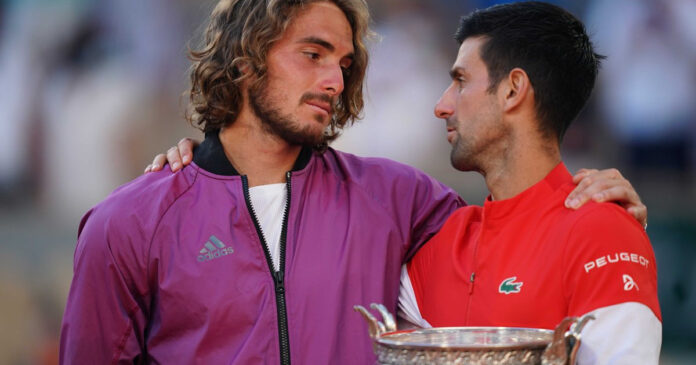 Novak Djokovic made history on Sunday evening in a thrilling men's finals match at the Roland Garros 2021 French Open. The Serb – who is the world's number one tennis player – fought from two sets down to became the first man in Open Era to win each major at least twice!
He is just the third man in history to win each of the four Grand Slam titles (Australia, France, Britain / Wimbledon, United States) at least twice… after a gripping fight for victory against fifth-seeded Stefanos Tsitsipas from Greece. Djokovic (34) rallied back from two sets down (for the second time at this year's French Open) – to beat Tsitsipas (22) in a brilliant-to-watch match.
The final score was: 6-7(6), 2-6, 6-3, 6-2, 6-4. It took them four hours and 11 gruelling minutes to get there!
The last time Djokovic won the French Open was five years ago. This was also the sixth time in his career that he overcame his opponent from two sets down to win.
This is Djokovic's 19th major title, just one behind the record-holders Roger Federer and Rafael Nadal (who each have 20).
Tsitsipas played like a champion, keeping Djokovic on his toes… but ultimately experience won over youth today, but there will be plenty of opportunities in the future for Tsitsipas who came so close today. As he said afterwards: "I see no reason for me not to be holding a trophy one day."
In the words of Roland Garros, it was a "fabulous finale". Read their full report on the match.
WATCH Novak Djokovic make history at the French Open
Novak Djokovic becomes the first male player in the Open Era to win all four Grand Slams at least twice.

Novak Djokovic est le premier joueur de l'ère Open à remporter au moins deux fois tous les titres du Grand Chelem.#RolandGarros pic.twitter.com/DPMi0pGJyK

— Roland-Garros (@rolandgarros) June 13, 2021
"I see no reason for me not to be holding a trophy one day"

Positive vibes, @steftsitsipas 👏#RolandGarros pic.twitter.com/BPXPLfIyQe

— Roland-Garros (@rolandgarros) June 13, 2021
A fabulous finale #RolandGarros pic.twitter.com/hZVKPxXUmb

— Roland-Garros (@rolandgarros) June 13, 2021
🏆High & Mighty🏆@DjokerNole | #RolandGarros pic.twitter.com/DJwJQwRvC6

— Roland-Garros (@rolandgarros) June 13, 2021