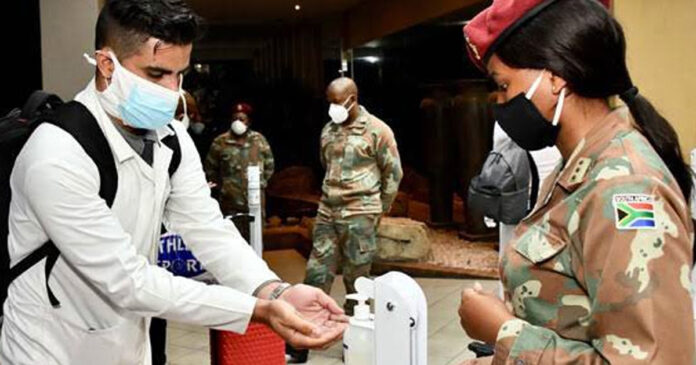 Yesterday Gauteng Premier David Makhura warned that the province is in the midst of a COVID-19 crisis, as cases show no signs of slowing down. "Our province is under fire," he said. "This place is burning with Coronavirus." Today there are rumours that South African President Cyril Ramaphosa may soon announce a move to Level 5.
EFF Leader Julius Malema claims he has it on "good authority" that President Ramaphosa is considering putting South Africa into a 21-day Level 5 Lockdown.
Malema said "we don't need another level, we don't need another lockdown… Europe is open… people are watching football in stadiums… the vaccine is the only way out of this mess."
Accusing Ramaphosa and the ANC of "eating" the PPE money and the vaccine money, Malema is demanding that the vaccine rollout be speeded up, saying it doesn't matter which country it comes from, just "as long as our people can be saved" and SA's economy can get back to a healthy footing.
CIC @Julius_S_Malema he's live telling the nation that Ramaphosa he wants to take the nation back to #level5 #lockdown #Malema @Newzroom405 pic.twitter.com/xQxcGkabB2

— Cameron Mpho (@Cameronmomoo) June 22, 2021
To meet the rising challenge in Gauteng, the Premier yesterday welcomed medics to Chris Hani Baragwanath Academic Hospital from the South African National Defence Force (SANDF), who have been roped in to help due to a staff shortage. Over 60 healthcare workers from the defence force have been deployed.
On Monday, South Africa reported 9 160 new COVID-19 cases, of which 6 292 were logged in Gauteng.
"Everywhere in the province, the positivity rate is extremely high. The chances of getting infected are extremely high wherever you are," Makhura said, adding that families are infecting each other.
"During the third wave, we need more support than we ever needed before," he said, revealing the infection rate and hospital admissions are doubling up almost every other day.
On Sunday, 1 470 people were receiving COVID-19 treatment at public hospitals and 3 448 in private health institutions in Gauteng.
"I don't want to send a message that everything is okay. I must say to the people of the province that the house is on fire," he warned.
He appealed to the public to stop the spread by changing their behaviour, as government works around the clock to tackle the third wave (which many are referring to as a tsunami).
"Over the weekend I drove around, the restaurants are full, shops are packed, and it's not just in the townships but in the suburbs as well," said Makhura. In townships, he said people are gathering in large numbers and even hosting soccer tournaments.
Hospital Staffing and beds in Gauteng
According to the Premier, private hospitals are also full. "They're facing similar challenges like additional staffing. I don't want to send the message that we have a lot of beds. Every two days, beds are filling up."
The provincial government has contracted over 5 000 healthcare workers to boost the staff component.
"That's still not enough. We can do with more healthcare workers."
While Charlotte Maxeke Johannesburg Academic Hospital remains closed (since the fire devastated parts of the hospital in April), Makhura said staff has been deployed to other health institutions across the province.
In addition, the province is looking at adding more beds in both public and private hospitals, as healthcare professionals work under "tremendous" pressure.
Alert level 3 lockdown
Gauteng has not seen the impact of the alert level 3 lockdown, as cases continue to soar. "The healthcare workers will do the best they can but this battle will not be won by healthcare workers alone."
He said the Gauteng's Provincial Command Council was meeting today, Tuesday, to recommend stricter restrictions.
"I can't rule out that we might need more restrictions. The pandemic is out of control. Something needs to be done," he said, adding that the final decision lies with the National Coronavirus Command Council.
In the meantime, the province is monitoring the situation at schools as well, while also asking the public to wear their masks, including those who have received their COVID-19 vaccine.
Sources – SAnews.gov.za, Newzroom Afrika
CIC @Julius_S_Malema he's live telling the nation that Ramaphosa he wants to take the nation back to #level5 #lockdown #Malema @Newzroom405 pic.twitter.com/xQxcGkabB2

— Cameron Mpho (@Cameronmomoo) June 22, 2021