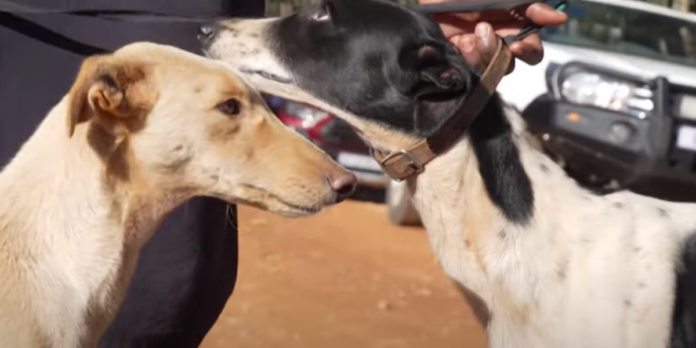 The incidents of hunting with dogs is escalating across South Africa, particularly in rural KwaZulu-Natal (KZN). This week, Carte Blanche investigates to find out: is it an innocent traditional pastime fuelled by poverty… or a brutal, self-serving gambler's game?
In a controversial practice that is increasing across the country, participants in so-called taxi hunts transport their highly-prized hunting dogs to participate in illegal hunts that are publicised far and wide on social media.
Although hunting with dogs has been outlawed in South Africa, it is practised widely and has landowners up in arms as livestock or game is caught and killed, indiscriminately, by vicious dogs. Are these hunters fuelled by desperation and a scarcity of food… or is it the thrill of the chase?
This week Carte Blanche travels to Northern KwaZulu-Natal where the devastation caused is fuelling tensions in an already tense relationship between landowners and hunters. (Producer: AltydVrystaat Productions | Presenter: Claire Mawisa)
You can watch the show on Sunday 27 June in South Africa on DStv Now or stream it overseas on Showmax International in most countries abroad from Tues 29 June.
#Hunting with dogs is escalating in many parts of the country despite being illegal. Is this hunting for the pot where food is scarce, or is it about the thrill of the chase? Your thoughts…
Join @ClaireMawisa for #CarteBlanche Sun 7pm.
Get DStv: https://t.co/ueWZpJJVzt pic.twitter.com/2cApqFvb2s

— Carte Blanche (@carteblanchetv) June 23, 2021
Watch the show overseas | Watch in SA on DStv Now
Also coming up on Carte Blanche this Sunday, 27 June 2021
INVESTIGATE & ANALYSE
Scientists say that sterilising surfaces with disinfecting liquids and wipes is enough to reduce exposure to the virus that causes COVID-19, so why did an already cash-strapped Gauteng Department of Education spend nearly half a billion Rands on a controversial fogging method as schools were set to open after lockdown last year? As the Special Investigating Unit refers 63 state employees to various institutions for disciplinary action for contravening supply chain regulations and the Public Finance Management Act, Carte Blanche investigates the haphazard awarding of emergency tenders on cleaning contracts that delivered little of value in empty classrooms. (Producer: Sasha Schwendenwein | Presenter: Derek Watts)
Watch the show overseas | Watch in SA on DStv Now
Sterilising surfaces with disinfecting liquids & wipes is enough to reduce exposure to #COVID19. So, why did the Gauteng Department of Education spend millions on fogging empty buildings? Your thoughts…

Join @DerekWatts Sun 7pm #CarteBlanche
Get @DStv: https://t.co/ueWZpJJVzt pic.twitter.com/peDXJi5L77

— Carte Blanche (@carteblanchetv) June 23, 2021
Several years after inhumane decisions by the Gauteng Health Department resulted in the deaths of 144 patients in need of mental healthcare as they were moved out of professional care into community-based NGOs, the National Prosecuting Authority is finally set to conduct an inquest in July into precisely how lives were lost. While an alternative dispute resolution process between affected families and the government led to some financial compensation for those who lost loved ones, exact causes of death remain a mystery. Carte Blanche finds out what extent lessons have been implemented within the department to prioritise mental healthcare and we ask whether criminal prosecutions will finally bring closure. (Producer: Busisiwe Gumede-Chizhanje | Presenter: Masa Kekana)
Presenter Masa Kekana says:
"While the headlines and public outrage have died down, the families of the victims of the Esidimeni tragedy are left with pain and no justice. The upcoming inquest is the start – but it is five years later."
Watch the show overseas | Watch in SA on DStv Now
The role of Parliament in manifesting the democracy South Africans treasure, cannot be underestimated. The members of the house elected to represent ordinary people are meant to be their voice. Parliament is accountable to the people – and every word uttered there matters. Or it should – but Carte Blanche discovers it takes an expert to decipher the often-obscure answers to oversight questions posed at the heart of the democratic process. (Producer: Sasha Schwendenwein | Presenter: Derek Watts)
Watch the show overseas | Watch in SA on DStv Now
If you're in SA – you can watch Carte Blanche on DStv Now.
If you're overseas – you can watch #CarteBlanche from Tuesdays, and thousands of other popular local South African shows & movies by subscribing to Showmax International now. You can try it FREE for 14 days. 
Carte Blanche is on M-Net & M-Net HD [101], June 27  2021 at 19:00 & again on M-Net Plus 1 [901] at 20:00
***
Please note: Carte Blanche is only available to international Showmax subscribers in Andorra, Australia, Austria, Belgium, Denmark, Finland, France, Germany, Greece, Iceland, Indonesia, Ireland, Italy, Liechtenstein, Luxembourg, Malta, Monaco, Netherlands, New Zealand, Norway, Portugal, San Marino, Spain, Sweden, Switzerland, United Kingdom. Not all titles are available in all territories. Showmax brings you the best South African series and movies, from the classics to the latest releases, from complete box sets to kids' favourites.