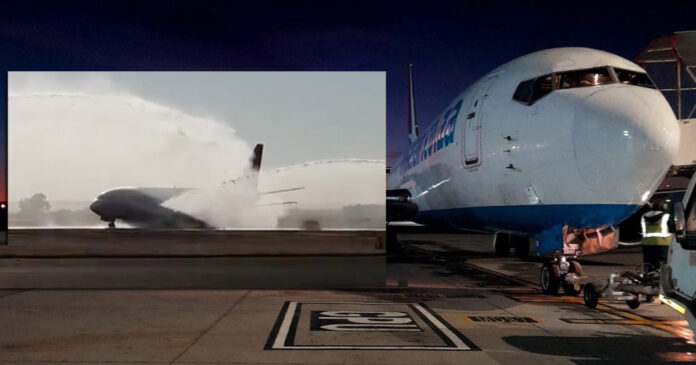 Fly Safair's first flight into Bloemfontein, from Cape Town, was welcomed at Bram Fischer International Airport on Friday morning. The inaugural flight was celebrated with a traditional 'water salute'. Watch the plane being sprayed below.
The FA840 arrived at 08h35. Fly Safair thanked the airport for the official welcome to the City of Roses.
For those worried about water shortages, Bram Fischer was quick to point out that "water used in the water cannon salute is sustainably harvested from greywater."
The airport in Bloemfontein is ACSA's third largest national airport and is part of FlySafair's mission to increase its capacity with "more flights, more often, to all major cities in SA".
WATCH Bram Fischer International Airport welcomes FlySafair with a Water Salute
FA840, our first flight into Bloemfontein from Cape Town has arrived. Thanks to @bramfischerint for the official welcome! pic.twitter.com/NjDJ7HmNjQ

— FlySafair (@FlySafair) July 30, 2021
The low-cost carrier is also making a different kind of splash today with a special deal to celebrate SA swimmer Tatjana Schoenmaker's gold medal win! "To celebrate her performance, we're giving you 20% OFF all November flights for 200 minutes, starting from 12pm today…Now, how's that for a stroke of luck! Go to http://flysafair.co.za!" says the carrier.