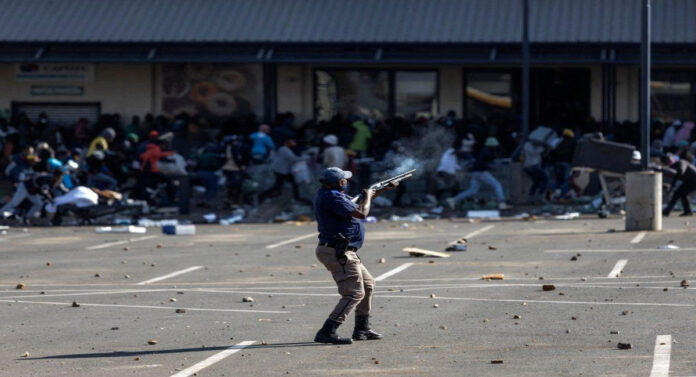 DA Chief Whip and MP Natasha Mazzone will be hosting a special online event, on Wednesday, for South Africans abroad… to update them on the situation back home.
In a press release, the DA Abroad said: "We were all shocked at the images and stories that started to stream through social media channels following Jacob Zuma's imprisonment. What started as a gathering at Nkandla, soon burst into rampant looting, rioting and civil unrest, spreading across KZN and also impacting Gauteng."
There were 215 deaths resulting from the riots, and an estimated R10bn damage to the economy. Supply chains have been severely damaged, and there were queues kilometres long for food in Durban and Pietermaritzburg at one stage.
Vigilantism is dangerous and not something that should happen in a democracy – however South African civilians of all races and backgrounds were forced to take to the streets, some armed and some not, in order to protect their communities. They "had little help from the police, who were outnumbered, under-resourced, and ill-equipped to handle this – showing the impact of years of ANC government", says the DA Abroad.
What political forces were driving this? What means do they still have at their disposal and what action can be taken against them? What will the impact be on South Africa, and the economy?
There are many opinions and theories. Will this be the trigger to shock the majority of South Africans into voting against the ANC? Or is it merely a crack in the veneer and shows how fragile the country really is? Off the back of State Capture, the struggling economy and the Covid pandemic, many are wondering, can South Africa recover from this?
You can join the DA Abroad for a 'quick hit' update from the front line in South Africa. Hear from the DA Chief Whip Natasha Mazzone what the situation is currently, what the driving factors were, what lies ahead for South Africa.
The online event will be held via Zoom Web Meeting (link below), and will include 20 minutes update, and 20 minutes Q&A, with Mazzone:
Wednesday, 4th August
Starts: 18:30 (UK) / 19:30 (SA) (40 minutes)
Zoom: https://bit.ly/3BVbfRB
For any questions please email: contact@da-abroad.org