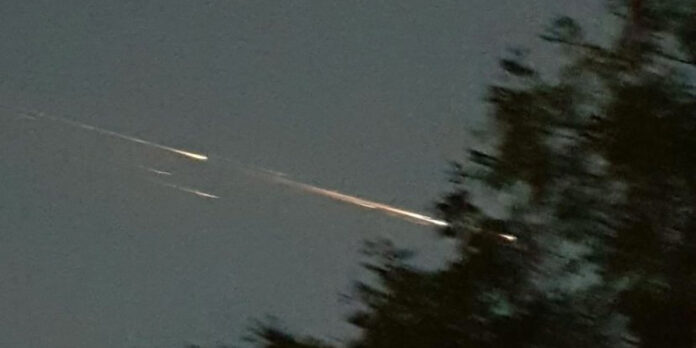 Social media was abuzz in South Africa on Tuesday evening with sightings – including video and photographs – of what many thought was a meteor. The bright light flying through the air was seen above Pretoria, as well as other parts of the country, including Limpopo. In fact a former politician (David Coltart) in neighbouring Zimbabwe even filmed a sighting in Bulawaya (and someone else got a great video in Chirundu).
AfriForum's Ernst van Zyl captured some footage in Pretoria. He said: "A massive meteor-like object just passed over Pretoria. Holy shit. Just took this footage from my house. Never seen anything like it."
According to some experts it was not a meteorite. SA Astronoimical Observatory science engagement astronomer Daniel Cunnama, said it was a single object, not a meteor shower, and most likely a large shooting star, also known as a bolide. He tweeted: "Very impressive bolide over Pretoria this evening!"
Other experts – including US astrophysicist Jonathan McDowell – said it was space debris making a re-entry. According to Aerospace, payload from a Cape Canaveral launch on 24 October 2020 (Mission Starlink Launch 14) was expected to make a reentry tonight.
US astrophysicist Jonathan McDowell said it "looks like it was probably the Yuanzheng-1S upper stage being deorbited", although it was over an hour earlier than expected. He later tweeted: "If I assume that the YZ-1S stage made a deorbit burn at about 1230 UTC to an orbit around 100 x 1100 km but it failed to reenter at first or second perigee, surviving to the third perigee, I get a good match with the time and location of the observations."
Space Geek 'Mother of all Launches' said: "I can confirm it is from the CZ-2C launch."
After a brief analysis of the footage, one computer scientist said: "The object appears to have originally been in low earth orbit and had its orbit decay to instability. The bright visible parts are the most damaged parts of whatever it is. What's strange is usually natural rock continues to break apart."
According to Pretoria Rekord, Cunnama estimates the burning object was between one to five meters big when it entered the atmosphere. He said: "There is a very small chance of some of this material hitting the ground and we will look into that. There are teams that will look if there was any chance of anything hitting the ground." Apparently objects like this hit parts of the world five to 10 times annually.
A report in the Far North Bulletin claimed it may have crashed into the Serala mountainside in Limpopo, and that emergency services were tending to flames, however it was not certain if the fire began before the object was sighted or not.
UPDATE 25 AUG: Gauteng Weather has confirmed: "BREAKING: Tuesday evening's 'meteor' over parts of Southern Africa now believed to be re-entry of Chinese Yuanzheng-1S Rocket, with number of SA groups agreeing with astronomer Jonathan McDowell's theory. US military data shows Flag of China launched 2 internet demo 🛰 & 1 unknown payload."
A massive meteor-like object just passed over Pretoria. Holy shit.

Just took this footage from my house.

Never seen anything like it. pic.twitter.com/JFHd3qkOac

— Conscious Caracal 🇿🇦 (@ConCaracal) August 24, 2021
I think I just saw a long ss meteorite or shooting star pic.twitter.com/P3v23Lj5tr

— Moza Wa GQ (@moza_onassis) August 24, 2021
Did anyone else witness this in Pretoria…meteorite pic.twitter.com/t3PAdkTSH6

— She (@tabethzw) August 24, 2021
Meteorite show earlier this evening in Witbank pic.twitter.com/7oZuMhYjGv

— King Richard Banda (@Banda_09) August 24, 2021
What is this, a Meteorite flying through the sky, did anyone saw this?
Pretoria East 😯 pic.twitter.com/j3SFQlra6Z

— Jacquelien 💎 (@Jax4Real) August 24, 2021
I took this video at 1819hrs in Chirundu, Zimbabwe pic.twitter.com/f8VgV6q3iw

— God Over Everything (@derickzhu) August 24, 2021