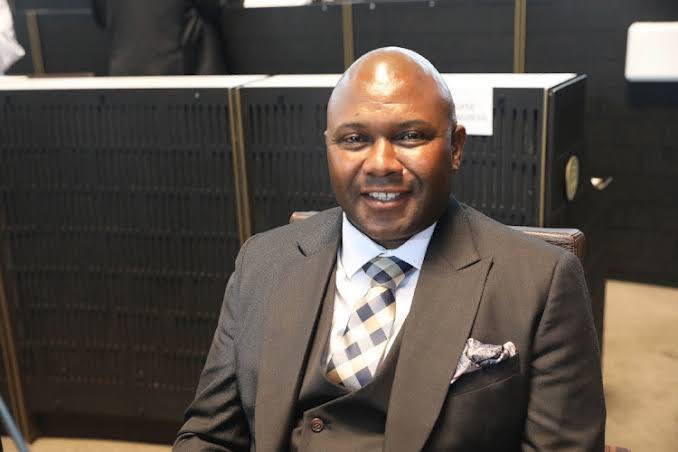 Johannesburg's newly elected Executive Mayor, Jolidee Matongo, has tragically died in a car accident in Gauteng, South Africa.
Matongo was allegedly on his way home from Soweto where he had been engaged in the ANC's election campaign, headed by President Cyril Ramaphosa.
Matongo was elected just last month, following the death of former Mayor Geoff Makhubo from Covid-19 complications. 
One of his last tweets featured photos with President Ramaphosa in Soweto today:
Voter Registration Weekend is fully underway.

📍Ipelegeng

⚫️🟢🟡#VoterRegistration #LGE2021 pic.twitter.com/5tqAbZihcE

— Jolidee Matongo (@matongo_jolidee) September 18, 2021
President Ramaphosa said on Saturday night: "It is hard to comprehend this tragedy, given the vitality and passion with which Mayor Matongo interacted with me and residents of Soweto so shortly before his death."
It is hard to comprehend this tragedy, given the vitality and passion with which Mayor Matongo interacted with me and residents of Soweto so shortly before his death. pic.twitter.com/zmzGVFfAdA

— Cyril Ramaphosa 🇿🇦 #RegisterToVoteANC (@CyrilRamaphosa) September 18, 2021
This weekend is the final weekend for voters to register to vote in the upcoming Local Government Elections to be held on the 1st of November 2021.

I'd like to encourage you to all go Register to Vote at your nearest Voting Station or on the IEC Website: https://t.co/cWjYSTTnfz pic.twitter.com/JxxqUrvJmQ

— Jolidee Matongo (@matongo_jolidee) September 17, 2021
Farewell Jodi Good Fellow #RIPMayorMatongo #JolideeMatongo 😔💔 pic.twitter.com/qCbBdP6a6R

— Zama Mvulane ™️ (@_ZamaMvulane) September 18, 2021
The newly-elected mayor of Johannesburg, #JolideeMatongo, was killed in a car accident. Our reporter Tshegohaco Moagi was in Soweto where she spent a day with the Mayor, she gives us more details.

WATCH: https://t.co/8ef64LeRjO#Newzroom405 pic.twitter.com/NDLcEyuNx4

— Newzroom Afrika (@Newzroom405) September 18, 2021