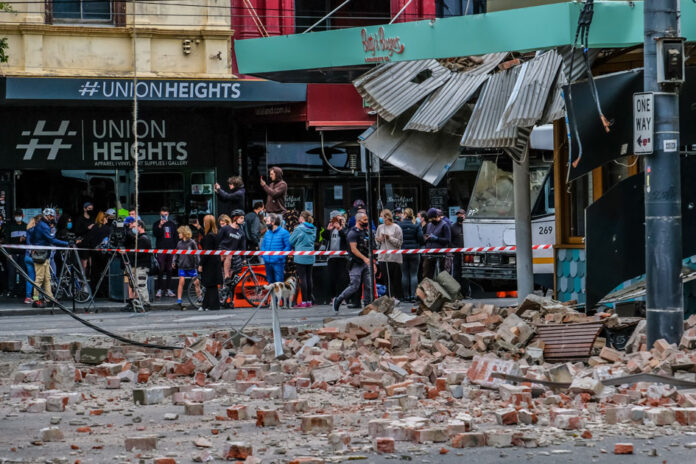 A 6.0 magnitude earthquake today struck in Victoria, Australia, damaging buildings in Melbourne. Many residents – including South African expats – had to evacuate. The quake was even felt in Canberra, Adelaide, Sydney and in Tasmania. (Update: It was earlier reported that the earthquake measured 5.8 on the Richter scale, but Geoscience Australia has confirmed it was 6.0.)
According to Australian earthquake scientists the earthquake struck at a depth of 12km, about 115km east of Melbourne, striking at around 09h15 on Wednesday morning in Melbourne.
Writing in The Conversation, the scientists said: "The preliminary focal mechanism of this earthquake is strike-slip, meaning the rocks likely slid past each other laterally on what is probably an east-west oriented fault."
The BBC reported that there were two aftershocks – of 4.0 and 3.1 magnitude.
Although this was the largest onshore quake ever recorded in the state of Victoria, and one of the largest earthquakes recorded in Australia, it fortunately did not cause significant damage.
Australian Prime Minister Scott Morrison confirmed there were "no reports of serious injuries and that is very good news".
An SAPeople reader in Melbourne who felt the earthquake said "we all dived under the tables". Another said he ran out of his house.
WATCH VIDEO: Earthquake shakes Melbourne, BBC
Just got sent this video from a friend in Melbourne 😳 pic.twitter.com/SWOpRdirkJ

— Tom Steinfort (@tomsteinfort) September 21, 2021