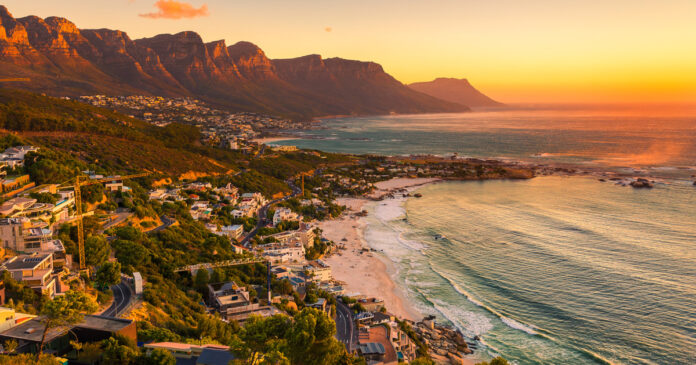 South Africa is finally being removed from the UK's dreaded Red List! From Monday!!! This means anyone entering the UK from South Africa, who is double-vaccinated, will no longer need to spend £2,000 on mandatory 10-day quarantine in the UK! The news comes as a huge relief for South African expats who haven't seen their loved ones for so long.
Britain's transport minister Grant Shapps announced on Thursday (October 7) that Britain will scrap tough COVID-19 quarantine requirements for 47 destinations including South Africa!
The changes, to be introduced on Monday (October 11), will make it easier for people to arrive from countries including not only SA, but also Thailand, India, Turkey and several other countries in the latest relaxation of the rules.
Shapps called it a "step forward" for Britain's travel sector.
The UK tourism industry has essentially lost two full summers after travel restrictions imposed to contain the spread of COVID-19 deterred many people from going abroad.
Meanwhile the SA tourism industry suffered hugely from the lack of UK holiday and business travellers, losing millions in lost income each day.
Otto De Vries, CEO of ASATA, said: "With the lifting of South Africa from the UK red list our next priority must be to provide clarity on the requirements the UK will impose to prove a travellers' vaccination status… South African travellers must be able to make confident choices to travel to the UK, knowing exactly what the basic requirements are and without having to worry that their proof of vaccination might not be accepted.
"A travellers' vaccination status will be increasingly important in the years to come as it will dictate their ability to enter and exit destinations around the world. ASATA has always maintained that once you're fully vaccinated and you can present proof of vaccination, you shouldn't be required to quarantine or even provide a negative PCR test.
"The UK is a popular destination both for South African leisure and business travellers. The fact that vaccinated South Africans would be able to travel without the need for quarantine would be a major boost for our travel industry."
Many countries with high infection levels – like SA – were put on the red list, requiring arrivals to spend 10 days in a government-provided quarantine hotel, while the need for a PCR test and other tests often cost more than the flight itself.
The Red List has not only hampered SA's attempts at economic recovery but the UK's as well. Airlines like Ryanair and easyJet have said the UK's restrictions have left the British industry lagging its European peers.
Seven countries will remain on the red list, including Colombia, Ecuador, Panama and Venezuela.
In a further change, passengers will be able to send a picture of their lateral flow test result to verify test accuracy once the requirement switches from the more expensive PCR test to lateral flow later this month.
Shapps said restoring people's confidence in travel was key to rebuilding the economy.
Reactions from South Africa: outbound
Andrew Stark, Flight Centre Travel Group MD:
After months of lobbying by various industry bodies such as SATSA and ASATA and lengthy discussions between scientists and our President and the British Prime Minister, we are delighted by the long overdue announcement that such decisions are now being made on firm scientific evidence – and that travel between the UK and South Africa will now be much easier.
More than 123 countries around the globe are already open (with varying conditions in place) to South African travellers.
The UK is one of our biggest markets as an outbound travel company, so it will be a huge sigh of relief from a cost perspective. We are hopeful that the news will bring additional air supply into the market. This will be good for our customers giving them more choice and better pricing and availability on flights.
For our leisure travel customers, South Africans can now eventually be reunited with family and friends and will be able to visit them over the December and January holiday period. South African holidaymakers now have much more choice, with many bestselling destinations welcoming us, such as Mauritius and Thailand among others, and with the USA set to open to vaccinated travellers with visas from November.
The announcement comes just in the nick of time for the inbound tourism industry which supports the livelihoods of more than 1.5 million South Africans. With the peak December season fast approaching, creating and safeguarding these jobs is of paramount importance.
There is huge reciprocal business between South Africa and the UK so this is great news for SMMEs and multinational companies.
Oz Desai, Corporate Traveller GM:
The removal of South Africa from the UK red list from 11 October is a game-changer for South African business travellers. Until now, the expensive and lengthy quarantine requirement has been a major deterrent for business travellers. Although clarity is still needed on whether the UK recognises South Africa's vaccination system, we are hopeful South Africa will be among the 37 new countries and territories of which the UK will recognise the vaccination status.
London has always been a popular route for both South African leisure and business travellers with Heathrow recognised as one of the top international airports for corporate traffic originating from South Africa. The fact that vaccinated South Africans could travel freely to the UK, which is one of our top business destinations, would likely significantly boost business travel between the two countries.
Being on the UK's 'red list' has been costing South Africa's economy more than R790 million every month, or R26 million a day, in lost tourism spend. This is according to the World Travel & Tourism Council (WTTC).
The WTTC data showed that every day South Africa remained on the UK's 'red list', the country lost millions of dollars, effectively delaying the global socio-economic recovery.
Currently there are 123 African or Africa-focussed corporates listed or trading in London, more than on any other international exchange. A great number of SA businesses have also set up headquarters in the UK to tap into the global trade opportunities. For these companies, it's imperative that a seamless travel regime between the UK and South Africa is re-established.
The announcement from the UK comes as the South African government launched its much-anticipated digital health certificate system earlier in the week. Fully vaccinated South African travellers can now download their digital vaccine certificates here.
Liezl Gericke​,Virgin Atlantic Head of Middle East, Africa & South Asia:
"We expect a surge in bookings once South Africa is formally removed from the Red List, but early indicators are very positive.  LHRJNB has been in the top 5 selling routes in the VS network over the past weekend, with most bookings for travel in December and January; this is a 460% week on week increase, albeit from a low base.  VS currently operates three passenger flights a week from LHR to JNB, and this will increase to a daily service by the end of the year.  We remain committed to Cape Town, and this service will restart in January 2022."​
Reactions from South Africa on Removal from Red List: Inbound
David Frost, CEO SATSA:
"This decision is long overdue, but it will come as a huge relief to hundreds of thousands of tourism workers in South Africa, in addition to scores of holiday companies in the UK.  Our UK operators have already seen a surge in enquiries from sun-starved Brits looking for a winter escape, and early estimates suggest that upwards of 300,000 British passport holders expect to visit friends and family or take advantage of highly-competitive holiday deals across Southern Africa in the coming months."​
Rosemary Anderson​, FEDHASA National Chair ​:
"FEDHASA is elated for our industry. Supporting 1.5 million people, our tourism and hospitality sector will enjoy a significant boost with our largest source market being open to travel which in turn means a boost for job security and livelihoods. Prior to COVID, some 440,000 British travellers visited South Africa so the news that they have once again been given the green light to travel to South Africa without the onerous requirement of having to quarantine in a government-designated hotel on their return bodes exceptionally well for us."​
"South Africa has the perfect tourism and hospitality ingredients to position itself as one of the world's top international travel destinations.  Focussing on buoying tourism, we could triple the number of visitors who visit our spectacular shores, thereby creating millions of more jobs in our sector.  Tourism Minister Lindiwe Sisulu has assured our tourism sector that she is very willing to join hands with us and market South Africa like it has never been marketed before. United as one Team Tourism, we can achieve significant job creation in our tourism and hospitality industry and become the silver bullet South Africa needs to make a significant dent in the country's unemployment crisis."​
Sean Kritzinger​, Chairman & Co-owner Giltedge​:
"Enquiries certainly picked up significantly when US President Joe Biden made the announcement that from 1 November the US would relax travel restrictions for vaccinated travellers. Lead times from enquiry to travel are as short as two to three months for couples, while multi-generational groups are tending to book further out, but we are certainly seeing heightened interest in South Africa from the US market."​
As we anticipate the long-awaited removal of South Africa from the UK's red list of travel restricted countries later week, and a downgrade in United Sates CDC Alert level, to level 3 this morning, we at Rhino Africa are already seeing the green shoots of recovery our Tourism Industry has long been waiting for.​
Over the past week we have seen search interest in South and Southern Africa return to pre-covid-19 levels with a 70 % jump in enquiry delivery over the past 30 days.​
If our German and French markets provide any indication for pent up demand and a resumption of travel, a removal of SA from the red list will certainly allow for a surge in last minute bookings for the December holiday season for destinations like Cape Town, the Garden Route and Kruger, given the UK is South Africa's no 1 Tourism source market.​
Add to that, as certainty around government regulations and restrictions allow for greater travel confidence, for the first time in nineteen months we at Rhino Africa saw booking to enquiry conversions return to pre-covid-19 levels – over 25% in markets like Germany, with short lead times, indicating pent up demand.​​
All signs indicate that the removal of South Africa from the UK's red list will be akin to the unblocking of a pipe – and the commencement of travel and recovery of our tourism industry will finally be able to begin.  And it couldn't come at a better time as South Africa enters its traditionally peak summer season.​
Liezl Gericke​, Virgin Atlantic Head of Middle East, Africa & South Asia:
"We expect a surge in bookings once South Africa is formally removed from the Red List, but early indicators are very positive.  LHRJNB has been in the top 5 selling routes in the VS network over the past weekend, with most bookings for travel in December and January; this is a 460% week on week increase, albeit from a low base.  VS currently operates three passenger flights a week from LHR to JNB, and this will increase to a daily service by the end of the year.  We remain committed to Cape Town, and this service will restart in January 2022."​
Craig Smith​, Managing Director New Frontiers:
"The UK is up 35% on a weekly rolling average (bookings and quotes) and confirmed bookings for Festive Season made in the last 7 days, which is short notice. This contributed to last week being our busiest week in terms of quotes and bookings this year, which will grow exponentially once an official red list announcement is made."​
Maija de Rijk-Uys, Go2Africa's Managing Director:
Since the US market opened, and Americans were able to travel to South Africa, requests and bookings for travel to South Africa picked up. Our bookings from the US are currently very close to 2019 booking numbers. This shows the potential for the UK to open the travel lanes to South Africa.
Go2Africa has seen the UK market shrink to one third of pre-COVID numbers, leading to a 81% loss in revenue from the UK. More pertinently, this has of course caused major revenue losses to the entire tourism value chain in South Africa. We witness the devastation caused by the UK restriction on a daily basis with major losses experienced by accommodation establishments, lodges, activities and logistics partners we work with across South Africa.  The closure of the UK borders also led to a vastly diminished support of communities and conservation in South Africa.
The past 18 months have shown us that COVID-related restrictions have direct impact on interest and conversion of bookings.
"We saw almost immediate demand from markets like the Dutch, Germans and US as travel restrictions eased or were removed. Bookings may not be near the volumes they were pre-pandemic, but inbound international travellers started booking immediately and with very short lead times illustrating the pent-up demand from our source markets."​