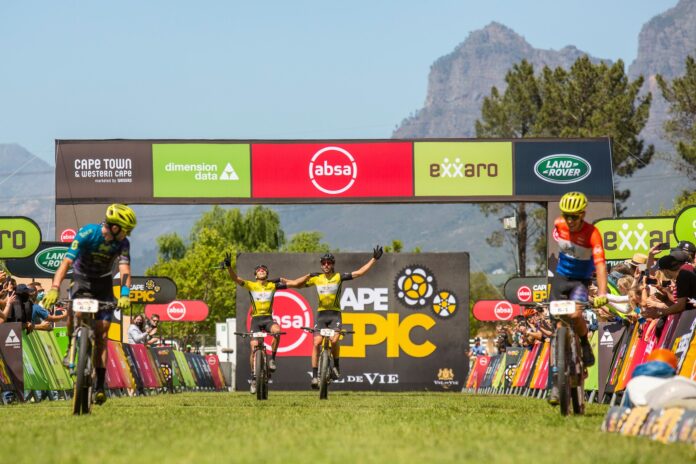 The 2021 Cape Epic finale today was made even more special by the fact that it was won by a South African, Matthew (Matt) Beers, with his French partner Jordan Sarrou. He becomes only the second South African to ever win the race.
Matt said today: "Wow what a week! It's not often you win a race like this ??." In fact the last time a South African won was nine years ago. Since then the winners have been American or European.
Matt said the Epic has been "unreal" and he has a "surreal feeling" being in this victorious position. "It's been something that I've literally dreamt of since I first started cycling," said Matt, adding how "super special" the win is, something he didn't think would ever be possible. "It's going to take a while to sink in," he revealed.
Matt said he had always admired his NinetyOne-songo-Specialized cycling partner Jordan, and during this week has witnessed how humble the Frenchman is, and how he "will do anything for anyone".
The NinetyOne-songo-Specialized team won both the men's and women's titles, with Switzerland's Sina Frei and Austria's Laura Stigger winning every stage of the race to take the title.
The NinetyOne-songo-Specialized men's riders were also the first men's team at the Cape Epic to ever wear the yellow leader jersey at the start of every stage, although they were beaten in the last stage by Hans Becking and Jose Dias who came third overall. Martin Frey and Simon Stiebjahn were placed second.
Cape Epic said on Facebook: "The 2021 Absa Cape Epic has come to an end, and what an event it was! From the slopes of Table Mountain to Ceres, to Tulbagh, to Wellington and finally, the Trail to Val de Vie where the Grand Finale wrapped up the 2021 event in emphatic style."
It's been nine years since a South African won the gruelling multi-stage cycling race in the spectacular Western Cape, and many said that the late Burry Stander would have been watching over today with such pride. Burry was the first South African to ever win the gruelling race, in 2011. He won again in 2012 before being killed by a taxi in 2013 whilst he was out training.
Teams from around the world travelled to South Africa for the Cape Epic 2021 to push their mental and physical capabilities to the limit, racing around 620 kilometres at over 15,000 metres of vertical assent.
WATCH Cape Epic 2021 finale
The finale of @CapeEpic @valdevieestate pic.twitter.com/uOKSvH19pr

— Liezel V ? (@liezelv) October 24, 2021
Holding yellow from UCT to Val de Vie. Congratulations on a fantastic race @MattBeers55 & @jordansarrou. pic.twitter.com/kPsMOCt3pB

— songo.info (@songoinfo) October 24, 2021
A perfect clean sweep of stage wins saw @Sina_Frei & @LauraStigger race into the @CapeEpic history books. The @ninetyone_sa songo @iamspecialized women became the first elite team to win every stage of the race. pic.twitter.com/iKHqGirF1g

— songo.info (@songoinfo) October 24, 2021
The final finisher of the 2021 @AbsaSouthAfrica #CapeEpic! Please put your hands together for Ben! He walked the last 10km after destroying his rear wheel! pic.twitter.com/go1iQNhzSf

— capeepic (@CapeEpic) October 24, 2021
Sparkling win. #capeepic #epicwomen pic.twitter.com/HWpwJBwlMz

— capeepic (@CapeEpic) October 24, 2021