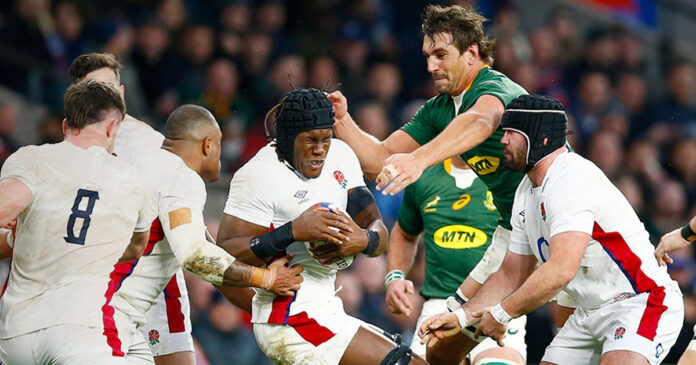 Springbok captain Siya Kolisi said his team was ready to give everything against England at Twickenham… and he kept his word. South Africa gave their all, but in a match that was sheer agony to watch… England was ultimately victorious, winning by just one point: 27-26.
The Springboks tweeted: "? It's all over at Twickenham. The Boks left nothing out there but in the end, England's three tries sealed the deal for them. Well done @EnglandRugby
on the win in what was a very tough Test to end our season. #StrongerTogether #StrongerForever #ENGvRSA #CastleOutgoingTour"
With less than eight minutes to go, South African hopes soared high when Fran Steyn kicked a penalty goal that gave the Boks a 26-24 lead. But in that 79th minute, England scored a penalty goal putting them at 27-26 for the final whistle.
It was a huge match, the two teams' first meeting since the Rugby World Cup final in Japan in 2019, when the Springboks won 32-12. Today England got their revenge, but not without a huge fight.
Twickenham has not been kind to the Springboks since 2014. In 2018, the Boks were edged 12-11 and in 2016 England registered a 37-21 victory – a record the Springboks would have liked to change when they crossed paths on Saturday in their final Test of the year, that will be broadcast live on SuperSport.
Before the match Kolisi said: "We'll take the field with everything we have. It's our last game of the season and not many of our players have played at Twickenham. In fact I've only played there twice. So it's going to be a big game. One can sense the excitement for the match.
"A lot of South Africans have come to London for the game, which is fantastic, and as a team we have prepared as well as we can, and we need to ensure that are ready for anything they throw at us."
Kolisi was expecting a tough grind against the hosts and said: "England are a good team. They have a good kicking game, and they can attack from all around. They also have a good spine and several mature players with over 50 Test caps. Over and above this, playing at Twickenham is special."
Throughout the match today, the English crowds could be heard singing "Sweet Chariot", willing their team on to win on home ground and make up for that World Cup loss.
Springbok assistant coach Mzwandile Stick said: "These are the games we live for."
Win or lose, it was an unforgettable match with England leading through all the first half and most of the second half. Other high and lowlights included Kolisi being yellow carded, with just minutes to go, for playing a man in the air. Handre Pollard earned SA several penalty points, and Makazole Mapimpi did it yet again – scoring his 20th Test try!
? It's all over at Twickenham. The Boks left nothing out there but in the end, England's three tries sealed the deal for them. Well done @EnglandRugby on the win in what was a very tough Test to end our season. #StrongerTogether #StrongerForever #ENGvRSA #CastleOutgoingTour pic.twitter.com/Ls7qA2ioE6

— Springboks (@Springboks) November 20, 2021