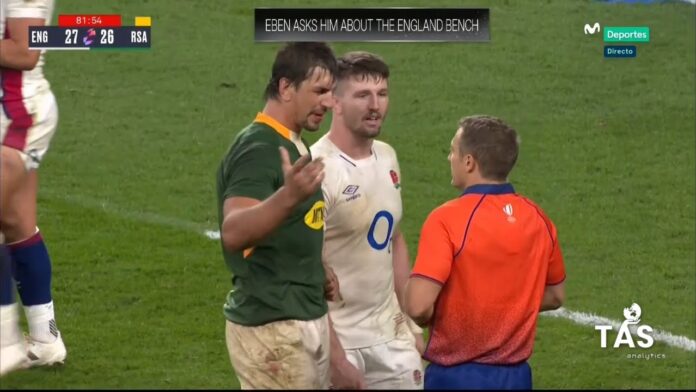 Almost as quickly as the infamous Rassie Erasmus video critique of Australian referee Nic Berry went viral, after South Africa lost to the Lions in Cape Town in July, another video is going viral today after the Springboks' 26-27 loss to England at Twickenham yesterday.
The critique was uploaded today by TASanalytics (Track All Sports Analytics), and has already received over 146,000 hits on YouTube. The ref under the spotlight this time is Andrew Brace – born in Wales, played internationally for Belgium, and currently represents Irish Rugby Football Union as a referee.
Track All Sports, which was founded by Lourens van Niekerk last year, asks: "Will World Rugby and Andrew Brace Apologize for this?"
TASanalytics says: "What on earth did I witness (yesterday)? How the hell is Andrew Brace allowed to officiate an international game? I told everyone after the Stormers-Munster game how bad he was. But guess he still passed his officiating review. That is why I'm so skeptical about World Rugby and officiating. I call total BS on their officiating reviews because every single weekend I see this stupid mistakes from refs, yet there is no consequences.
"The last 20 minutes of this game was atrocious from Andrew Brace. The amount of mistakes he made, and coincidently all of it going against the Springboks as well…"
WATCH Referee Analysis of England vs Springboks
After pointing out what he believes were incorrect calls, TASanalytics says: "So I ask you this, do you understand why refs should be held accountable? Andrew Brace just cost one team a game at international level, and World Rugby is going to sit back and do nothing. Yet, they want Rassie to apologise…
"How about you and Andrew Brace apologize for this performance. Absolutely disgraceful."
Meanwhile, here's Rassie Erasmus' response to England winning the game:
Congrats England pic.twitter.com/xlzPQYIDQg

— Rassie Erasmus (@RassieRugby) November 20, 2021
If you're a Proudly South African South African living abroad, subscribe to Showmax International for thousands of SA movies, TV series and shows like Carte Blanche. Subscribe now and get a 14-day FREE trial!!