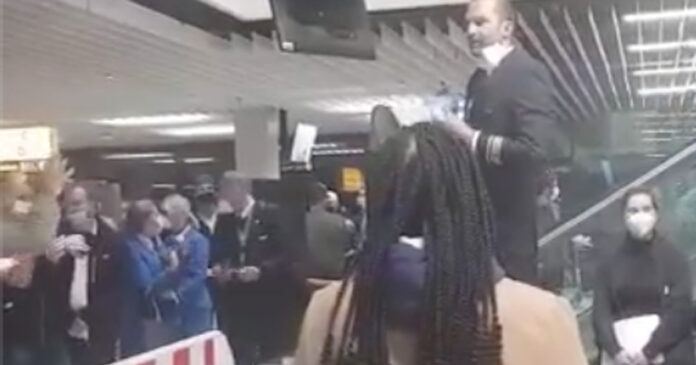 South Africans on two KLM flights to Schiphol Airport in the Netherlands were allegedly herded like sheep yesterday into a small waiting area, after sitting on the tarmac for three hours, and later abandoned by KLM staff and left without food, blankets or access to their medicines while they waited crowded together – with no ability to social distance – until almost 4am for PCR test results. When those results came, unfortunately 61 of the approximately 600 passengers who had flown from Johannesburg and Cape Town tested positive to Covid-19. As one of the passengers says in the video below – how many more were unnecessarily contaminated during the long hours they were forced to wait in close proximity to each other?
The drama began for the passengers on Friday morning. Those from OR Tambo Airport were kept in the plane on the tarmac for three hours, while arrangements were made for them to all be tested in the Airport. However this information was not relayed by the pilot to the passengers. Fortunately, the daughter of one elderly couple on the plane made contact with a South African expat, Lorraine Blauw, who has a Facebook page for those in the EU who are missing their families. Through her work on the page, Lorraine has contacts in Dutch Immigration, Parliament and at the Airport, and was able to find out what was going on and let the passengers know.
Lorraine, who lives with her family in Roelofarendsveen, 25 minutes from the airport, told SAPeople the plane landed three hours before the Dutch Minister announced the ban on travellers from South Africa who are not Dutch or EU citizens or residents. Therefore they were legally allowed to enter the country, but understandably – with news of the new variant, Omicron – the Dutch government wanted them to undertake PCR tests and quarantine.
According to Lorraine the passengers, from an eight-week old baby to grandparents in their eighties, were finally allowed off the plane – to undergo the tests – but were "treated like sheep at Schiphol Airport". KLM's own support desk didn't know where the passengers had been taken, says Lorraine.
At 19h00, the Cape Town passengers finished their PCR testing. They were apparently treated marginally better than those from Johannesburg – receiving sandwiches at one point, when Joburg passengers were only given chocolate; and also being given documentation to fill in at 21h00, fours hours before the Joburg flight.
As the hours of waiting for test results dragged into the night, there was no food forthcoming, no blankets for the Joburg passengers, and the airport was cold. Lorraine stayed up through the night, doing everything she could to help her fellow South Africans, even contacting SAPeople and the Dutch Ambassador in Cape Town… but we were all asleep. She did not contact the South African Embassy in the Netherlands as "they never answer their phones".
At 21h51, the travellers were told that 'normal' people – ie. the KLM staff – would be allowed to go home at 23h00, which they did "even though they had been on the same plane, coming from the same country", says Lorraine.
Speaking through tears this morning, she told SAPeople about babies needing milk and diapers, a stressed Dutch mother who called her in tears because her two young children were so hungry they couldn't stop crying, many people of all ages starving, an elderly patient needing blood pressure medication but not being allowed access to his baggage, another mother begging KLM to let her have her pram to be able to get her children to sleep, but never being helped.
"I had to contact the Koningklijke Maresuchette (border police) to beg them to send blankets and food to the passengers," says Lorraine. It arrived just after midnight.
The only personnel with the passengers at that point were a few young medical staff members from the Health Department concerned with testing, and some airport security staff. Nobody from KLM.
"How could they do this, in such a desperate situation?" says Lorraine. Border police said unfortunately they couldn't access the baggage for the passengers without KLM there.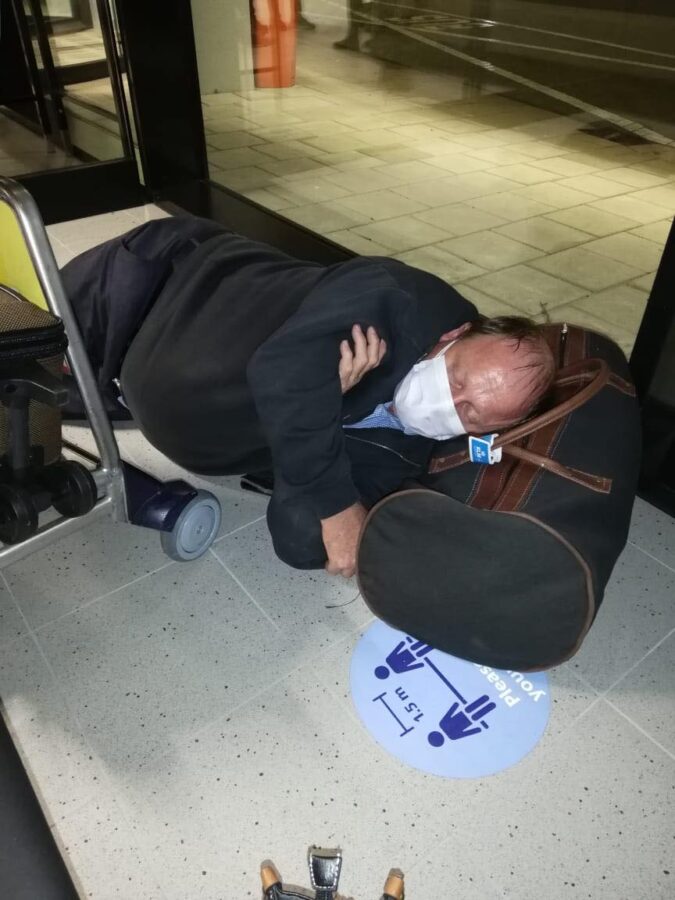 At 01h47 starving Cape Town passengers were given some bread, Joburg some chocolates. "The hot meals they were promised never came," says Lorraine. "Elderly people were not allowed to access their own baggage to take chronic medication. Medical staff were requested by me phoning the Maresuchette."
At 02h30 two medical personnel finally arrived. Just beforehand a woman with small children had tried to leave the airport but was caught by police and returned to the waiting area.
At 03h43 buses finally picked up the passengers who had tested negative, and dropped them off somewhere else at the airport. They will now need to quarantine with their family and friends for ten days, or test to release at five days. Tests are fortunately free in the Netherlands, says Lorraine. (Until yesterday, fully vaccinated travellers from South Africa could enter the Netherlands by simply filling out health and vaccination declaration forms.)
The 61 passengers who tested positive are being kept in isolation at a hotel near the airport. The Health Ministry says it will know later today whether any of them were infected with the new Omicron variant (B.1.1.529). Dutch health authorities are also in the process of contacting any travellers who've recently arrived from SA and other southern African countries to ask them to test.
With her beautiful South African heart, Lorraine stayed on the line last night for all those passengers – speaking in Dutch, Afrikaans and English – liaising between them and Border Control, to make sure they at least got some sandwiches and blankets, and a few answers when none were forthcoming.
Like many expats around the world though, she is devastated by the sudden turn of events – by borders being shut to travellers from South Africa. Her family Christmas plans are in tatters. "We are all just yearning to hold each other," she says, through tears. Her sister, whom she hasn't seen since the pandemic began, and parents – Ouma and Oupa – were meant to be joining them. Flights were booked for 15 December, accommodation paid for, vehicles hired… but now it looks like everything will need to be cancelled.
The temporary ban in the Netherlands is until 4 December. Will rules be relaxed before 15 December when her family is due to fly out of SA? There is always hope. But right now, Lorraine is too upset. "I don't even feel like putting up the Christmas tree," she says. "Christmas is going to be cold and dark this year."
SAPeople has reached out to KLM for comment but we have not yet heard back.
WATCH Schiphol Airport chaos for travellers from South Africa
#KLM Chaos at #SchipholAirport last night for travellers from #SouthAfrica #OmicronVariant MORE ON THIS STORY: https://t.co/5KEWzmvynd pic.twitter.com/LNsQ1RT8Gl

— South Africa People – SAPeople.com (@sapeople) November 27, 2021
LISTEN: KLM Passengers from South Africa kept at Schiphol Airport, 26 November 2021
"There are human beings in here that are being treated like sheep… We have babies, we have old people, we have sick people… who need better care than this. This is inhumane," one passenger can be heard telling a KLM official.
JOIN: Lauren's Facebook Page for EU people missing their families outside the EU
MORE: KLM on Dutch entry ban for travellers from South Africa