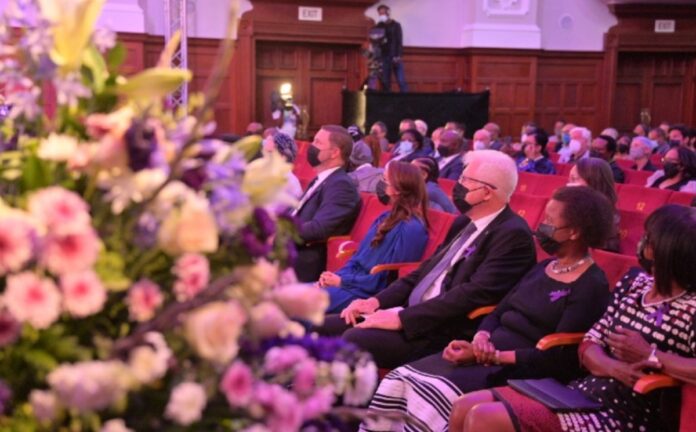 An interfaith tribute to Archbishop Emeritus Desmond Tutu was held in Cape Town list night. The following is the speech delivered by Cape Town Mayor Geordin Hill-Lewis.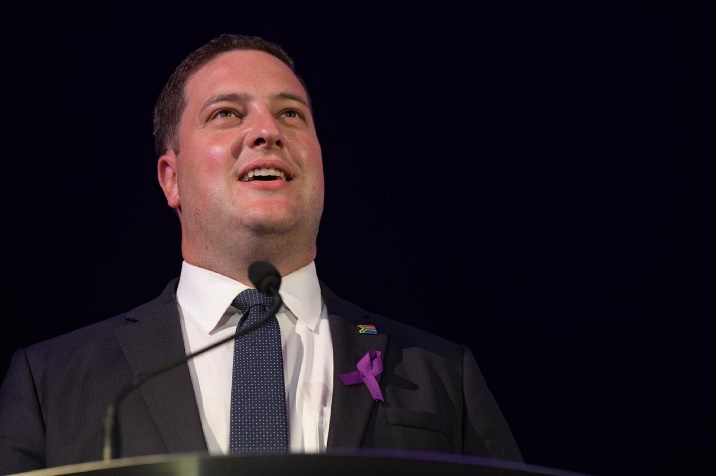 Fellow Capetonians, South Africans, To those watching on the screens outside, or live streaming at home, Good evening, goeie naand, molweni, san'bonani,Igama lam ndinguGeordin Hill-Lewis, uSodolophu WaseKapa…
Most importantly, to our most honoured guests this evening: Mama Leah Tutu, the Arch's beloved wife, his wonderful children, to the family's friends and confidants who join us, to the worldwide family of the Anglican church, represented here by the Dean of St. George's Cathedral.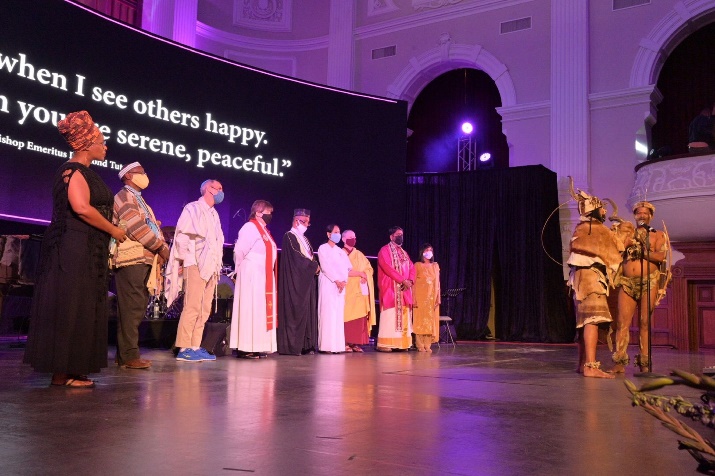 May each and every one of you receive our warmest Cape Town "welcome", truly, to this Tribute celebration.
Ninety years, two months and 19 days ago, a little child was born who would go on to bend the arc of history for an entire people and country.
Few people have had such profound personal impact on events, or will ever do so.
We are here to pay tribute to this remarkable man, our Arch, whose entire life shouted a message of hope and faith.
Hebrews tells us that the early prophets were "still living in faith when they died".
So it was with the Arch, a man of deep faith who received the Eucherist almost daily until his very final days, and who lived his whole life in faith for that which he hoped to see.
For decades, he faithfully worked for a country of justice and mutual respect, even though he could not see it.
The large part of his ministry was spent under oppression, harried and harassed, as he persevered in his service, and in so doing kept faith and hope alive for South Africa's future.
He always believed that a better future was possible, even if not yet visible.
An early prophet indeed – the Arch saw what South Africa's future must look like, even if oftentimes it felt as though he would not receive it.
And when it seemed in 1994 that his hope, his faith, his perseverance has been fulfilled, he did not waiver even then from his faith in things unseen.
In the years when our fragile democracy took blow after institutional blow, he was there never flinching from holding a mirror up to our nation and bringing sharp conviction and rebuke.
He showed us what our future should be, and lived what our future could be. And he kept faith and hope in that future always.
I, like so many South Africans of a younger generation, never met the Arch or saw him in brilliant action.
But I felt the radiance of his influence and the power of his message in my own life.
He stood – straight backed, eyes locked in withering gaze – he stood for a few simple truths that cut across faith and time and place: that injustice must be opposed, that every human has profound moral worth, that we should love our neighbour, and treat others as we would want to be treated ourselves.
This message of love was wrapped in irrepressible purple energy that could both charm the good and whither the evil with its sheer intensity and good humour.
We take inspiration from his life that no matter how far we have come we still have much work to do.
As he did, we must keep the faith, keep working, and keep holding ourselves to a higher moral standard for a more just, more dignified, more loving future for our country.
In Cape Town we take this higher purpose deeply personally and seriously.
It inspires us daily, and it is why we regard it as a profound honour to be able to be of service to his family and to the Church at this time, in celebration and remembrance of the greatest Capetonian.
He loved Cape Town and I know I speak for every single Capetonian when I say the feeling was entirely mutual.
When other cities spurned him after he won the Nobel Prize in 1984, it was Cape Town who welcomed him home and when he was enthroned as Archbishop in 1986, it was the City of Cape Town who hosted a celebration party in his honour.
I am told that at that party, one guest remarked that so fierce and terrible was the Arch's reputation at the time, manipulated as it was by the government propaganda of the day, that she was afraid when he approached her table.
Only to be bowled over by his infectious laugh and warmth.
I imagine the Arch was tickled pink – or purple – by that story.
The Scriptures tell us that "These three things – faith, hope and love – are all that remain, but the greatest of these is love".
I have spoken of his abiding faith and hope, but what of his love, which was the greatest of these, and the loudest of his life's messages.
Some South Africans of a certain generation – similar to mine – have taken to deriding this colossal legacy by arguing that the Arch was too forgiving, too loving, too gracious, too big.
I think he would cackle at this charge and thank them for that validation of his ministry.
His life showed that our politics can be big, not small.
That our society can be all-encompassing, not exclusive.
That most people are basically good, and worthy of respect.
That the easiness with which we give way to hate is wrong, no matter the temptation.
That while faith, hope and love abide, the greatest of these is love.
In the Arch's own words, "It doesn't matter where we worship or what we call God; there is only one, inter-dependent human family. We are born for goodness, to love – free of prejudice. All of us, without exception. There is greater commonality in our belief systems than we tend to credit, a golden thread expressed in the maxim that one should treat others as one would like others to treat oneself."
On Sunday, 26 December 2021, our Day of Goodwill, he took his rest.
His life was a wonderful blessing to us all, whether we knew him or not.
Today, I hope we can celebrate the man who gave so much joy to so many, and that we all commit ourselves, as I can only imagine Archbishop Desmond Tutu would have wanted, to doing good in this life.
As for us in Cape Town, we thank him for his wonderful example, and we know – we know – that the future he worked for is still possible, it is still attainable, and that we will dedicate ourselves in hope for that brighter future, in faith to work for that future every day here, and in love for one another to deliver us to that future.
Thank you.
Issued by: Media Office, City of Cape Town