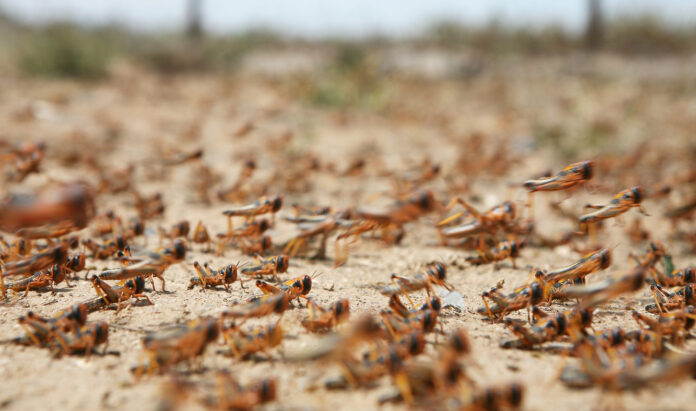 An ongoing locust invasion of veld and farmland in South Africa, by bands of wingless nymphs, is wreaking havoc on a wide area in the vicinity of Vosburg, Van Wyksvlei, Prieska, Marydale, Victoria West and Hopetown. The government has been urged to scale up its locust combatting efforts to better mitigate the impact.
SAPeople contributor Janine Larkins captured this video footage on February 11. She says: "Baby locust plague outside of Victoria West. Not something you see every day…"
#LocustInvasion #SouthAfrica! Video by Janine Larkins on February 11 – "Baby locust plague outside of Victoria West. Not something you see every day…" MORE: https://t.co/oPKTs3PMvx pic.twitter.com/8MD8Rmi6yB

— South Africa People – SAPeople.com (@sapeople) February 15, 2022
The Democratic Alliance (DA) has made an urgent appeal to the Department of Agriculture, Forestry and Fisheries (DAFF) to increase its efforts as district locust officers and workers are struggling to contain the growing outbreak due to a number of challenges related to the programme.
"The shortage of Personal Protective Equipment (PPEs), including protective eyewear, proper overalls and low quality ponchos, poses a threat to the effective control of the locusts and the health of officers, as does the poor quality of pump seals," says Reinette Liebenberg, DA Northern Cape Spokesperson on Agriculture etc.
SAPeople follower Mariet Van Wyk, who lives near Fraserburg in the N. Cape says: "We've been busy since November last year, but the government doesn't even give us the necessary equipment. Some of us have bought our own mist blowers just to prevent a disaster in our area."
In a media statement on Tuesday, Liebenberg says:
District Locust Officers and their workers are also struggling to obtain payments on a regular basis and must wait for up to three months for payment. (Their last payment was in November, despite work continuing since then.)

Their reimbursement rate doesn't take into account what vehicle they're using (model, year, value).

Reimbursement is capped at 150 km travel per day, hampering the control groups from combatting the infestation over the vast distances in the province.
"It has also come to light that private individuals are being unofficially allocated pumps and poison, outside of the official structures," said the DA.
DAFF has confirmed that November 2021 claims have been paid out, with a few exceptions, and they have given their commitment that the quality of the ponchos will be looked at.
Liebenberg says: "Although farmers appreciate the assistance they receive, we are concerned about the ongoing challenges, given that these are not isolated or first-time complaints. The DA has further escalated this matter to our national counterparts, while we remain in discussion with DAFF.
"Urgent solutions must be implemented before more devastating outbreaks follow due to further rainfall." It is the rainfall that has contributed to the locust invasion. Moist soil and greener plants create a 'perfect storm' for locusts to "produce rapidly and become even more crowded together", according to National Geographic.