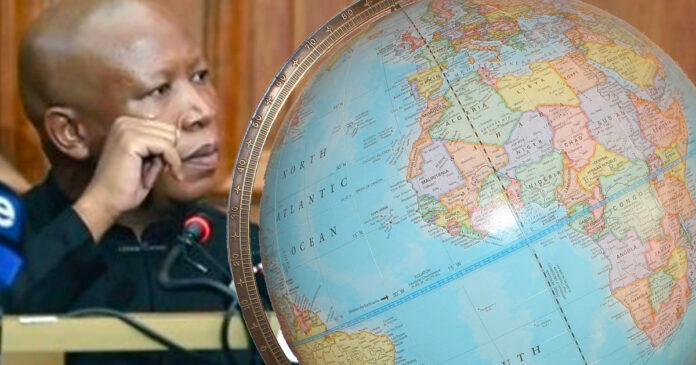 EFF Leader Julius Malema today explained that Africa is a country. Malema pointed out that Africa was one land until it got divided into separate countries by non-Africans.
Malema was speaking at the South Gauteng High Court in Johannesburg today, where he is appearing in the ongoing hate speech case brought by AfriForum.
When Malema was asked if he accepted that there are many people in South Africa – Black, White, Indian, Coloured, Chinese –  who have come from other countries, he said: "Not Blacks. We came from one country called Africa."
Malema said: "South Africa is Africa. We are one country called Africa. This South Africa you are talking about was imposed on us. We didn't come from anywhere! There is no African who came from anywhere. We came from here!" He explained it was like being in a house where somebody may walk over from a bedroom on the other side of the house, but they're still coming from the same home.
"We didn't come from anywhere. This is our continent," said Malema.
The main division of Africa into separate countries took place at the Berlin Conference in 1884/85 when Chancellor Otto von Bismarck of Germany invited representatives of other European countries to decide how best to split up the land in Africa without European countries going to war. (Most of the coastal areas had already been colonised.) No Africans were invited. By the time the conference participants finished (1914), Africa had been split amongst themselves into 50 countries.
The leader of the Economic Freedom Fighters also said white people were visitors. "You arrived here as settlers in 1652. It's a historical fact! And you were using South Africa as a refreshment station. You were not here to settle. You were passing.
"Because of our African-ness and the spirit of Ubuntu – we have embraced you and we've shared our land with you. And we've accepted that you've naturalised in this country, but it doesn't change the fact that you came here as a visitor."
WATCH Julius Malema – "Africa is a country"
"You arrived here as settlers in 1652, it's a historical fact…We have accepted that you have naturalised in this country, but it doesn't change the fact that you came here as a visitor," EFF leader Julius Malema says.#Newzroom405 #EFFvsAfriforum pic.twitter.com/ET0U4cEeWz

— Newzroom Afrika (@Newzroom405) February 16, 2022
AfriForum have taken the EFF to court over the alleged singing of the "kill the boer, kill the farmer" song outside the Magistrate's Court in Senekal, where the accused murderers of farm manager Brendin Horner were tried.
AfriForum is asking the High Court in Johannesburg to declare the song hate speech; and is asking for an order that Malema, Mbuyiseni Ndlozi and the Eff have committed hate speech. Ernst Roets, AfriForum's Head of Policy wants the court to declare that "they must apologise publicly and that they must pay a fine to an organisation that strives to combat hate speech".
Roets says it's a "clear case of hate speech because it deals with a group that is targeted on the basis of identity and against whom violence is incited", and that it contributes to farm attacks.
Malema insists they are singing "kiss the boer, kiss the farmer"; and also told the court that the song should not be taken literally,  that context is vital.
WATCH EFF leader Julius Malema in court today
This cut deep. ??‍♂️??‍♂️#EFFvsAfriforum pic.twitter.com/hMwGEzhz3n

— UNyathi ka-MaNdlovu (@AjaxFiko) February 16, 2022
More on EFF vs AfriForum court cases