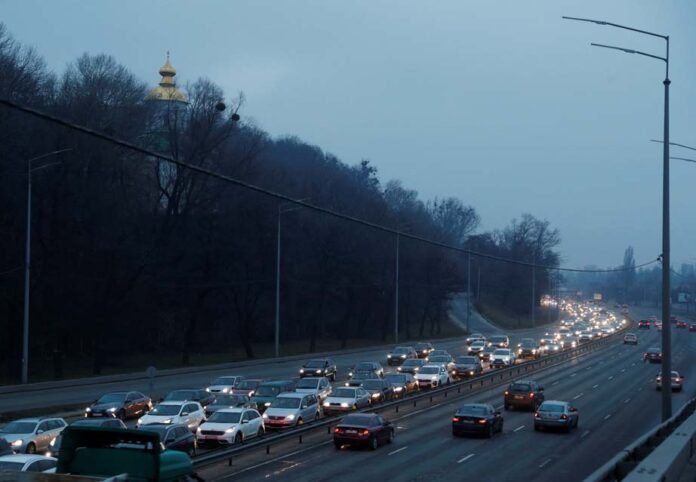 South Africans in Europe are reaching out to South Africans in the Ukraine who may be trying to escape the volatile situation after Russian forces invaded Ukraine on Thursday. South Africa currently has no official evacuation plan in place.
South African expat, Lorraine Blauw, who lives in the Netherlands and has a Facebook page for people in the EU who are missing their families, says: « We have a few families who will be needing a place to stay for a few days after fleeing Ukraine, and will be coming through the borders of Poland and Romania. »
If you live in one of those countries, or nearby in Europe, and would like to open your home to a family, please PM Lorraine on Facebook. Please see details below. Lorraine became involved when she discovered there was no evacuation plan in place for South Africans. She googled, searched Facebook and contacted the SA Ambassador to Ukraine, to find out how she and other South Africans in Europe could help.
Lorraine has spoken to at least one South African who has been stuck at one of the borders since yesterday morning. She said he was only able to move forward 400 metres per hour, there are so many scared and fleeing people.
According to a DIRCO email sent to the known South Africans in Ukraine, the SA Mission is in constant contact with the South Africans in the country.
The email says: « Although there are no official evacuation plans, South Africans are encouraged to have their own plans based on the situation or circumstances they are experiencing. The Embassy have arranged through the Polish Ambassador in Ukraine that the following information can be forwarding to him, which will be sent to the border posts to facilitate the border crossing of South Africans, including: names, passport numbers. The Ambassador of Romania has also informed that South Africans can apply for a visa at the Romanian border. »
If this affects you, please contact Ambassador Andre Groenewald on WhatsApp: +380 50 310 1461.
If you would like to offer space in your home to fellow South Africans for a few days, please send the following info to Lorraine:
1. Country and Town you live in
2. Number of people that you can accommodate
3. Contact details.
4. Do you give Lorraine permission to share your details with the person/family.
»I will send your details to a family that reaches out to me and also their details with you via messenger or WhatsApp, » says Lorraine. « Some families might have their pets with them, but all info will be shared.
« Thank you for opening your homes and hearts to fellow South Africans in need. »
Lorraine also says that any South African whose spouse is Ukranian will be allowed to enter SA, as long as they have their marriage certificate.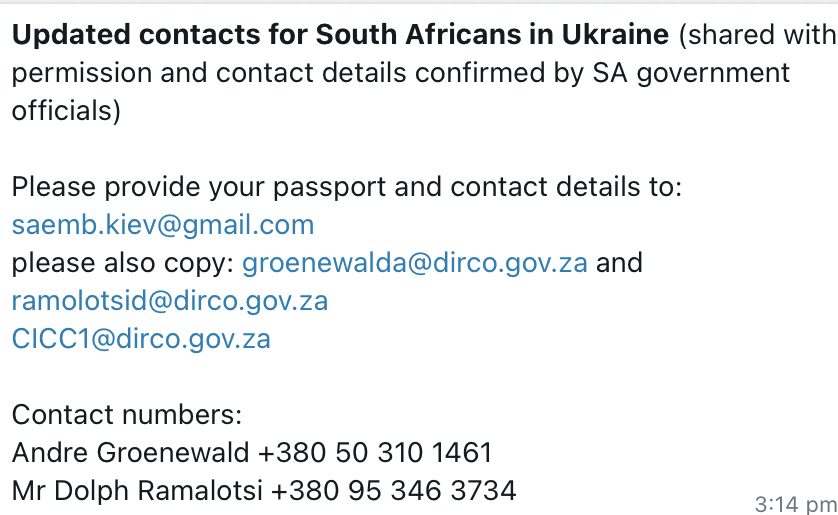 The Polish government has also sent information to anyone in the Ukraine who wishes to escape. Poland says:
1. If you are escaping from the armed conflict in Ukraine, you will be admitted to Poland.
2. If you do not have a place of stay in Poland, go to the nearest reception point.
3. At the reception point:
you will receive more detailed information about your stay in Poland,
we will provide you with temporary accommodation in Poland,
you will receive a hot meal, drink, basic medical assistance and a place to rest.
HOTLINE: (+48) 47 721 75 75
BORDER CROSSING POINT | RECEPTION POINT ADDRESS
Dorohusk-Jagodzin
Suchodolski Palace Communal Culture and Tourism Center, ul. Parkowa 5, 22-175 Dorohusk – housing estate
Dolhobyczów-Uhrynów
Border Culture and Recreation Center, ul. Spółdzielcza 8, 22-540 Dołhobyczów
Zosin-Ustyluh
School Complex in Horodło, ul. Piłsudskiego 58, 22-523 Horodło
Hrebenne-Rawa Ruska
Primary School in Lubycza Królewska (back of the sports hall), ul. Jana III Sobieskiego 5, 22-680 Lubycza Królewska
Korczowa-Krakowiec
Common room, Korczowa 155, 37-552 Korczowa
Medyka-Szeginie
Sports Centre – Medyka 285, 37-732 Medyka
Budomierz-Hruszew
Primary School in Krowica Sama 183, 37-625 Krowica Sama
Krościenko-Smolnica
Former Primary School in Łodyna, Łodyna 41, 38-700 Ustrzyki Dolne