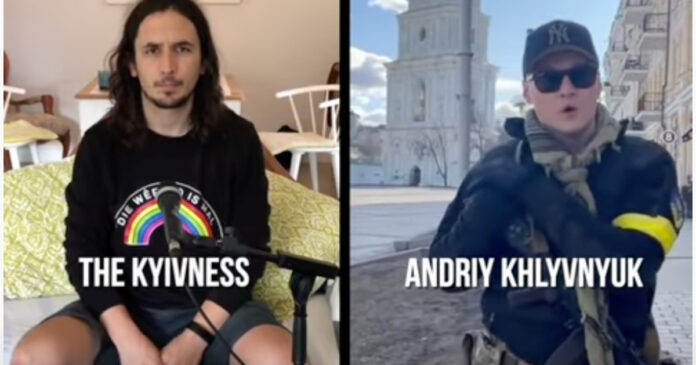 A remix by South African musician David Scott, of a folk song recorded by a Ukrainian rock singer as he joins the army, has attracted over 4 million views on Facebook, another half a million on YouTube and over $7,000… in just one day! UPDATE 9 March: The song has now had over 1 millions views on YouTube and 6.3 million on facebook!
All the royalties are going directly to humanitarian aid for Ukraine's armed forces.
Scott – better known as The Kiffness, or Kyivness on this video (and famous worldwide for his Alugalug Cat remix) – said today: "The response to this song has been incredible! In just one day the song has accrued over $7,000 in royalties from Facebook, Bandcamp & Youtube. It gives me great pleasure to give all of that back to Ukraine's aid."
The track is now available on all streaming platforms: https://bit.ly/KiffKalyna
The Ukrainian singer is Andriy Khlyvnyuk, the frontman of a top Ukrainian band Boombox. They usually perform to thousands and have over 100 million views on their YouTube channel… but 42-year-old Khlyvnyuk isn't performing on stage right now. Instead he has joined the Ukrainian army to defend his country. He told Euronews that "musicians are peacemakers" but that "now it's not time for playing guitars. It's time to take the rifles."
Khlyvnyuk's rendition of a folk song, that most children in Ukraine grow up singing, went viral on Monday when it was posted on the Ukraine Armed Forces Twitter page, with a caption about it being a little bit of motivation.
The post was reported on worldwide, and soon South Africa's Scott heard of it, and with Khlyvnyuk's kind permission he remixed the video… thereby increasing its reach to millions around the world.
Scott says: "Thank you to the whole @familyboombox team & Adnriy Khlyvnyuk for making this video possible. I sincerely hope that you stay safe during this time. Special thanks to Manja and her mother Lada for their support.
"My love & thoughts are with the people of Ukraine & with all the people in Russia who are against this senseless war waged on the people of Ukraine by President Putin. I hope this video helps in some small way. With love from South Africa ?? ❤️ ??"
WATCH Ukrainian Folk Song ?? ARMY REMIX | Andriy Khlyvnyuk x The Kiffness
Moving the world
The remix has moved the world, with comments pouring in from the Americas, Australia, Asia, Africa and Europe.
PolishFans TV said: "Respect for you from Polish fans! Fight!"
Green Renaissance added: "Thank you so much for making this. Big love to Ukraine."
Oleg UA explained: "This is a Ukrainian folk, Cossack song of the military march, Now also one of the military marches of the Ukrainian army, every Ukrainian hears and sings it since childhood, Andrew breathed new life, modern performance in a very responsible and difficult time, it inspires and empowers, Thank you Andrew, Sincere thanks to all friendly countries for understanding and support. Friends are known in trouble (Ukrainian ancient proverb)"
"Absolutely EPIC! Slava Ukraini!" said many!
David Kaiser admitted: "This made me cry. I'm crying for this man, for all men and women that have been separated from their loved ones, their children and families. Brave and good men, willing to die out of pure love for their families and country. May God help us, even if we do not deserve it. I hope these evil and power-hungry people will come to reason and understand that money and power is nothing. Everyone has to walk his last mile alone and in his last hour, he will be alone, die alone, no matter how many millions you have in your bank account."
A very special message for The Kiffness:
A Vishnevsky revealed: "I am Ukrainian refugee, forced to leave my house (small village north from Kyiv) after 5 days of periodical russian artillery fire. It is the first time since 24.02.22 when I am listening music and I want to thank you for your music in general, for this track particularly and especially for your support to Ukraine!"
WATCH Andriy Khlyvnyuk's video before the remix
Трішки мотивації від лідера гурту «Бумбокс» Андрія Хливнюка ?? pic.twitter.com/VQFdRjahGF

— ??Armed Forces (@ArmedForcesUkr) February 28, 2022
Fan Ivan Myshchyshyn said the words in English are:
In the meadow, a red kalyna (Highbush Cranberry plant)
In the meadow, there a red kalyna, has bent down low ,
For some reason, our glorious Ukraine, has been worried so.
And we'll take that red kalyna and we will raise it up,
And we, our glorious Ukraine, shall, hey – hey, cheer up – and rejoice!
And we'll take that red kalyna and we will raise it up,
And we, our glorious Ukraine, shall, hey – hey, cheer up – and rejoice!