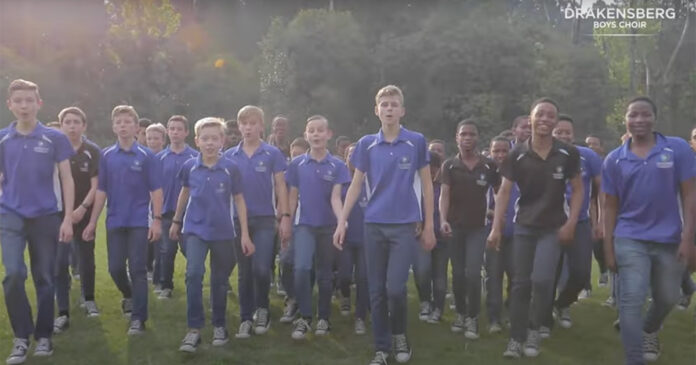 Sjoe, grab a tissue, in fact grab the whole box, to watch this hauntingly beautiful tribute by the Drakensberg Boys Choir to those we've lost along the way. It's an incredibly moving cover of Maroon 5's smash hit, Memories, and is filmed on location at the Drakensberg Boys Choir School in Cathkin Park, Champagne Valley, KZN, South Africa.
The Choir said today: "As we start to reflect on this chaotic season we've tried to navigate, we take a breath and think back on all those we've lost along the way."
The boys' English teacher Pamela Couzyn told SAPeople: "Our own (soloist) Charlie Brown in a rendition of Maroon 5's Memories. Remembering all we've lost over the last while. Our loved ones, our way of life, our sense of security, the world as we knew it…"
It's been crazy times for everyone around the world, but with 'Memories' in the hands of schoolboys, it becomes particularly poignant as the younger generation has experienced loss and uncertainty in a way their parents never did.
But with talent like this and the beauty of the Drakensberg, it goes a long way to helping hope grow that soon these youngsters will be able to look forward to the future with optimism, to making their dreams come true.
WATCH Drakensberg Boys Choir – Memories Maroon 5
Click on the link below 👇 to download the track on all streaming platforms!
https://dbc.lnk.tt/Memories
What is the Drakensberg Boys Choir School?
The Drakensberg Boys Choir School is one of the few South African schools whose fame extends around the world. This school offers a unique educational opportunity for children; it stimulates a boy's spirit of adventure and exploration in the physical surroundings of the school while nurturing the development of the mind and expression in innate musical talent.
Follow the DBC:
Facebook: https://web.facebook.com/dbchoir
Instagram: https://www.instagram.com/dbchoir
Twitter: https://www.twitter.com/dbchoir
TikTok: https://vm.tiktok.com/zsj54a5ry/
Website: https://dbchoir.com