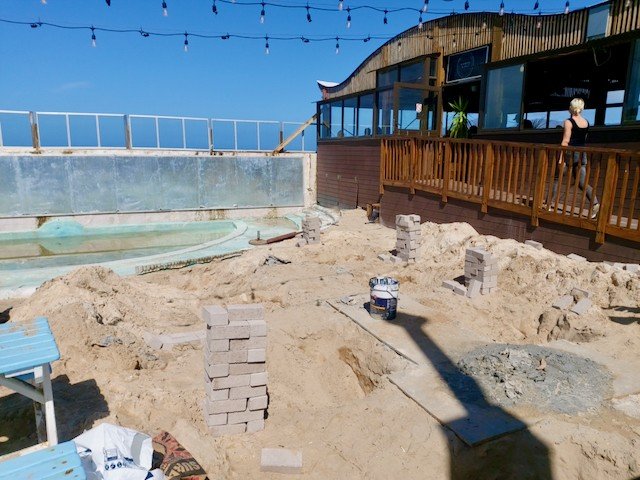 Owner wanted a wooden deck to provide people with "an area to sunbathe without getting covered in sea sand"… By Liezl Human.
After photos circulated that construction was taking place at the Kalk Bay Tidal Pools that surround the landmark Brass Bell restaurant, the City of Cape Town and the National Department of Forestry, Fisheries and the Environment (DFFE) made a site visit on Wednesday.

Mayco Member for Spatial Planning and Environment Eddie Andrews said they had requested that the Brass Bell cease all construction for now.
A meeting between the City, the DFFE Oceans and Coasts Environmental Compliance, and the Passenger Rail Agency of South Africa (PRASA) has been scheduled for next week.
PRASA owns the land which is leased to the Brass Bell. The construction took place within 100 metres of the high water mark, which requires environmental authorisation in terms of the National Environmental Management Act (NEMA).
The City said that "although the work is within 100m of the high water mark, a determination also has to be made as to whether it is a pre-disturbed footprint or not".
Tony White, owner of the Brass Bell, said the plan was to build a wooden deck to provide people with "an area to sunbathe without getting covered in sea sand".
He said he had no idea that approval by PRASA was required. "I now know this to be the case and will not proceed with the deck unless I have formal approval," said White.
According to Andrews, a coastal by-law adopted in 2020 ensures the right of public access to the entire coastline and coastal amenities.
"The Brass Bell has been formally informed that should they prevent public access they will be served with a legal notice in terms of the Coastal By-law," said Andrews.
The Brass Bell expanding has been an issue for years according to Faez Poggenpoel, a fifth-generation fisherman in Kalk Bay and representative of the small-scale fishing community. He said the "unrestricted" access is actually the "thin slippery wall of the tidal pools in order to get to the other side".
"That's by no means safe access for our people," he said.
Steve Herbert, a resident, said the community has over the years tried to stop or restrict expansion of the Brass Bell. "And so it's gone on until there's virtually nothing left of what was common ground," said Herbert.
White said that when he first moved to Kalk Bay 55 years ago "the kiddies pool area was in a sorry state of neglect and remained so until I took over the lease".
Herbert raised concerns about the lease agreements between PRASA and the Brass Bell. The City confirmed that it did not have a copy of the lease. PRASA had not responded at the time of publication.
Published originally on GroundUp /

© 2022 GroundUp