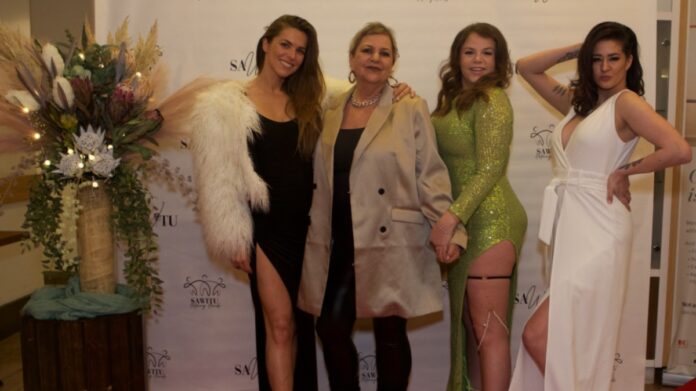 On Friday afternoon, hundreds of strangers with only their South African roots in common – met up at the Wild Horse Saloon in Nashville, USA, for a meet and greet, some line dancing… and a whole lot more.
The fabulous weekend gathering was organised by SAWITU, a support group for South African women in the United States and Canada.
Sawitu started as a Facebook group that was founded in 2017 by Antonet Lombard De Ridder and grew into the movement that it is today, now numbering over 6,700 women.
"The SA women's weekend consisted of four events," Antonet told SAPeople. "It was absolutely amazing. People flew in from as far as Canada."
In April 2021 their online magazine, SAWITU Essentials was launched, later, their non-profit organization, and several programs to assist members, such as the "stand-in-auntie" program.
When Antonet considered a location to host the inaugural SAWITU Gala, Nashville was a no-brainer. It has always been on her bucket list to visit, and she figured it would be a destination on most people's bucket list too.
She was right, South African ex-pats travelled from all corners of America to come together this past weekend. Among them was Habit Coach, Karolyn Hawker Kruger, and first responder, Adrie De Waal. Afrikaans and South African accents could be heard all-round as the women got to know each other's stories.
The Saturday Awards Gala hosted 115 women (and a few gentlemen), and the 4-hour market that was open to the public earlier that day saw close to 1000 people, shopping for South African products including Joanne Van Greuning's The Sage Hippo-Bath products, handmade crafts, original books and paintings, skincare products and clothing to mention a few. But it was the line at "Pouch Pies" that was the longest and sold out first. Both events were hosted at the Holiday Inn Vanderbilt Nashville conference hall.
Author, model and former KTV host, Lorna Greyling (http://www.lornagreyling.com/) emceed the gala that celebrated women in the SAWITU group doing exceptional things in their fields of work and lives. Some of the categories included –  humanitarian award, woman of strength award, best recipe award.
South African born artists – Cindy Alter (who just moved to Nashville), Nikki Williams (Nashville resident), LA-based Adeline Mocke and NY/NJ-based Lyla Illing, entertained guests with original music, covers of popular South African songs like African Dream and our anthem. Of course, Cindy had guests on their feet, dancing and singing along to Clout hits "Substitute" and "Save Me."
WATCH Cindy Alter and Lyla Illing, Nashville SAWITU Gala
What makes South Africans make that effort to connect abroad?
Lyla served as a sound engineer for the evening and spoke with volunteer event organizer Tamsin Van Hoozer. When asked why she thinks South Africans make such a point of connecting with each other abroad, she responded: "It's a need, it's about comfort, it's about celebrating our roots and culture, and the instant camaraderie that is just there between fellow South Africans, the easiness of being with each other, where connection and conversation do not have to be forced. A break from American culture where every visit has to be scheduled."
She reminisced about growing up with South African hospitality, spontaneously visiting her childhood friend Lia, and their moms having tea – something that happened often but never needed to be scheduled. "And that just doesn't happen in American culture."
Addressing guests at the gala, founder Antonet Lombard De Ridder said: "When I moved to America, I went from hero to zero so fast. I was so lonely. I needed sisters. And here you are."
The weekend concluded with a "Tannies tea" in Centennial Park on Sunday, and there are talks of a possible event later this year, and for the gala to be an annual event for the coming years.
2022 is turning out to be a big year for Lyla who has entered the SAMA's for the first time with her newly released full-length debut album "Abandonment Reimagined is Freedom to Grow." Her album release party and concert will take place in the East Village, NYC on the 27th of April – falling on Freedom Day.
Tickets: https://www.ticketweb.com/event/your-best-friends-favorite-band-heaven-can-wait-tickets/11867485
If you miss South Africa, stream Showmax International. Get 2 weeks free if you subscribe now! (Available in most countries.)
Artists' instagram/website details: