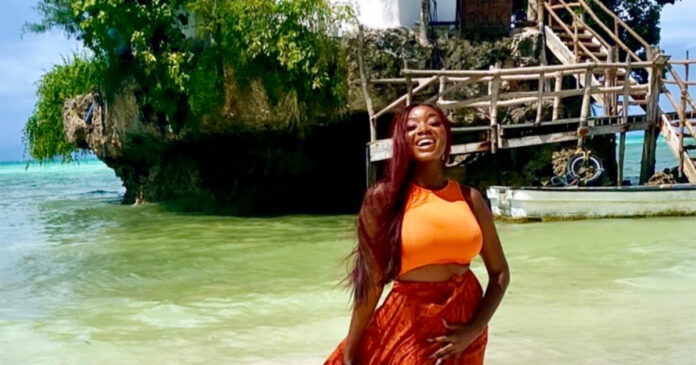 The Zanzibar Commission for Tourism says it has begun an investigation into allegations made by a tourist, Zainab Oladehinde, of sexual assault and robbery she suffered in a hotel on the Tanzanian island last April.
Nigerian national Zainab Oladehinde, who turns 24 today, had visited the island as a solo traveller last year to celebrate her 23rd birthday. She claims she awoke on the eve of her birthday to discover a man in her room who was groping her and tried to rape her; and that the subsequent treatment she received from the Nungwi hotel, Warere Beach, as well as from local police authorities was shocking. She said since then she's been in therapy for the trauma.
The Zanzibar Commission for Tourism said in a statement that it is "shocked and disappointed to learn of the incident and takes these allegations very seriously.
"An immediate investigation has commenced and we will report of its findings. We condemn any harm or threat to our visitors to the peaceful islands of Zanzibar.
"On behalf of the Ministry of Tourism & Heritage, we would like to inform our visitors that the Ministry abhors any ill treatment of any persons on the isles as this is not the Zanzibari hospitality nor the treatment we want our visitors to receive.
"It is a regrettable incident we are following closely."
Following Zainab's revelations on Twitter on Sunday, hundreds of people who've never visited the hotel, gave it a poor Google Review, taking its rating from 4.5 to 1.2.
The hotel posted the following statement in response: "We are saddened that we must post this. Our Warere website was hacked, today 16 April 2022. Simultaneously, we were inundated by a massive release of defamatory reviews and messages through many different social media platforms regarding accusations of sexual assault at our property. Within 3 hours we received over 4,000 negative reviews on Google from people who had never stayed at our hotel.
"As a woman-owned and operated business, the Warere takes guest safety and the safety of single women travelers extremely seriously, as evidenced by 6 years of verified positive reviews from women all over the world.
"We tried our best to support Ms Zainab Oladehinde as soon as we learned of the accusations. We immediately brought her to the police and offered her support. The case was brought before Government authorities in April 2021 when it occurred. The police report indicated that this was a personal case, and not negligence on the part of the Warere.
"After passing by the Zanzibar Nungwi police, the District Commissioners Office, the Regional Commissioners Office and the office of the Second Vice President of the govt of Zanzibar, Ms. Zainab declined to take the case further. Ms Zainab Oladehinde was informed that the hotel would abide by damages rewarded by the court system of Zanzibar.
"We will continue to serve our guests from all corners of the world with the same level of hospitality and excellence that we have become known for throughout Zanzibar over the past six years."
Nefertiti, a Twitter user with over 100,000 followers, echoed the sentiments of many when she tweeted: "This response is rather lame, rude & condescending. This Hotel is truly unrepentant. This whole response only succeeded in smearing Zainab's personality. They responded because their Google Rating went from 4.5 to 1.2…"
Zainab herself said: "I knew the world wouldn't believe me if I eventually tell my story one day. I'd share more details into my ordeal from Zanzibar and I hope you read this as a mother, as a father, as a sister, as a friend, and has someone who has loved ones they deeply care about."
She then furnished more details about what she went through after the event, and how she delayed her stay on the island for three weeks (at a different hotel) to try ensure justice, but finally had to return to work. She says: "After the police men at the Nungwi police station chased me out of their police custody on the 18th of April, 2021, the district commissioner for tourism, Hon. Sadifa contacted me and sent his representatives to the police station…"
The representatives then interrogated the suspects, she said. "One of the suspects who happened to be the security man at the hotel confessed to the crime. He was taken into the police cell immediately. He also said he had an accomplice who was the kitchen staff." They were later released.
Zainab commended the Zanzibar Female Lawyers' Association and Hon. Sadifa for their assistance. "These people did everything they could to ensure I get justice but they were silenced by everyone as the owner of the hotel frolics with top officials in the government."
She says she saw the hotel owner chatting and laughing with the Vice President's representative like old friends, and that they wouldn't speak in English so she could understand.
"I left Tanzania a broken woman. The security man and the kitchen staff still walk freely, the hotel kept operating their business as usual but I became a shadow of myself. I'm still in therapy as I still suffer from the PTSD of that incident."
She says she wanted the hotel's "hospitality license revoked for their gross negligence and insecurity which almost took my life". She says the $10,000 in damages that has been mentioned by the hotel was the amount her lawyers suggested she claim for the cost of her medical bills, missed tour activities and to pay for negligence.
Of criticism that she posted photos of herself on the beach smiling days after the alleged harrowing event, Zainab explained that while waiting to hear back from her lawyers, family and friends encouraged her to go out and explore Zanzibar. She says the man in the photo is Mr Suley, a taxi driver who took her to the rock restaurant, beach and Jozani zoo.
While Zainab has received a lot of support from social media users, many have also pointed out that this is an isolated incident, not a reflection on the island, and that most tourists (including thousands of South Africans) enjoy safe, fabulous holidays to the island paradise.
#Zanzibar and #Tanzania will always remain as Top Tourist attractions in The World#visittanzania #tanzaniaunforgettable#RoyalTourTanzania @UtaliiYa @TzTouristBoard @OUtalii @SuluhuSamia pic.twitter.com/94wZ2nnYEO

— nagib abdulaziz omar (@nagib_omar) April 18, 2022
With all stress that you were going threough,you were able to post pictures in your Instagram account showing the joy and the beauty of Zanzibar how far is your story realistic???? pic.twitter.com/lgzlH2P3A2

— Ридхван (@Ridh_One_1) April 18, 2022
Zainab's response:
In the three weeks I spent at "THE NEXT PARADISE BOUTIQUE RESORT" while waiting to hear back from my lawyers, a few family and friends encouraged me to go out and explore the town. Mr Suley "the taxi driver took me to places like "the rock restaurant, the beach and Jozani zoo pic.twitter.com/0MBhv6oNkg

— Zainab Oladehinde (@zainabdehinde) April 18, 2022
I knew I needed lawyers so I googled Zanzibar lawyers and found a law firm online called Zanzibar Female Lawyers (ZFL) Association. I contacted them at 8pm that night and sent my story to them via WhatsApp messages in hopes that they'd respond to me.

— Zainab Oladehinde (@zainabdehinde) April 17, 2022