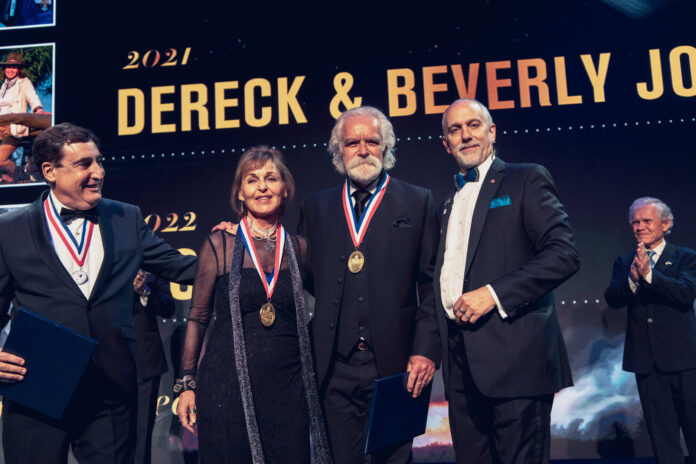 South African filmmakers Dereck and Beverly Joubert – who are based in Botswana – have been awarded the prestigious 2021 Explorers Club Medal at the 118th Explorers Club Annual Dinner.
Previous honorees of the Explorers Club (which was founded in New York City in 1904) include the world's all-time greatest explorers like Neil Armstrong to Sir Edmund Hillary.
Dereck and Beverly – now join that elite group. The couple – who were born a year apart in Joburg, met in high school and married in 1983 – have lived in Botswana for over three decades where they have become award-winning filmmakers, conservationists, and are known as world-famous explorers from Botswana. Apart from an incident in 2017 when the Jouberts were chased by a buffalo (with Beverly being critically injured), they have largely lived in peace with the wildlife.
The Explorers Medal is the Explorers Club's highest honour, recognising contributions in the fields of exploration, scientific research or the welfare of humanity.
The Jouberts said on Tuesday evening: "Receiving it was a career highlight and a great honour for both of us. To be recognised for work that brings us so much fulfilment and meaning was truly special and humbling…"
The Explorers Club paid tribute to the couple, saying: "They are the founders of the Big Cats Initiative, which now has over 150 projects across 29 countries focused on the protection of large cats. One of their most recent films, "Birth of a Pride," highlights the vision of the Initiative and has won 19 awards in multiple countries.
"Their mission for over 40 years has been the conservation and understanding of large predators in particular, along with other key wildlife species that determine the course of all conservation in Africa. The Jouberts have produced over 35 films for National Geographic alone, published 12 books, 6 scientific papers, and authored countless articles for worldwide scientific media.
"Among their eight Emmy awards (with 23 nominations), a Peabody, Grand Teton, Golden Panda, World Ecology, and Lions Club International Awards, it is their Presidential Order of Merit bestowed by the President of Botswana that stands out most. Other conservation projects abound, including their work to move 100 rhinos out of the highest poaching zones of South Africa to Botswana, with 87 already moved and 44 calves born from their group alone."
The Jouberts said: « Such an honour to receive this recognition for work that brings us so much joy and fulfilment – and allows us to make a contribution to safeguarding wildlife and wild spaces. »
After Covid and lockdowns, the event in late April was for the medal recipients from 2020 (Victor Vescovo), 2021 (the Jouberts) and 2022 (Rick Ridgeway).
National Geographic photo editor Joanne Mary was one of many fans who took to social media last night to say: « I can't think of a couple more deserving of this award than Beverly and Dereck! As one of their photo editors at NGS, I witnessed their dedication and passion with every photo submission they made! Love you both and what you do very much! A huge congratulations ❤️❤️xo »
South African fan Jennifer Peck said: « What a great honor! So well deserved for your tireless efforts to promote conservation of the environment and safeguard the wildlife of our continent Africa. You are our country, South Africa's, shining stars! ????????❤️❤️«
WATCH Jade Eyed Leopard
Here's one of the big-cat and National Geographic Explorers' documentaries. In Jade Eyed Leopard, Beverly and Dereck Joubert follow Toto, a leopard with unusually bright aquamarine eyes, as she learns fundamental survival skills. Narrated by Academy Award-winning actor Jeremy Irons…