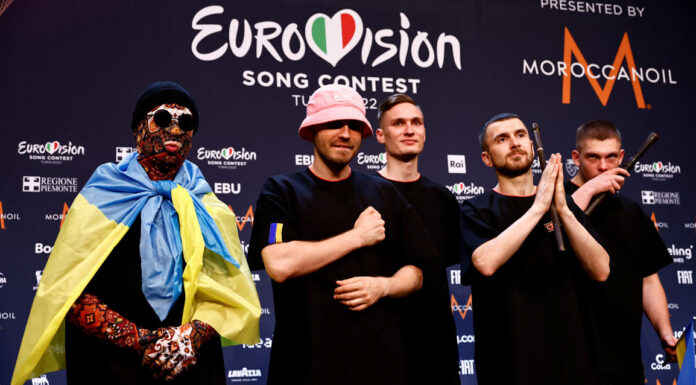 KYIV (Reuters) – Proud Ukrainians revelled in their Eurovision Song Contest victory on Sunday (largely due to an overwhelming public vote of support from the rest of Europe), even renaming a train route in its honour as they hoped for victory in their grinding war with Russia. By Tom Balmforth and Natalia Zinets. It was an extra-special contest this year, with unforgettable moments like Iceland coming out with Ukrainian flags. (Watch the song at bottom of page, plus today's hard-hitting version.)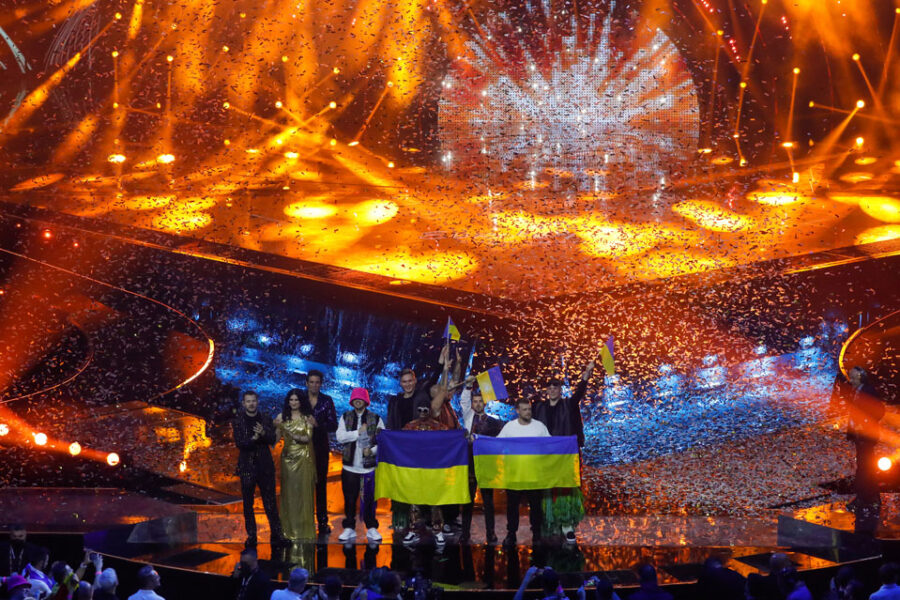 Ukraine's Kalush Orchestra triumphed in Italy on Saturday with their entry "Stefania", a song fusing rap with traditional folk music that was a tribute to band frontman Oleh Psiuk's mother.
Psiuk explained in a post on social media:
"I once dedicated this song to my mother, and when the war broke out, the song took on a lot of new meanings. Although there is not a word about the war in the song, many people began to associate the song with mother Ukraine. Moreover, society began to call it the anthem of our war! But if Stefania is now the anthem of our war, I would like it to become the anthem of our victory."
Meanwhile, his mother Stefania has been blown away by the response. She told TV stations that when she went to the local market in her hometown she was bewildered when passersby started asking her to pose for photographs.
"I didn't connect it to myself, that the song was written for me. I thought someone had made a mistake, and meant his girlfriend Sasha and got the names mixed up," she said.
Psiuk's sister Iryna described watching the televised Eurovision song contest with their mother in the town of Kalush, the band's hometown in the foothills of the Carpathian Mountains, in Ukraine's western Ivano-Frankivsk region.
"She was really worried," said Iryna. "We wept. We sat up until half past six, watching the press conference…. Emotions were off the scale, we didn't believe that our little town of Kalush would bring Ukraine victory this year in the Eurovision."
Railway service to honour Ukraine's Eurovision win
The head of the railway service announced that the number 43 train from Kyiv to Ivano-Frankivsk will be renamed the Stefania Express to honour the victory.
Train stations in Kyiv, Kalush and Ivano-Frankivsk will play the song when the train pulls in, he said.
One local Kyiv resident said: "We were very happy with Ukraine's victory, and we hope that we will win not only at Eurovision," in an obvious reference to the war.
Russia's Feb. 24 invasion has killed thousands of people, forced millions from their homes and devastated the port city of Mariupol.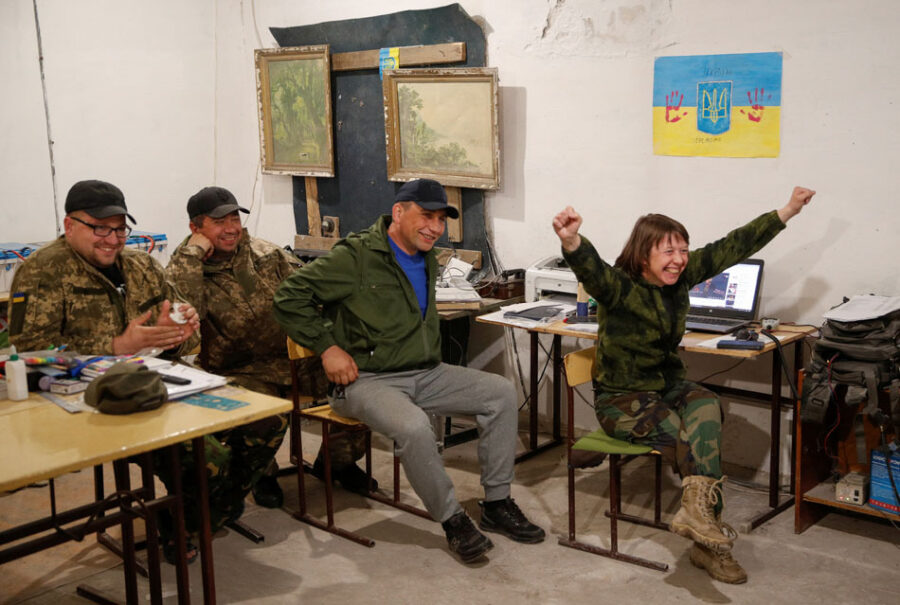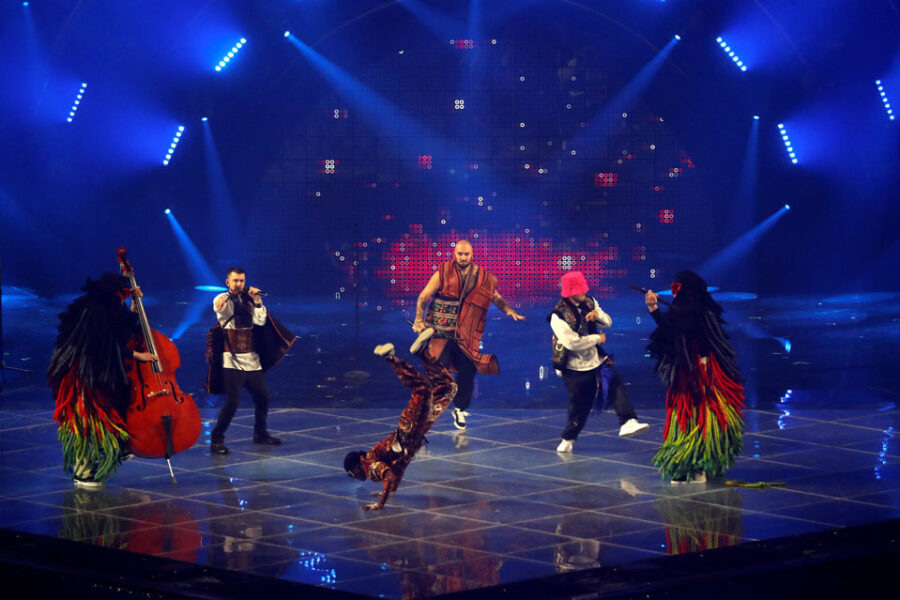 Savinkova said she was deeply moved by the huge show of European support for Ukraine and by the band's plea at the end of their performance for help in Mariupol and the Azovstal steelworks.
Russia has almost fully captured the devastated port city, but a pocket of Ukrainian resistance is holding out in Azovstal.
"I was overwhelmed with emotions when Iceland came out with Ukrainian flags, and also when Kalush spoke for Azovstal," Savinkova said.
Mykola Latsiuk, a bartender in Kyiv, said that the band's participation was more important than their victory.
"The most important thing is that the guys went and performed. They supported us, and we supported them. It is important," he said.
Overwhelming European support for Ukraine
The band was given special permission to leave Ukraine to take part in the competition. Britain's Sam Ryder had led for most of the night (and topped the jury vote), before Ukraine gained a massive 439 points in the public vote. Ukraine ended with 631 points, UK in second place with 466, Spain third (459 points) and Sweden fourth on 438.
President Zelensky thanks Kalush Orchestra for victory
Ukraine's President Volodymyr Zelensky promised to hold Eurovision in Mariupol next year, saying:
"Our courage impresses the world, our music conquers Europe. Next year Ukraine will host Eurovision. For the third time in its history and, I believe, not the last. We will do our best to one day host the participants and guests of Eurovision in Ukrainian Mariupol. Free, peaceful, rebuilt.

"I thank the Kalush Orchestra for this victory and everyone who gave us your votes. I am sure that the sound of victory in the battle with the enemy is not far off. Glory to Ukraine."
NATO's Deputy Secretary General Mircea Geoana also congratulated the band on Sunday, saying:
"I would like to congratulate Ukraine for winning the Eurovision contest. And this is not something I'm making in a light way. Because we have seen yesterday the immense public support all over Europe and Australia for the bravery… Of course the song was beautiful, it is beautiful…"
Foreign ministers from the 30-member alliance NATO gathered in Berlin on Sunday to discuss Finland and Sweden's possible membership to the alliance and its strategy in the face of whatGeoana said was Russia's "unjustified" invasion of Ukraine. (NATO boss Jens Stoltenberg was unable to attend due to testing positive for COVID earlier this week.)
Back to War…
After the glory last night, Psiuk was photographed today (Sunday) kissing his girlfriend goodbye outside their hotel in Italy… as he gets ready to join the frontline in the battle against Russia.
(Reporting by Natalia Zinets and Oleh Papushenko; Editing by Raissa Kasolowsky/Reuters and Jenni Baxter/SAPeople)
WATCH Kalush Orchestra – Stefania – Ukraine ?? – Official Music Video – Eurovision 2022
Watch also the video below this – a hard-hitting version, released today.
WATCH Kalush Orchestra – Stefania (Official Video Eurovision 2022)
Today the band published the following new hard-hitting music video for the track showing Ukrainian servicewomen rescuing children from shelled and ruined towns. ("This film is based on true events during the military aggression in Ukraine in 2022. Do not repeat/copy/imitate what you see in the video, do not put your life and health in danger," they said.)
WATCH Carte Blanche: "Let's talk about Ukraine"
After two weeks on the road in Eastern Europe, including a perilous crossing into Ukraine, Carte Blanche producer, Anina Peens, and cameraman, Pierre le Roux, tell the stories of the people they met along the way. These are mostly civilians, impacted by Russia's invasion of their homeland in different ways, but bound together by the uncertainty and fear of what the future might hold. Through Carte Blanche's team's lens, they get to tell stories of life in a war whose impacts have reverberated around the world.
Watch Carte Blanche on Showmax International overseas | Watch in SA on DStv Now
Read Also: DA Leader John Steenhuisen's report on his week-long visit to Ukraine