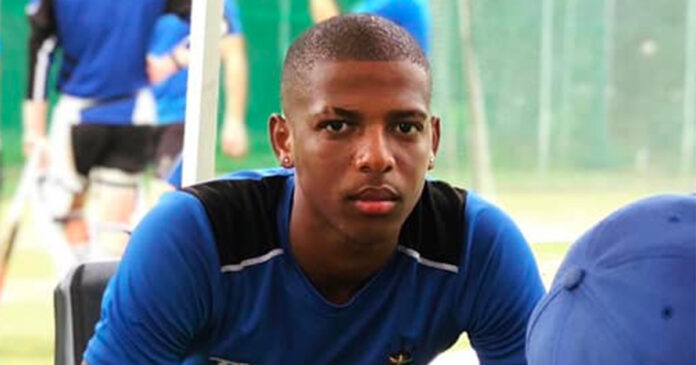 Within 24 hours, a fundraising page has already raised over £8,000 for a young South African cricketer, Mondli Khumalo, who is fighting for his life in hospital after being brutally attacked in England in the early hours of Sunday morning.
According to Avon and Somerset Police, the 20-year-old overseas professional cricketer – now based in North Petherton as a fast bowler – is in a "serious but stable" condition after undergoing emergency treatment. He suffered severe head wounds during the attack at around 3am near a popular pub, and had to be put into an induced coma.
A 27-year-old man has been arrested (on suspicion of causing grievous bodily harm) and released in connection with the attack, which took place in Bridgwater, while a full investigation is underway.
Police said they've carried out house-to-house enquiries and are reviewing CCTV footage.
"We know there were a large number of people in the area at the time, and we'd appeal for any eye-witnesses to come forward, especially if anyone has mobile phone footage showing any part of this incident," said UK police.
Khumalo's host – Bill Revans – told local reporters: "It has been a privilege to have Mondli stay with Rosie and me in our home for the last month. He is a gentle, polite and respectful young man who was enjoying staying in Somerset.
"All the North Petherton players and supporters have welcomed him and value him greatly. He helped the club hugely off the field, coaching our juniors and umpiring our women's team."
It is one of the mums and players, Chantelle Lawrence, who has started the fundraiser for Khumalo and his family "in their hour of need". Khumalo was a member of South Africa's under-19s team.
Police said: "We're taking steps to ensure Mondli's family in South Africa are being kept fully updated on his condition, as well as how our investigation is progressing."
The CEO of KZN Inland, which has contracted Khumalo, said after the surgery that "the surgeon is positive that he can recover from this". He added: "We have been in contact with Mondli's mom and we are doing our level best to obtain a passport for her, so that she can be with Mondli during this trying time."
A teammate and friend said that all the team has found a new friend in Khumalo and that "he has fitted in perfectly at our club, he's a wonderful character, extremely humble and we all love him to bits. We are all in complete shock and devastation as to what has happened, you genuinely couldn't meet a nicer guy and we're all hurt."
North Petherton Cricket Club issued a statement on Sunday, saying: "All at North Petherton Cricket Club are in shock at the incident in Bridgwater that has led to our much-loved overseas player Mondli Khumalo being hospitalised in Southmead Hospital in Bristol this morning.
"We extend our heartfelt support to Mondli for a full and speedy recovery. Our hearts go out to his family, friends and colleagues in South Africa.
"Our thanks to those that helped Mondli, especially the health service staff on scene and at hospital."
Support Mondli Khumalo and his family here: https://www.crowdfunder.co.uk/p/support-mondli